This story is a bit personal.
I was checking my social media accounts today and came across a tweet from someone that said "@danwickline I really hope you were paid for 10 Cloverfield Lane trailer." I had no idea what they were talking about. I hadn't seen the trailer for 10 Cloverfield Lane, I had just heard that it was a sequel to the 2008 Cloverfield. So I watched the trailer.
It suddenly became very clear what my twitter friend was talking about. The new film has a young woman played by Mary Elizabeth Winstead waking up in a bomb shelter with two strangers and is told that there is nuclear fallout and she can't leave. Are they telling the truth? How long before doubt drives her crazy… seems like a pretty good story.
But then again I thought it was a pretty good story back in 2002 when I wrote Shelter Me for Metal Hurlant magazine. A story about a young woman who wakes up in a bomb shelter with a neighbor she hardly knows. He tells her that nuclear bombs went off and she can't go outside. Here is a page with art by the amazing Mark Vigouroux.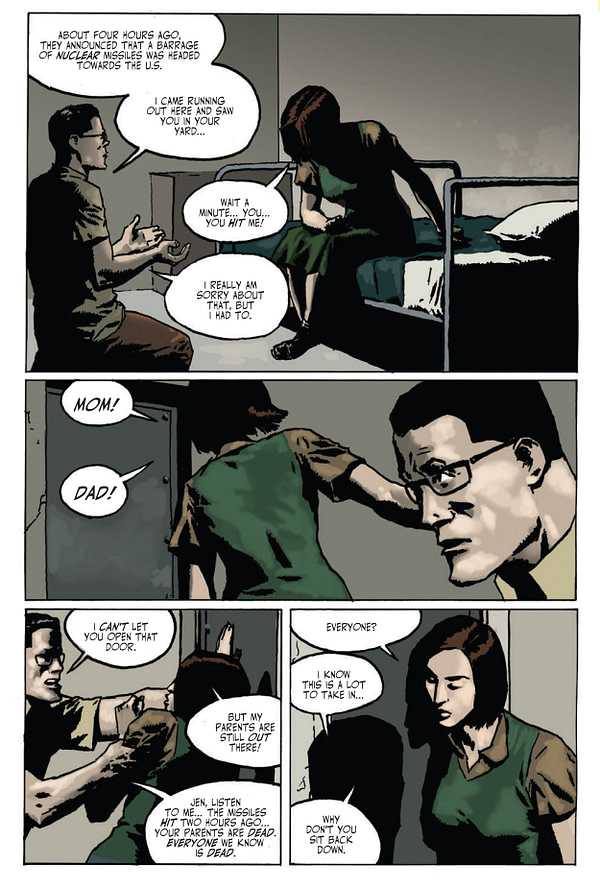 It also seemed to be a good enough story that director Guillaume Lubrano decided to make it the second story in his Metal Hurlant Chronicles television series and we worked together to adapt it as a screenplay. It even attracted Buffy's James Marsters and Bionic Woman's Michelle Ryan to play the two characters. As you can see in this clip as Marsters explains to Ryan what happened.
[youtube]https://youtu.be/mhp5I7OcRhc[/youtube]
Marsters has done a few interviews about working on Metal Hurlant Chronicles and referred to this story as the closest he will ever get to being able to do a classic Twilight Zone episode. It's one of the greatest compliments I have ever received on my work. It's also one of the first freelance stories I ever did thanks to then editor Paul Benjamin. Which makes it speical to me.. and it seems strange to see a something so similar being told on such a grand scale.
Then again, maybe I'm the only one who thinks these stories are very similar.
[youtube]https://youtu.be/yQy-ANhnUpE[/youtube]