It certainly has been a topsy-turvy year for comic book executives, hasn't it?
Axel Alonso, Chris Ryall, and Geoff Johns all made leave of their respective perches atop Marvel, IDW, and DC… and it was only a few short months that ago former Valiant CEO & Chief Creative Officer Dinesh Shamdasani too was fired following the company's multimillion-dollar sale to Chinese investors.
Shamdasani may have been ignobly dismissed from the company he successfully revitalized, but he appears to have done quite well for himself subsequently.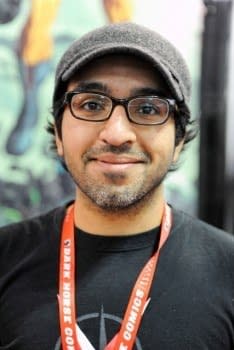 His payoff was significant enough that he's been on a comic art buying spree in recent weeks, purchasing Todd McFarlane's original cover art for Amazing Spider-Man #300.
In absolute shock!!! Can't believe that this classic by the great @Todd_McFarlane is now in my life!!!! 😱🤯😵 pic.twitter.com/h0msONuYnw

— Dinesh Shamdasani (@dinesh_s) June 9, 2018
And Jim Lee's first for Uncanny X-Men #248.
Very excited to finally have a @JimLee cover in my life! 🤩🤩🤩 pic.twitter.com/Vw3XYJfAfj

— Dinesh Shamdasani (@dinesh_s) May 17, 2018
And another by Barry Windsor-Smith.
This absolute beauty just came in the mail!!! 😍😍😍 Barry Windsor-Smith Weapon X majesty!! pic.twitter.com/5sUI6EhEdb

— Dinesh Shamdasani (@dinesh_s) June 22, 2018
Plus a Watchmen cover.
My jaw is on the floor…the most epic of mail calls happened today!! So honored to have these in my collection! #ImNotWorthy pic.twitter.com/fTeL1FYrv0

— Dinesh Shamdasani (@dinesh_s) June 27, 2018
Or two. Well, there are only 12 to go around.
Now, as was announced today, he's back with a new company, Hivemind, and as a producer, alongside Jeff Lemire and Andrea Sorrentino, of the newly announced Gideon Falls TV series.
But what could be next?
Despite its status as a new company, Hivemind – which Shamdasani has co-founded in partnership with former Bad Robot TV head Kathy Lingg, former Universal Studios chief Sean Daniel, and Daniel's longtime producing partner Jason Brown – has already signed a major first look deal with Amazon Studios.
And, in recent weeks, Bleeding Cool has learned of several other A-list creators and marquee comics properties that have inked similar deals at Hivemind…
In the meantime, Shamdasani continues to produce the Vin Diesel-starring Bloodshot feature film from Sony, which has been racking up a massive slate of casting announcements with Michael Sheen, Sam Heughan, Eiza Gonzalez, and Toby Kebbell all recently joining the production.
He's run (and sold) one of the biggest independent publishers in comics, made millions in the process, and is currently producing a big-budget superhero film for Sony.
He just started a genre-centric film and TV company with the former heads of Bad Robot TV and Universal Studios… before teaming up with two of the biggest creators in comics to adapt one of the hottest creator-owned series on the market.
>With all that in mind… could Dinesh Shamdasani be the new go-to guy for comics creators in Hollywood?
And with so much already in process post-Valiant, could a new publishing venture be far behind?
Dinesh declined to comment for this piece, but comics pros: if you manage to catch him in San Diego next month, say hello for us, won't you?
Enjoyed this article? Share it!