Diving Into the Comic Vault: Pep Comics #3
Welcome back to Diving Into the Comic Vault! If you haven't read this series yet, no worries. Check out our first post here! Today we'll be focusing on Pep Comics #3, with its signature hero — The Shield.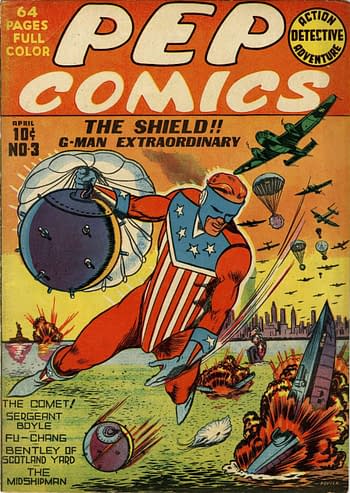 In this issue, we open with The Shield in another daring adventure. American ships are being attacked by enemy aircraft, who are dropping mines in the water around them. The Shield is sent out to investigate, and ultimately, to fight off the enemy. In this issue we see the Shield using some handy detective work as he takes apart a mine, where he learns how to dismantle them. By this issue Shield has become a more well-rounded character, though his enemies largely remain one dimensional. This isn't a bad thing — comics were just cheap entertainment back then. But it is still good to see Shield becoming a solid character.
The Comet is next in this volume of Pep Comics, continuing his daring adventures. After saving the world from an evil blimp, Comet goes home to take a much-needed rest — only to be kidnapped! Comet is taken hostage and then brainwashed, by the evil Satan. But this brainwashing is short-lived. After Comet we're treated to The Press Guardian, Fu Chang, Sergeant Boyle (who's in Germany fighting the Nazis), The Border Patrol short story, The Midshipman, The Rocket and the Queen of Diamonds, Kayo Ward, and Bently of Scotland Yard.
While most of the stories in Pep Comics are standard WWII stories, I am intrigued by The Rocket and the Queen of Diamonds. It seems Rocket gets in trouble with the Queen's guard largely because the Queen doesn't tell them anything. In this story the Queen wants to explore space with Rocket…but she neglects to tell her soldiers. And likely her people. She's a terrible ruler.
Each story is good at rounding out their main characters, and absolutely villainizing the bad guys. Of course, when your main bad guy is a Nazi through most of the comic, it's not hard. But these are still largely fantastical stories, with daring humans and interesting places. Pre-Archie MLJ is an absolute joy, and I can't wait to go through the rest with all of you.