Doctor Who Comic #2.1: Missy Review: Masterpiece Of Characterization
In a masterpiece of characterization, Doctor Who Comic #2.1: Missy captures every hilarious and engaging big of the performance by Michelle Gomez by staying focused on her and away from her Gallifreyan rival. By using pithy one-liners and a clever plan, she seeks to pull the wool over many eyes in the most entertaining possible fashion.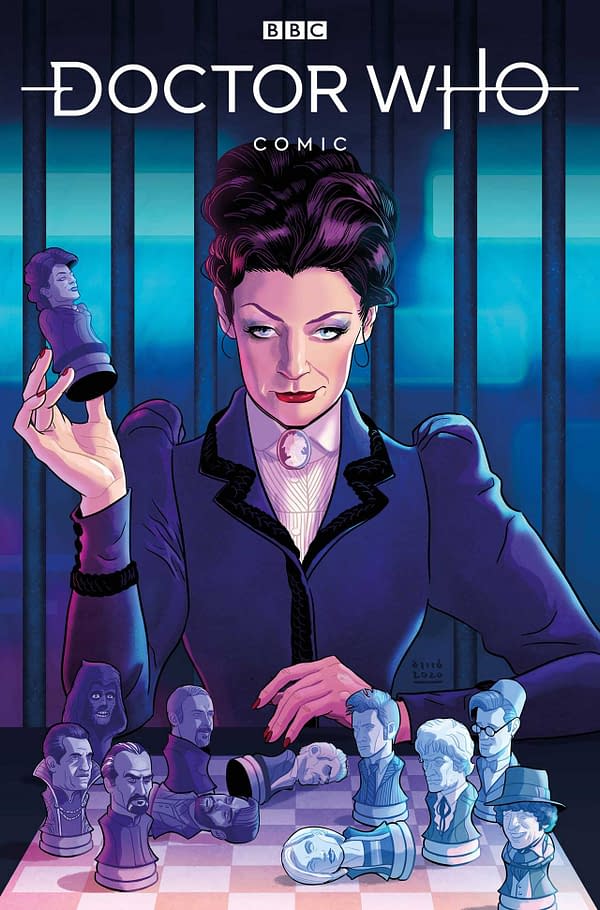 The earliest incarnation of the Master is imprisoned in the Stormcage Containment Facility in the 52nd century. On an all-too-regular basis, the Third Doctor, stuck in a smaller window of time, calls to make sure the Master remains behind bars. That's where Missy shows up … pretending to be a later incarnation of the Doctor, and that's where the fun begins.
Writer Jody Houser has an outstanding facility for wielding the character of Missy, with twirls of dialogue like razor-winged fireflies. That's the biggest slice of fun available in this enjoyable confection. Every word is a well-wielded weapon, no matter how flippantly applied.
Then, let's look at the saucy, impertinent artwork from Roberta Ingranata, Enrica Eren Angiolini, and Shari Chankhamma. To the carefully chosen "whimsical accessories" to the wonderfully styled action happening, this book is fun.
The solitary challenge with this otherwise wildly fun book is that just when the story starts to escalate in a second act, it's over. The Titan Doctor Who books often face this challenge paced for larger chunks of reading than the monthly periodical. As such, it makes the excitement a bit of a tease. Other than that, though, this is pitch-perfect in capturing why this incarnation of the Master has been so popular. RATING: HONORABLE MENTION.
Doctor Who Comic #2.1: Missy
By Jody Houser, Roberta Ingranata
CELEBRATE THE 50TH ANNIVERSARY OF THE MASTER WITH A UNIQUE GRAPHIC NOVEL STARRING FAN-FAVORITE MISSY! Missy's up to her old tricks, but this time she's not alone! How will the Doctor survive this latest maniacal plot in this special story celebrating the 50th anniversary of the Master? FEATURES THE THIRD AND TWELFTH DOCTOR BATTLING THEIR ICONIC NEMESIS! KEEP YOUR EYES OUT FOR OTHER TIME LORDS!