Donald Trump Gives Trusted Advisor And Marvel Chairman Ike Perlmutter Pen After Signing New VA Bill Marvel Chairman Ike Perlmutter has found himself in the public eye once again today, appearing during a press conference and live signing of a new bill to bring protection for whistleblowers to the VA. Perlmutter, who has served as an advisor to President Donald Trump and VA Secretary David Schulkin on veterans' healthcare, was named twice during a speech by the president, along with his wife, Laura Perlmuter. The Perlmutters were big donors to during and after the campaign, and are also Trump's real life friends, frequently hanging out together at Mar-a-Lago.
"We're sharing a stage with a lot of great people and a lot of great friends," Trump said, though, like the media for several decades, Trump seemed unable to locate the Perlmutters in the audience. "A couple of my friends are out in the audience today. Ike Perlmutter. Laurie Perlmutter. Where are they? Where are they? Where are they? These are incredible people. Incredibly successful people, and they just have an affinity for helping the veterans and for helping David, and I wanna thank them. Unbelievable. Thank you." Trump did eventually locate the Perlmutters, and went on to praise them again later in his speech.
"They were so for me during this recent election, and I can promise them, and they know it's gonna happen, we're not gonna let them down," Trump bragged of veterans before revealing that, essentially, he had assembled Earth's Mightiest veterans affairs team. "We have a team the likes of which has never ever been assembled. And that includes outside people who are so brilliant and so good, like Ike and Laurie. And they're helping us. And they don't fail."
"During these first 100 days, which as you know I've been saying there's a very extreme emphasis placed on these hundred days," said Trump of his bigly successful presidency. "It's not quite as big as they're saying, but we have really laid a foundation. We've had a lot of legislation passed which nobody understands. I think it's twenty-eight bills as of this moment. Somebody said by the time it ends its thirty-two bills. And tremendous legislation. But we've already made great strides to improve the VA and the VA services. We've imposed new standards of accountability and transparency, including a new website that publishes wait times at every VA hospital. And this is a website that works. This is not the five billion dollar Obamacare website. Do we remember that? Nobody remembers that. Does anybody remember that website? No. I don't think so. We don't have to remember that anymore."
After treating the audience to more of that for a while, Trump concluded, "Today's action is historic, but it only the start of our reforms. Our veterans have secured this nation with their blood, sweat, and tears, and we will not let them down. These are our great great people. We will always stand with those who stood for freedom and who stood for us. They protected us. They made it all possible. And now we're gonna protect and take care of them."
"So I'd like to thank David and his family and all of the people that are working so hard at the VA," Trump continued. "They haven't had enthusiasm, David was just telling me, like this for many many years. And the veterans see what's happening. Because I'm getting so many different message through all forms of communication of which we now have many. But they're very very happy, very pleased with what's going on. David, we want to god bless you and your family. We wanna wish you a lot of luck. You have a lot of talent. You have a big job ahead. I want to wish everybody godspeed, and we will do a fantastic job at the VA. Rest assured. Thank you very much and we're gonna sign right now."
Trump then moved over to a table and motioned for the Perlmutters to join him onstage for the signing. Laura Perlmutter obliged, as did Ike, overcoming his fear of cameras, to shake his friend Donald Trump's hand.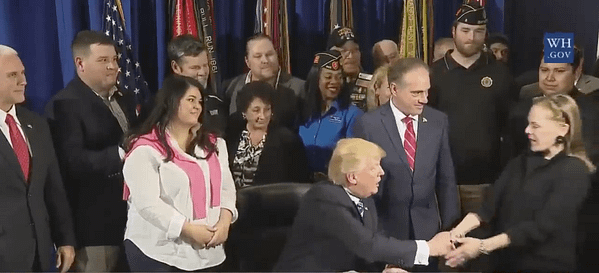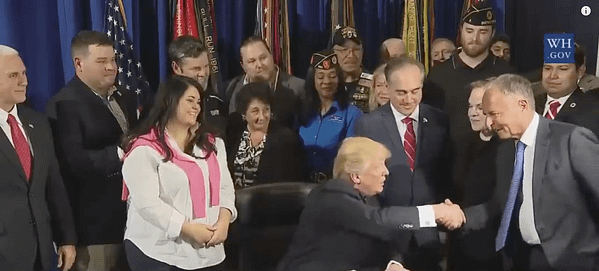 Trump then signed the bill… And gave the pen to Ike Perlmutter… Who then gave it to his wife. It was a touching moment, as you can see: Marvel Comics' next super-mega-crossover event, Secret Empire, is in stores next week (spoilers here). In the story, Captain America leads evil fascist organization Hydra, whose ties to Nazis have been widely discussed recently, in a takeover of the United States.