Donald Trump Launches Subscription Box So Marvel Fans Can Give Him Money Directly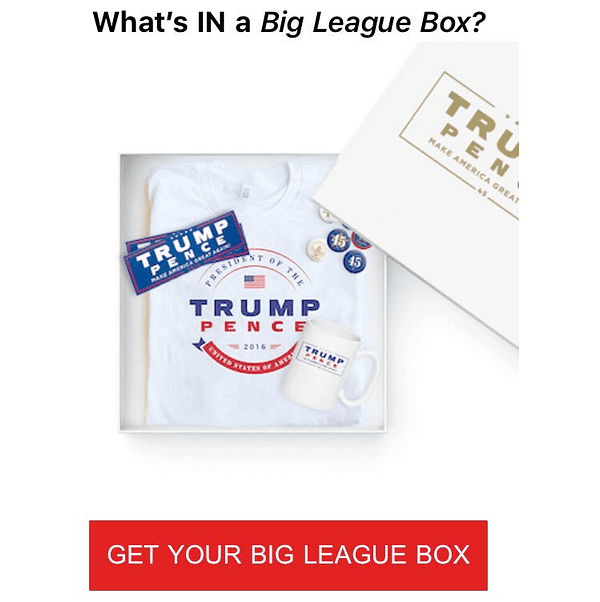 Are you a Marvel fan who is tired of slowly funneling money to Donald Trump's political career over the course of many years by purchasing Marvel products and services? Perhaps you're a fan of DC superhero movies like Suicide Squad or Fox's X-Men films, or even the highest-grossing movie of all time, Avatar. Or maybe you're a longtime fan of the sports entertainment of WWE. In all three of these cases, the billionaires behind these beloved franchises are big supporters of Donald Trump. And if you've been supporting their products, in some cases for decades, that means that some portion of the money you paid, through a convoluted and indirect yet certain path, eventually made their way into the campaign coffers of President Donald Trump, or aided him in his quest for power in some way.
Hear us out.
Ike Perlmutter, Chairman of Marvel Entertainment has donated more than $5 million to Donald Trump's political campaign, and serves as an advisor on Veterans' health care, and has been frequently sighted hanging out with the president at his Mar-a-lago resort complex, known as "The Winter White House." Perlmutter is a longtime friend of Trump, and his wife Laura also served on Trump's inauguration committee. Steven Mnuchin, who joined Trump's cabinet as the Secretary of the Treasury, was another big donor. A former Goldman Sachs executive, Mnuchin co-founded the movie investment company Dune Capital, which funded such movies as Avatar and the X-Men franchise as well as The Lego Movie, Mad Max: Fury Road, American Sniper, Gravity, and Life of Pi, to name just a few. Mnuchin even found himself involved in a minor scandal when he promoted The Lego Batman movie in an official capacity as a member of the U.S. government.
Linda McMahon, former CEO of World Wrestling Entertainment and its various previous incarnations, also donated millions to Trump's campaign, and has landed a spot in the cabinet as head of the Small Business Administration by what we're sure is coincidental result. Trump has a long association with WWE dating back to WrestleMania 4 and 5, which were held at Trump Plaza in Atlantic City, and including a big part in one of the main events of WrestleMania 23. Trump is a member of WWE's Hall of Fame.
In each of these cases, these billionaires have accrued money and power thanks to the patronage of the fans of their products, and that money and power has been used to help Donald Trump gain and hold onto power. Everyone reading this, us included, have contributed to it and may still be doing so.
Hardly anyone even mentions that, by buying Marvel comics, going to see The Lego Batman Movie, or subscribing to the WWE Network, fans are in at least some small way supporting Donald Trump. If we didn't go out of our way to think about it, we might even be able to forget about where all that money is going. Well, President Trump finally has a solution: a subscription box service.
Yes, you heard that right. The Donald Trump campaign is launching a subscription service, according to a report from THR. For $69 a month, fans will receive a box filled with Trump merchandise, both "exclusive" and "vintage," which means that the campaign has even found a way to offload unused promotional goods from 2016's election. And best of all, since the proceeds are set up explicitly as campaign donations, that means that the names of the people who purchase it will be marked in the annals of history as official supporters of President Donald Trump, rather than as passive collaborators who namelessly purchased the entertainment products of middle-men.
The subscription box is called The Big League Box, after one of the president's favorite catch-phrases (frequently misunderstood as "bigly"). They're limited in number, just like a Marvel Comics variant cover, so hurry up and preorder yours today before supplies run out. How many Spider-Man comics, movie tickets, or John Cena motivational armbands do you think you'd have to purchase to achieve a donation this pure?
How many would it take to make you feel guilty about it?
Check out the actual tweets from journalists about this actual product below.