It's probably a comic book that a number of publishers couldn't publish these days. It was a comic that DC Comics balked at when they had started publishing, only for Dynamite to take it on. It was the Second Coming of its day.. and now it's an Amazon Prime TV show. In anticipation of this, Dynamite Entertainment is republishing The Boys by Garth Ennis and Darick Robertson in its Omnibus form with covers using photos from the TV show. If only less marketing-minded publishers such as Marvel or DC Comics could do something like this with The Ultimates or Aquaman.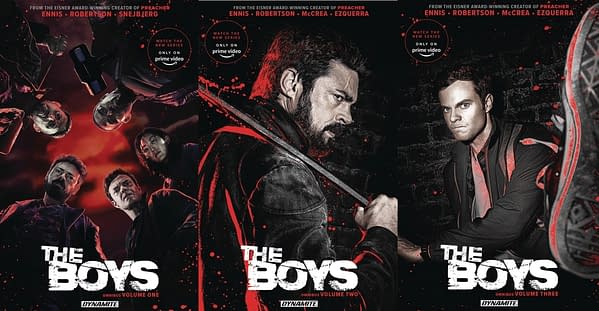 Anyway, here's how the three The Boys Omnibuses will be looking now.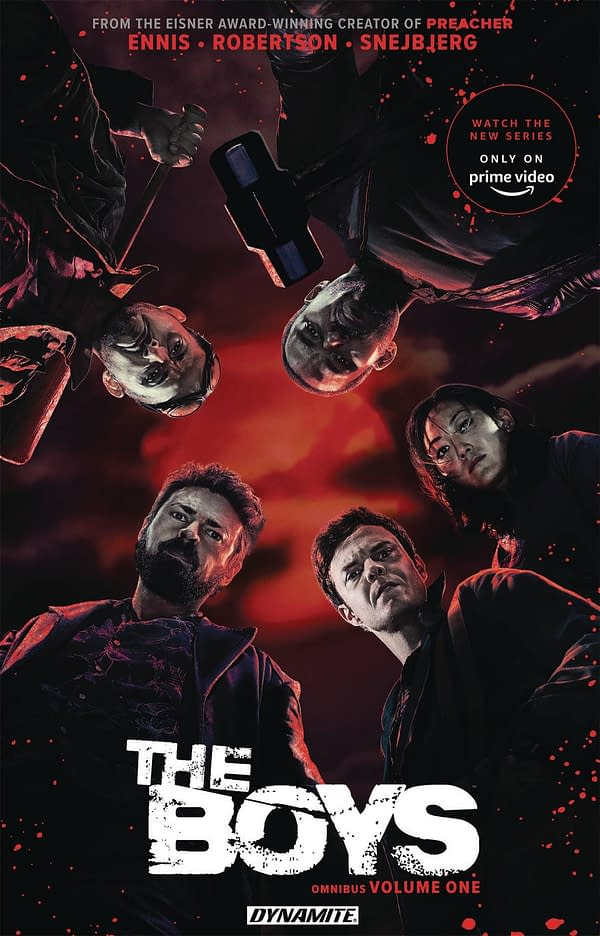 The Boys Omnibus Vol. 1 by Garth Ennis, Darick Robertson
All-new printing collecting the first 14 issues of the critically acclaimed series, now heading to live-action on Amazon Prime! This is going to hurt! In a world where costumed heroes soar through the sky and masked vigilantes prowl the night, someone's got to make sure the "supes" don't get out of line. And someone will! Billy Butcher, Wee Hughie, Mother's Milk, The Frenchman, and The Female are The Boys: A CIA-backed team of very dangerous people, each one dedicated to the struggle against the most dangerous force on Earth – superpower! Some superheroes have to be watched. Some have to be controlled. And some of them – sometimes – need to be taken out of the picture. That's when you call in The Boys! After the opening story arc introducing Hughie to the team (issues 1-6), Dark avenger Tek-Knight and his ex-partner Swingwing are in trouble (issues 7-14). Big trouble. One has lost control of his terrifyingly overactive sex-drive, and the other might just be a murderer. It's up to Hughie and Butcher to work out which is which, in Get Some. Then, in Glorious Five-Year Plan, The Boys travel to Russia – where their corporate opponents are working with the mob, in a super-conspiracy that threatens to spiral lethally out of control. Good thing our heroes have Love Sausage on their side. Featuring some ever-so-slight tweaks the creators have meticulously restored, The Boys Omniobus Volume 1 also features bonus art materials, the script to issue #1 by Garth Ennis, a complete cover gallery, and more!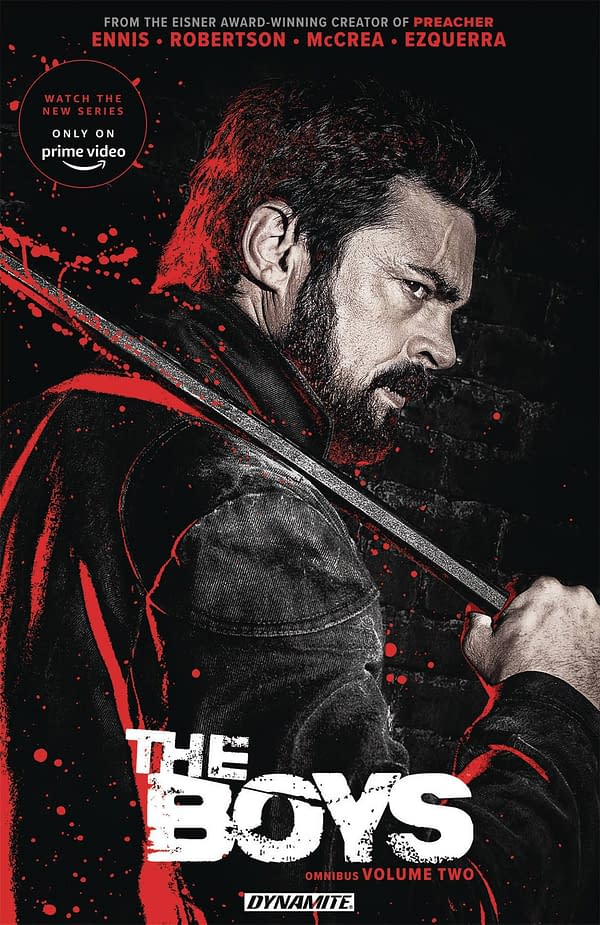 The Boys Omnibus Vol. 2 by Garth Ennis, Darick Robertson
Contains, The Boys Volume 3: Good for the Soul & The Boys Volume 4: We Wanna Go Now.
In The Boys, Vol. 3: Good for the Soul, everyone has something to get off their chest: Frenchie and the Female are up to something nasty with the Mafia, Mother's Milk goes to see his mom, Annie January wants a word with God himself, and Butcher enjoys yet another ghastly tryst with CIA Director Rayner. The Legend, meanwhile, offers to tell Hughie everything he wants to know about The Boys – all Hughie has to do is take a walk with the dead.
In the fourth Dynamite collection, all is not well with mysterious millionaire John Godolkin's band of misfits. Silver Kincaid, one of the original G-Men, has just committed suicide in the most public and grotesque way imaginable. That's not good news for Vought-American's number one franchise, with G-Force, G-Coast, G-Style, G-Wiz, the G-Brits and the G-Nomads all depending on their slice of the G-pie. There's far too much at stake for anyone to go poking around the G-Mansion now. Who knows what dirty secrets might be waiting down there in the dark?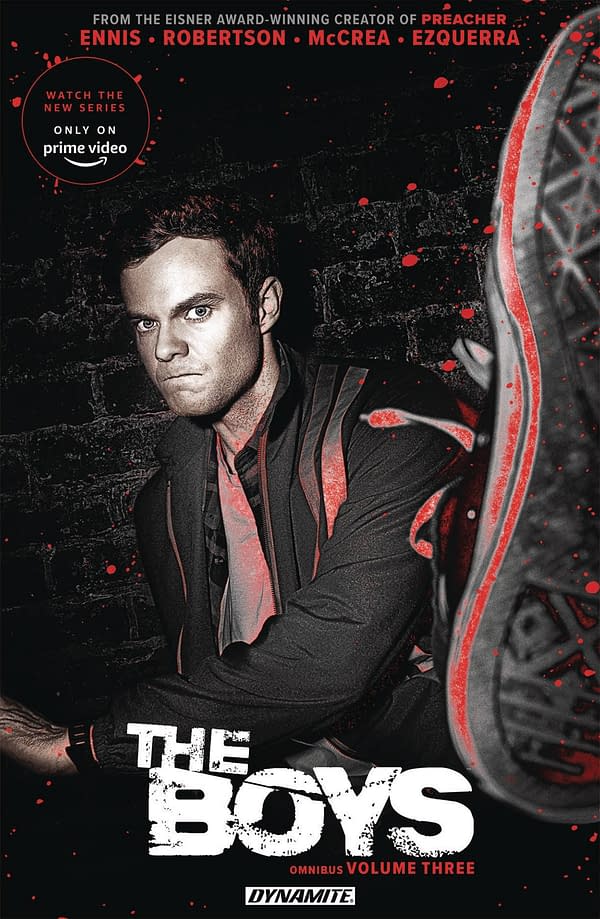 The Boys Omnibus Vol. 3 by Garth Ennis, Darick Robertson, John McCrea
An evil so profound it threatens all mankind! The mightiest heroes on the planet uniting to defend us all! A secret crisis of such utter finality that a countdown to civil or infinite war seems unavoidable! But have you ever wondered what really happens during Crossovers? The Seven, Payback, Teenage Kix, Fantastico, and every other superhero on Earth team up for an annual event like no other – and where the superheroes go, can a certain "five complications and a dog" be far behind? But as the fun and games begin, it seems our heroes have set their sights on bigger game than usual.
You can only maim and murder so many superheroes before someone decides to do something about it, and in The Boys' case that means Payback – a superteam of unimaginable power, second only to the mighty Seven. Pulping teenage supes is one thing, but how will our heroes fare against Soldier Boy, Mind-Droid, Swatto, the Crimson Countess, and the Nazi juggernaut known as Stormfront? Blood flies and bones shatter, as Butcher and company meet fire with fire.
Enjoyed this article? Share it!