Electricomics To Make Its Digital Comics Research Public, Imminently #TBF15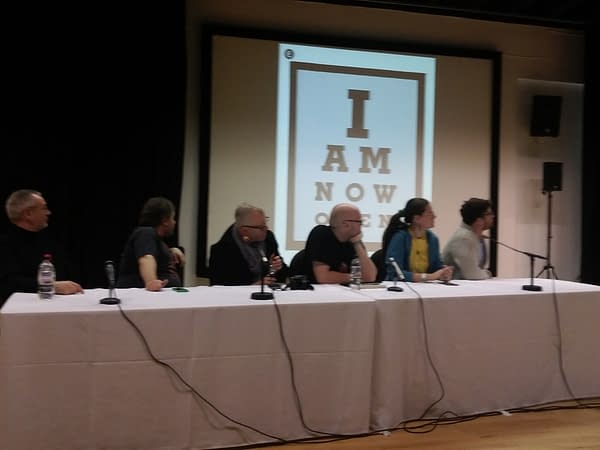 At the Thought Bubble panel for Electricomics last year, they had an idea, but that was all.
Last weekend at Thought Bubble, they had an app featuring some of the best creators in comics, and a bunch of experimental newcomers.
It's been quite a year.
The panel consisted of Electricomics' editor Leah Moore, creator John Reppion and Peter Hogan, photographer and fundraiser Mitch Jenkins, digital expert and academic Daniel Merlin Goodbrey, coder Giulia Alfonsi and graphic designer Sean Gannon.
They talked about the challenges of the digital comics journey, in pursuit of creating an actual new kind of digital comic to appear in the Alan Moore and Mitch Jenkins' The Show film and TV series.
About getting art funding from NESTA, and the responsibilities that brought, not only to develop new kinds of comic books, but tools to create them and research to share – and how they would have asked for a lot more if they'd have known exactly what it entailed. How different audiences responded differently to to different storytelling innovations; the Brazilians gave audible "oooh"s at the movement from timeline to timeline in "Sway" but some people can't see the actions needed unless you have a klaxon.
They recently called for people to submit Electricomics using their creation program, for Hallowe'en they were looking for something more playful and less dark. And Leah was surprised by exactly what some of the submitters sent in, doing things with the comic that they weren't meant to be able to do – and Electricomics are trying to find out how they did them, so at others can too.
We also learned that, yes, the Alan Moore/Colleen Doran collaboration Big Nemo may well be available in oversized print from Bleeding Cool's publisher Avatar Press somewhere down the line.
But the big news is that Electricomics is set to release their research into the creation of digital comics in a report form, for anyone to learn from – and not make the mistakes they did. Expect it any day now.
Just like the app, it will be free…