Eponymous by Mike Garley, Martin Simmons and Mike Stock is a digital comic that's heading out into the world of print in the form of a 64 page trade paperback. I reviewed the first chapter on this very site back in May but hadn't yet returned to the eponymous world until now. Just from the start of the story I was hooked, with it's gorgeous art, taut mysteries and Schwarzenegger quoting baddies. But anyone can produce one good comic book chapter (probably), would the succeeding installments maintain the energy, intensity and all around comic book excellence? Worry no more (those of you who were worried) because I can happily report that the book not only maintains it's quality level it transcends it.
The story is about a little girl who's been seeing visions of horrible things happening, horrible things that have been coming true. She's used as bait by a shadowy organization (I would love to see an evil organization that meets with all the lights on, just once) but is rescued by Eponymous (a young woman named Casey).
One of the things that Garley does so well is to dole out pieces of the bigger picture behind the story slowly, just giving you peeks under the curtain in a way that tantalizes and excites rather than bores and exasperates. As you read you start to discover that this is a world that formerly had superpowered individuals, but don't anymore. Eponymous somehow has managed to dig it's heels into both the fictional and actual universes, telling an impossible story that is still tethered enough to actual reality to make it fresh and captivating. This isn't a story where somehow toxic radiation turned someone into a tank tossing, bullet proof one man holocaust machine. This is a story where the government gets it's hands bloody developing powered people, where the flying men and women who punched through walls didn't just retire to the Hall of Justice for juice and cookies. This is a story that takes into account the paranoid, war obsessed, corporatocracy cultures of the western world's superpowers and turns them into a gorgeous graphic arts experience.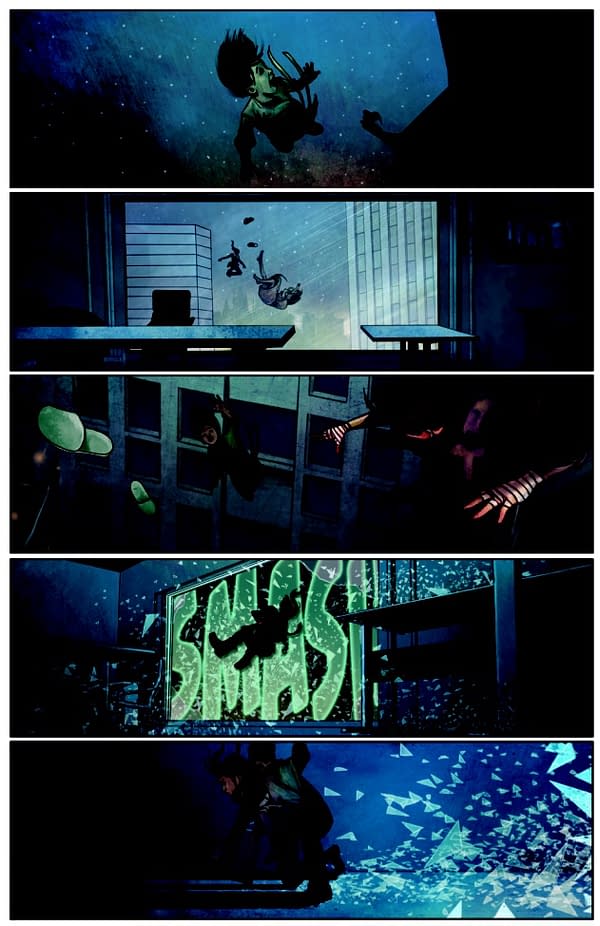 Really I can't say enough good things about the art. Simmonds utilizes an astonishingly vivid and expressive color palette to create somber scenes of sensitive survival or creepy, subterranean super terrorist hostage sieges. The scenes where the story flashes back don't miss a beat and manage to make digital art look like it came from the ink and paper funny pages of a thousand years ago (or whenever World War II was, I'm major in English, not History). Take a look at the full page I've included here, the way that over the course of just a few panels the perspective shifts keeping the energy and intensity moving. It's practically a page out of a "How To Make Great Comics" book. That's how you utilize panels you young art punks (I know you're out there).
The Casey character, the eponymous hero of the eponymous tale, is also a rousing success showing that it's possible to write a strong female super character without having a face nearly blotted out by enormous breasts or bending and twisting her into impossible angles to maximize the T'n'A shots.
I touched on the story's layers of mystery earlier and I'd like to follow that up by saying while things do get reviewed as you read your way through the trade, there are still loads of mysteries that are still waiting to be revealed. I'm a recovering LOST fan, so I wouldn't tell you to get on board with a sci-fi, action mystery story if I didn't believe it was actually going somewhere. I really want to know what's going to happen next in this book. It's got a myriad of delicious little hooks that are going to dig into your brain and immerse you in this frightening and fantastic comic book world. Check out the VS. Comics page for more info on this and other titles this talented crew of Brits create and dispense.
Follow Louie on Twitter