Eric Heisserer and Raul Allen's first collaboration, Secret Weapons #1, is out today from Valiant Entertainment today. Heisserer, who is stepping back into comics for the first time since his Academy Award nomination for writing the screenplay to last year's hit film Arrival, which Valiant will remind you about at the drop of an Oscar, is also creating the screenplays for Sony's Harbinger and Bloodshot feature films, but how does he do on comics?
Allen is a friend and sometimes collaborator of David Aja joins him on this "teenagers on the run" story, albeit one set at the epicentre of Valiant's superhero universe and featuring the return of 90s Valiant villain Rex-O.
Leading the cast is Nicole Finch – a "psiot" who can speak to birds – and her pigeon pals. Which comes in handy for exposition.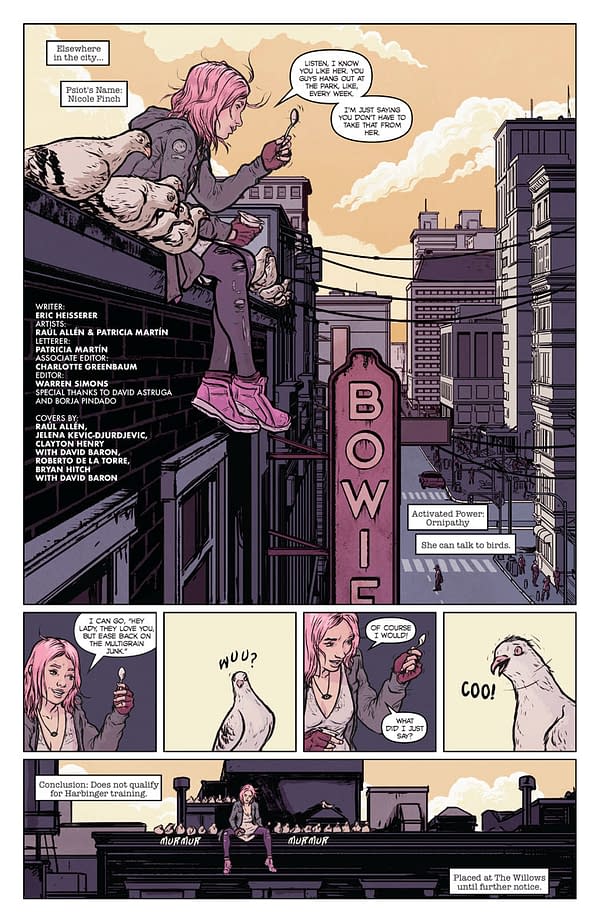 While Owen Cho, who follows a set of directions given by the street lights and traffic signals around him – giving us what might be the issue's most cinematic moment of all… … you know, cinematic, like that film Andrew write that got nominated for an Oscar. Did Valiant mention that at all? The issue then climaxes with an elegant sequence to convey the passage of time… Heisserer and Allen already make up half of the creative team for Valiant's Harbinger Wars 2 event in 2018. But this is where it begins…
Enjoyed this article? Share it!