Erik Burnham's Writer's Commentary on Red Sonja: Age Of Chaos #4
Erik Burnham has a Writer's Commentary on Red Sonja: Age Of Chaos #4, out now from Dynamite Entertainment. He writes;
Hey, everybody — Erik Burnham here. It's been a few months since I've done one of these (and not a decade or so, like it feels.)
Anyhow, let's talk Red Sonja: Age of Chaos #4.
Jonathan Lau did the art; Andrew Dalhouse colored it; Carlos M. Mangual lettered it, and Matt Idelson wrangled it all.
Lucio Parillo provided Cover A; Alan Quah & Komikaki Studio provided Cover B; Cover C was by Ale Garza, Mostaffa Moussa & Omi Remalante, Jr; Derrick Chew brought us Cover D; Cover E, well, that's some cosplay shots!
PAGES 01-03
We open in the Village of Kor, and Chastity doesn't like it… she almost starts a brawl by pointing at a local. (Y'know, don't do that.) I took this as an opportunity to remind Sonja as smart and capable enough to defuse a fight when fighting doesn't serve her purposes.
And she makes sure Chastity knows the fight would've been pointless… and then gets her a disguise so as to feel more comfortable.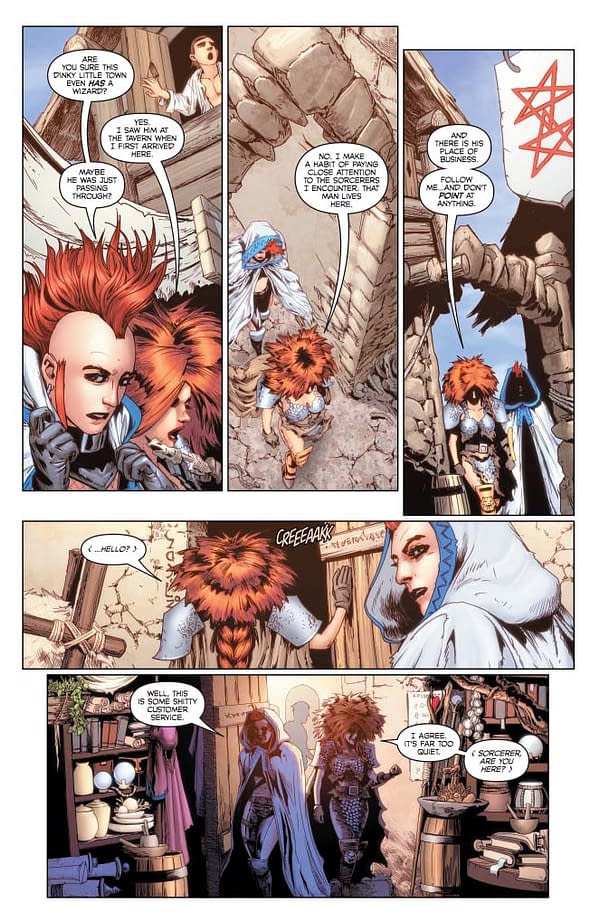 PAGE 04
They're off to see a wizaaaaard…. I really enjoy the details Jonathan put into this town, and, as a small thing, I love how Chastity looks in the hooded cloak.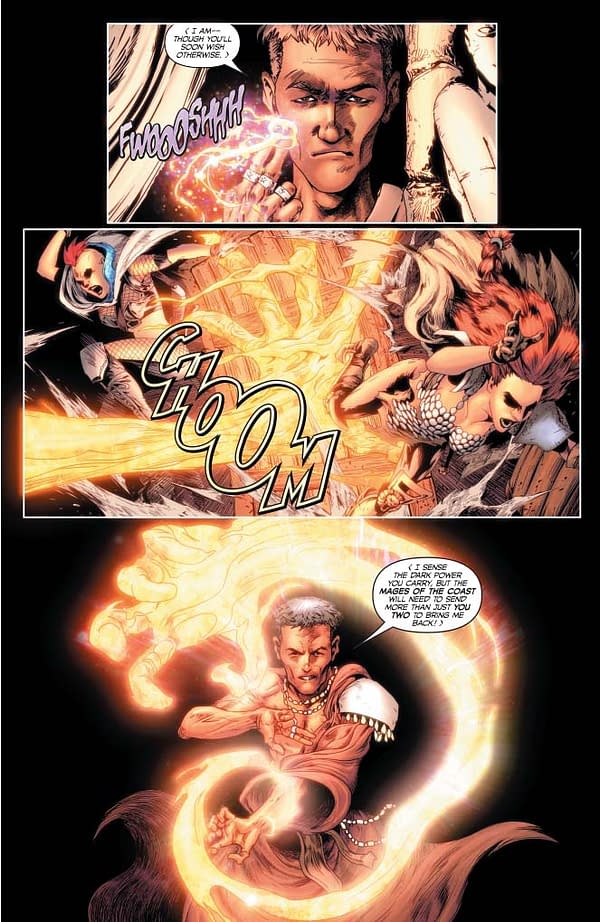 PAGES 05
And that is some damn cool magic. Fiery fists!
PAGE 07
Again, reminding folks Sonja is capable of strategic thinking, again stopping the fight and getting the wizard — who has troubles of his own — to listen.
PAGES 09-12
A quick skip ahead, and — to help Sonja and Chastity find out how to resurrect Gath without killing someone, our wizard friend contacts a ghost. The skull is in the shape to match a great toadlike head the ghost has, a subtle detail courtesy of Mr. Lau. I also particularly enjoy the wizard hanging outside of the panel as he works his magic in a bit of a stupor — it's a fantastic style choice that works to great effect.
The ghost gives them three questions, and yes, I did chuckle when I realized Chastity's rhetorical question "He can understand me?" would count against their total. But she redeems herself on page 10! Sonja and Chastity both get one helpful question answered.
And then the ghost leaves, letting them know that he knew things that they didn't ask about — and he's not going to clarify.
You just can't trust the dead!
PAGES 13-19
Let's cut away to Evil Ernie and his dragon.
Purgatori attacks, knocking the dragon out of the sky… Ernie gets his licks in by ordering the dragon to eat Tori. That doesn't end the fight.
I love the onomatopoeia of a fight being used as the borders of a panel; Jonathan threw that in here. It's so comic booky… which is perfect.
Fighting fighting fighting and Evil Ernie getting put down hard, and out of Purgatori's way. I think the most fun element here — which… heck, I won't even spoil it — but it's Smiley's fate. It's a little gross on its face, and it sets up a good joke in the next issue—dual-purpose FTW.
But beating Ernie and absorbing some extra power allows us to shortcut Purgatori halfway across Hyborea to the site of the final battle. And when she gets there… there's a temple, a full moon, and two redheads fighting a legion of vampires.
Which is where we'll pick up in #5.
See ya then… and until then, keep yourselves safe and healthy!