Searching the Pages of DK Books' Ultimate Marvel for Anything New
Every couple of years it seems that DK Books comes out with a new all-things-Marvel guidebook, some of them containing character info, others containing canon info, and some being a mesh of the two. The most recent addition to this library is Ultimate Marvel, which covers the basic things you need to know within the Marvel universe as it pertains to the comics. We got ourselves a copy and decided to see how this one shapes up to previous books the company has released.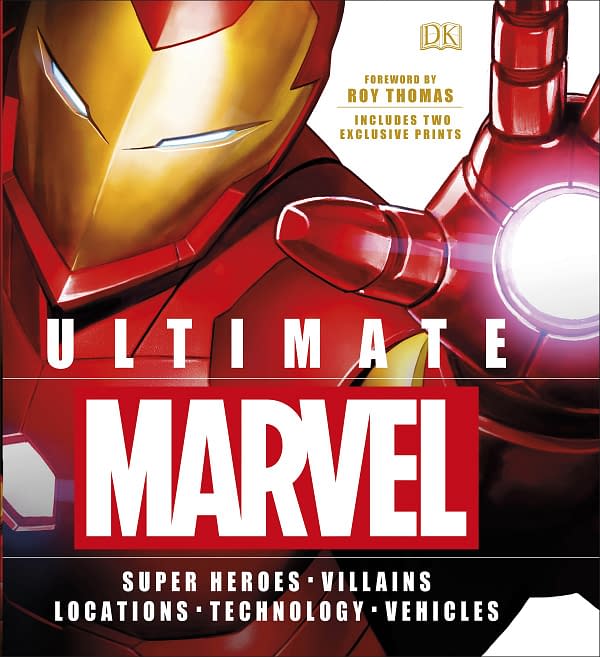 The first thing of note is that the book is divided up into select primary areas: Super Heroes and Villains, Locations, Weapons and Technology, Vehicles, Cosmic Powers, Magical Artifacts, Planets and Realms, and finally Countries and Places. This is a bit of a change of pace from other encyclopedia-like tomes in the DK collection for Marvel — rather than going down some form of a timeline for the entire book and incorporating what you need along the way, they divide up the information based on category to make things slightly easier to locate based on subject. Depending on the kind of reader you are, this can either be jarring or easily accessible, and for us, we felt it leaned more toward the latter.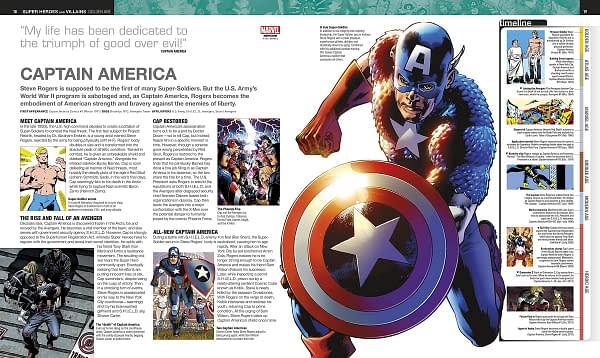 When you go through every page, you're being given what many refer to as "the coffee table experience". You're given enough information to educate you about what you're looking at but not an in-depth researched history of the subject. Take the page on Captain America (above) for example. You're given a bio and a history on the character of Steve Rogers, as well as tidbits of his life and other factoids you should know about the character that will give anyone who knows nothing on the subject a good idea. However, this is not a guide about Captain America, so all the facts you need to know are simplified into two pages and then they move onto the next subject. Essentially, it's what anyone who wants to jump in cold would need to get up to speed these days.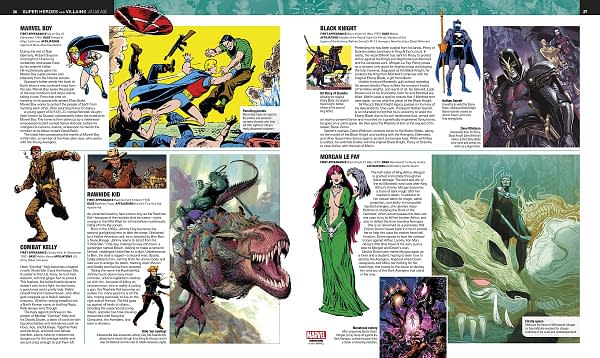 The division of the guides is everything you'd expect from DK as they give you a page-by-page examination of the most basic material to the most random and obscure references. A good example of this (below) is you can see them dissect the S.H.I.E.L.D. Helicarrier piece by piece like you would show off how a layer cake is made, giving you an idea of how this fantasy military vehicle works and what exactly every level is storing. Even the villains (above) are given enough of a description for you to get an idea of what they're about as a person and their motivations in a couple of paragraphs, so you understand what to expect from them whenever they make an appearance in the comics.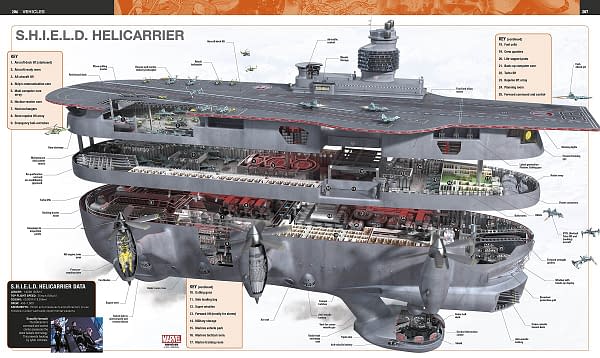 Ultimate Marvel isn't perfect, but that's completely okay — there are other Marvel books by DK that do a far superior job of explaining everything and anything you need to find. So why purchase this one? This is the perfect book for people who have enjoyed the MCU and want to get into the books but have no idea who is who beyond what they've seen on screen and may not know all the awesome stuff Marvel has to offer in terms of stories. And unlike the movies, the book covers stuff that isn't Disney owned, like the X-Men and Fantastic Four. It also explores topics others may think they know but don't truly get the whole mythos behind like the real Civil War series. It's $40, which isn't too shabby for something a first-timer would need. But if you're going to be a nit-picking fanboy who needs everything, this isn't for you.