Seems Dynamite wants to give you lots to read tonight. Besides the full Red Sonja issue we posted early this evening, here are two 8-page extended previews of Battlestar Galactica: Six #1 and Doc Savage #5. Then we have full issues out of the Deja Thoris Vol 5 and Vamperilla Vol 5 trades.
BATTLESTAR GALACTICA: SIX #1
J.T.Krul (w) Igor Lima (a) Jenny Frison, Chris Bolson (c)
FC • 32 pages • $3.99 • Teen+
Don't miss this exciting chapter in Battlestar Galactica lore as the early origins of Number Six are explored. In developing the next generation of Cylons, getting the models to look human was the easy part. But acting human is another story. Witness the evolution of Number Six as she learns to live, to love, and to hate.
DOC SAVAGE #5
Chris Roberson (w) Bilquis Evely (a) Alex Ross (c)
FC • 32 pages • $3.99 • Teen+
When a group of cultists takes control of an abandoned orbital weapon in 1988, threatening to burn whole cities unless their demands are met, the whole world is in a state of panic. Fortunately, Doc Savage and his aides are already in orbit repairing a communications satellite, and are the only ones who have a chance of averting disaster. But it's a slim chance…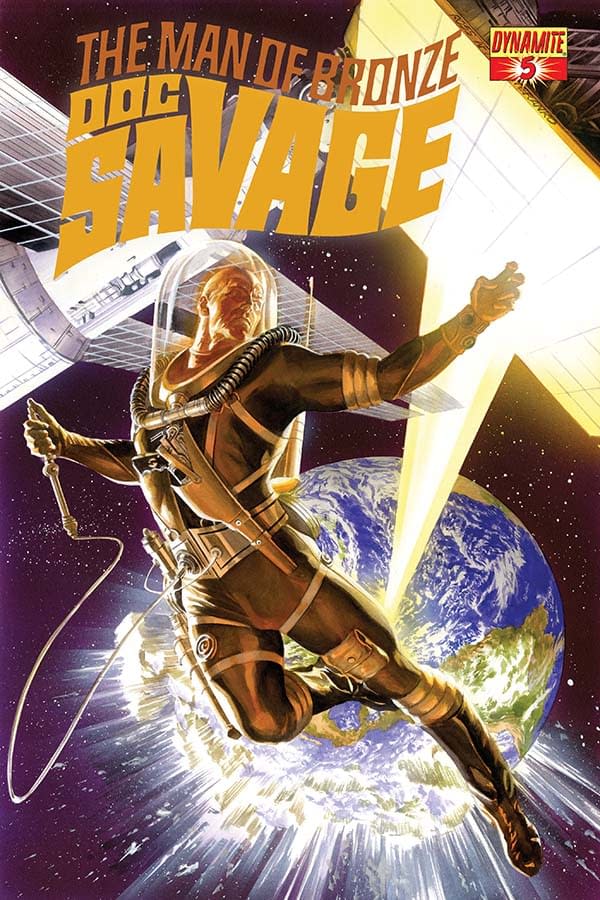 WARLORD OF MARS: DEJAH THORIS V5 RISE OF THE MACHINE MEN TPB
Robert Place Napton (w) Carlos Rafael, Debora Carita (a) Paul Renaud (c)
FC • 128 pages • $19.99 • Mature
When a mysterious criminal known as "Mortus" murders her old friend, Dejah Thoris goes against her grandfather and father's will and journeys to the dangerous Red Man city of Zodanga to uncover the truth of what happened. She forces a secret operative from her government to take her on as a partner and together they assume the guise of an assassin and his slave. They penetrate the seedy underworld of Barsoom's most crime ridden city and join one of the assassin guilds as they play a dangerous game to learn Mortus's true identity. Dejah gets more than she bargained for when Mortus is finally revealed and she comes face to face with the mechanical monsters known as the Machine Men!
This volume collects issues 20-24 of the hit series by Robert Place Napton, Carlos Rafael, and Debora Carita, as well as all of the covers by Paul Renaud and Fabiano Neves. VAMPIRELLA VOL. 5:MOTHERS, SONS, AND A HOLY GHOST TPB
Brandon Jerwa (w) Heubert Khan Michael, Patrick Berkenkotter (a) Paul Renaud (c)
FC • 144 pages • $19.99 • Teen+
Secrets (and blood) are spilled when supernatural heroine Vampirella is drawn into an unexpected family reunion! What are the secrets of The Conjuress and the man called Criswell… and how do they relate to Lilith, Vampirella's estranged mother? But bad blood and old grievances are put aside when a deadly coven of witches threatens to unravel all time and reality, and Vampirella finds herself stranded one hundred years in the future. A vision of things to come forces our heroine to make a painful decision, forever altering her fate. Will she survive as a new kingdom rises in the land?
COLLECTION FEATURES:
• Issues twenty-seven through thirty-one of the critically-acclaimed series by Brandon Jerwa, Heubert Khan Michael and Patrick Berkenkotter
• Complete cover gallery featuring the art of Paul Renaud, Lucio Parrillo, Fabiano Neves and José Malaga!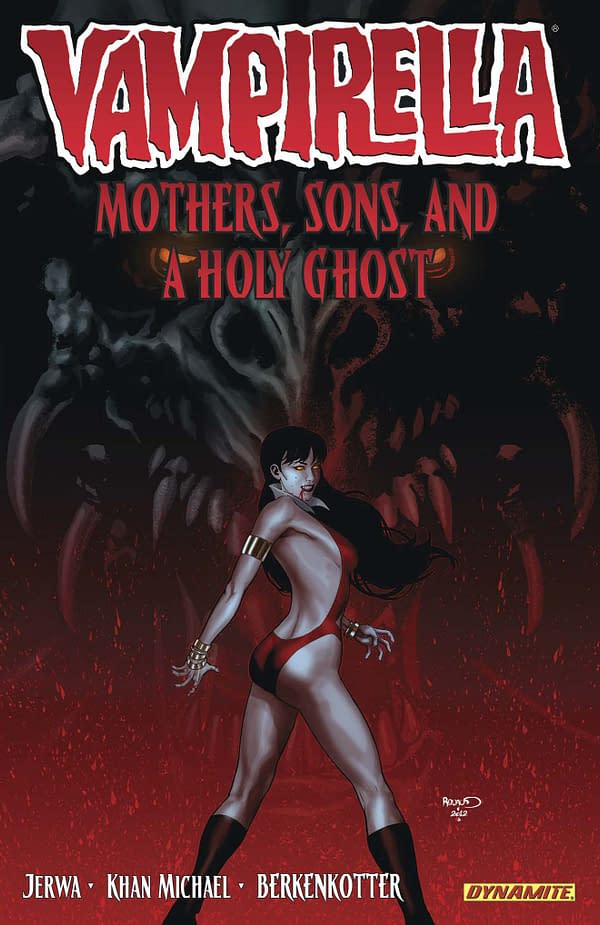 Enjoyed this article? Share it!