EXCLUSIVELY confirmed in a ComicBook.com EXCLUSIVE earlier today, the search for The Legion of Superheroes' Saturn Girl will EXCLUSIVELY begin this April in Supergirl #8, one month after it EXCLUSIVELY begins in March's Batgirl Annual as reported EXCLUSIVELY on Bleeding Cool yesterday. As noted in that report, Batgirl Annual's solicit reads:
BATGIRL ANNUAL #1
Written by HOPE LARSON
Art by INAKI MIRANDA
Cover by BENGAL

Batgirl and Supergirl must team up to break into Arkham Asylum! In this all-new Rebirth annual Batgirl must seek Supergirl's help to solve a mystery that leads them to the heart of the most insane insane asylum there is! But what they discover—and who they discover—in Arkham will lead to a much, much bigger story!
Bleeding Cool EXCLUSIVE-in-Chief Rich Johnston surmised that, since we know that the story of the Emerald Empress hunting Saturn Girl will continue in Supergirl, and we know that Saturn Girl is held prisoner in Arkham Asylum, given the Batgirl Annual solicit…
Could this actually be where it all begins? I'm sure there will be more in April's Supergirl…
Which brings us to ComicBook.com's EXCLUSIVE, EXCLUSIVELY confirming the thing we reported a day earlier by saying basically the exact same thing in different words, except that they also have the solicitation for Supergirl #8 EXCLUSIVELY provided by DC Comics:
SUPERGIRL #8
Written by STEVE ORLANDO • Art by MATIAS BERGARA • Cover by EMANUELA LUPACCHINO and RAY McCARTHY • Variant cover by BENGAL
A "Superman Reborn Aftermath" tie-in! Superman and Supergirl meet again for the first time to face the evil of the Emerald Empress! Plus, what does it mean for the Girl of Tomorrow when tomorrow promises a Dark Knight? Shocking revelations, all-powerful sorceresses from the future, the Batgirl of Burnside and dinner in the Wild West—they're all here in this amazing issue!
On sale APRIL 12 • 32 pg, FC, $3.99 US • RATED T
Now, you might be thinking to yourself, none of these things seem particularly EXCLUSIVELY, and, if you promise not to tell anyone, we will EXCLUSIVELY reveal to you that you are absolutely right. But don't blame us; we don't make the rules of comic book journalism.
Here's the cover to Supergirl #8:, on which we have EXCLUSIVELY covered the ComicBook.com watermark with a photo of Bleeding Cool mascot, The Johnz, spouting his EXCLUSIVE signature catchphrase: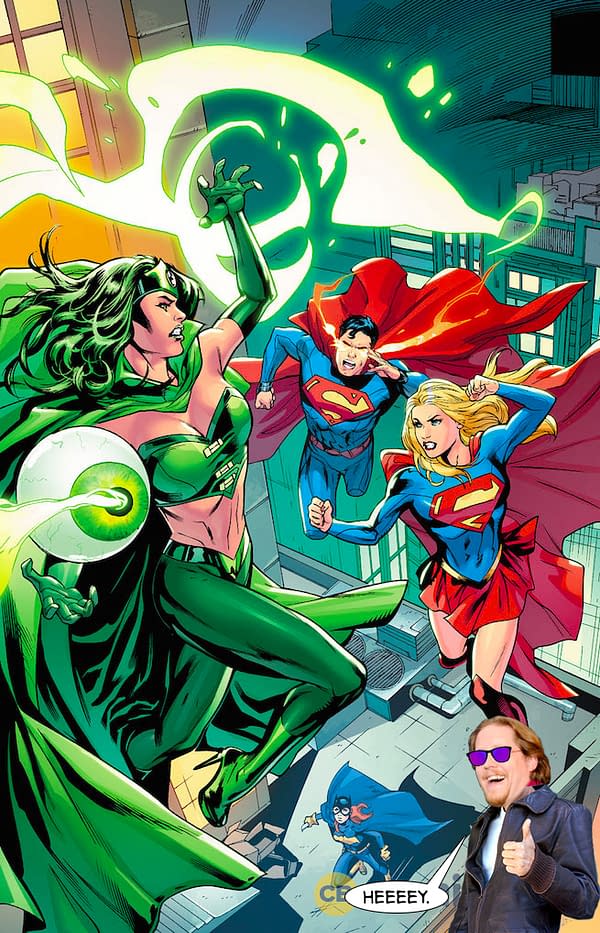 Enjoyed this article? Share it!