Falcon #5 Review: An Uplifting Finale to a Strange Story
The Falcon touches base with Rayshaun and Joaquin about his experiences and where he plans on going forward. They will be covering crowd control. Meanwhile, Doctor Voodoo and Daimon Hellstrom will be taking the fight to Dray and Blackheart respectively.
This finale to "Take Flight" prioritizes contextualizing where the Falcon is right now on his personal journey as well as making sure that he lets his friends know what they mean to him. In that regard, it is a resounding success. He is trying to make a legacy of his own, and he wants the Patriot and Joaquin along for that.
That plot synopsis makes it sound like Voodoo and Daimon are doing the heavy lifting in this fight. That's not entirely the case; the Falcon does confront Blackheart once more in this comic, and it is pretty awesome.
Rodney Barnes' script is mostly quite good, but he does still have the occasional problem of making what should be subtext into plain text instead. For example, Blackheart announces his personal anxieties to Daimon openly and willingly.
The cooperation with the police and national guard to help contain the riots are way cleaner than they should be. It makes it look like Blackheart is the core problem here, when he isn't in the grand scheme of things. Joaquin lampshades the issue by saying that he wished all systemic issues were this easy to solve, but it doesn't really correct the overall implication.
The ending to Dray's story is a little muddled. I won't spoil it here, but it leaves me unsure as to what the audience should make of this character. It seems more ambiguous than intended.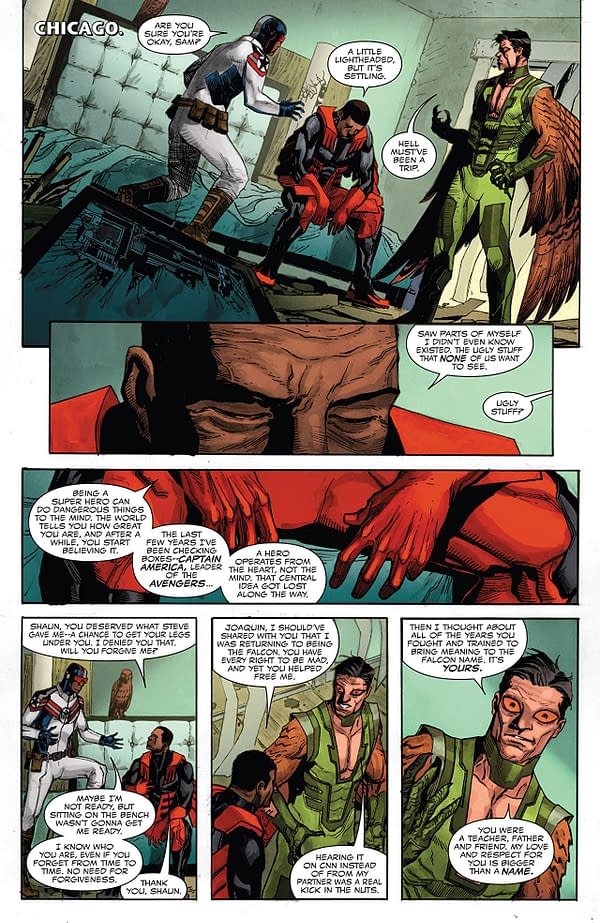 Joshua Cassara's artwork continues to be fantastic, creating the gritty world this comic needs. The fight scenes look quite good, and there is a super satisfying panel of Sam punching the crap out of Blackheart. The demon son himself has a great and monstrous design. Voodoo's costume looks especially good too. Rachelle Rosenberg's color art continues to give this world its gloomy-yet-hopeful atmosphere too, and the overall book looks phenomenal.
Falcon #5 doesn't bring the cleanest or most unexpected ending to "Take Flight," but it does give a satisfying and fairly heart-warming conclusion. You know what this title will be about, and you know the cast to expect. The art is excellent to boot, and this one does get a recommendation. Check it out.