Words by Jason Kauzlarich and Brandon Wainerdi.
Warning: This piece contains some major DC Comics spoilers.
This past weekend, when all eyes were on Chicago and C2E2, the likes of Joe Quesada, Scott Snyder, and Greg Capullo were living it up at Fan Expo Dallas, the latter two to hint at things to come and sign a ton of copies of Metal #1.
In between multiple signing times (including some at the new DC Boutique booth), the duo sat down for two Q&As, including one just for a special ticket-buying audience. At this premium event, the creators were surprisingly candid about their work, their back-and-forth banter giving the panel a casual vibe that is often missing from bigger conventions. Radiating appreciation for their fans, they were very humble about their successes, bringing up how they take into account the price point of individual floppies and how they want to respect their fans by not bleeding their wallets by creating unnecessarily long story arcs.
No new information was really dropped during the first (free) Q&A, but before the aforementioned "Fan Experience" signing they did an impromptu panel, with a talkative Snyder dropped some major DC spoilers, as well as some information about upcoming projects. As Tom King was spoiling Batman #45 at C2E2, Scott was asking Greg to hold his Sarsaparilla.
News we've been reporting for almost two years: the follow up to Wytches finally comes out around Halloween.
There will be two versions of the Metal trade: the standard copy, with just the six issues and then a second that includes those six issues, plus the pages of Wild Hunt and Lost, as well as Capullo's designs, an essay from Snyder and more. Keep that in mind before double dipping.
When asked about the mysterious Source Wall at the end of Metal, Snyder said:
"It's the whole impetus of No Justice … but I'm just gonna spoil it: the Green Lantern Corps goes out to the wall to be like, 'What's on the other side?'

The energies are unquantifiable and toxic so they decide to seal it, but they realize is that they have woken up things at its edge that are now coming back. Justice League Odyssey deals with Yuga Khan, and that's actually why Darkseid is on the team: his father is released from the wall. I'm totally spoiling everything. Justice League Dark also deals with that because, when the wall falls, something happens in No Justice that completely upends magic, and the people that created magic on Earth come back to get it. So that's gonna be a fun one.

And Justice League itself deals directly with it because it deals with the first thing that comes from the Source Wall. That's the first issue. The first page. Something comes shooting towards Earth and you see Justice League One Million see it and it's moving so fast that it phases time. So Grant [Morrison]'s characters see it and Justice League One Million sees it and The Monitor sees it … and then Kamandi sees it and is like 'What?' and then it comes at Earth.

We are showing everything, and it's going crazy."
Snyder then went on to say how he wants everything in the DC Universe to be connected. Even if for just a page, he wants Swamp Thing, Zatanna, Adam Strange all to feel and be part of the new DC going forward.
Also, the Legion of Doom is coming.
All we can say is: the $99 "Fan Experience" package was definitely worth it.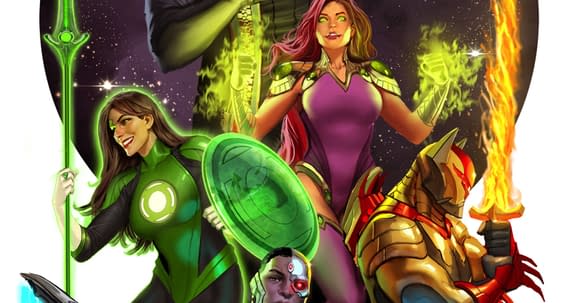 Enjoyed this article? Share it!