First Contact and Loving AI in Charlton's Space Adventures, at Auction
One of the low-key best science fiction titles of the Cold War era, Charlton's Space Adventures contains many underappreciated gems.
---
Charlton's Space Adventures is a somewhat confusing title, as the publisher launched the series four different times under varying circumstances. The original series began in 1952 and ran for 22 issues. It is best remembered for reviving the Blue Beetle and some early Steve Ditko covers, plus Dick Giordano's 1953 transgender-themed tale titled "Transformation." The second Space Adventures series lasted 37 issues 1958-1964 and is best known for introducing Captain Atom by Ditko and Joe Gill. The title was briefly rebooted again in 1967 with work by Denny O'Neil and Ditko among others, with that series numbering then continued for five reprint issues in 1978-1979. But even aside from those brief highlights, there are some absolute gems in this title. One of the low-key most important science fiction comic book titles of the Cold War era, there are a number of issues of Charton's Space Adventures up for auction in the 2023 March 19-21 Sunday, Monday & Tuesday Comic Books Select Auction #122312 at Heritage Auctions.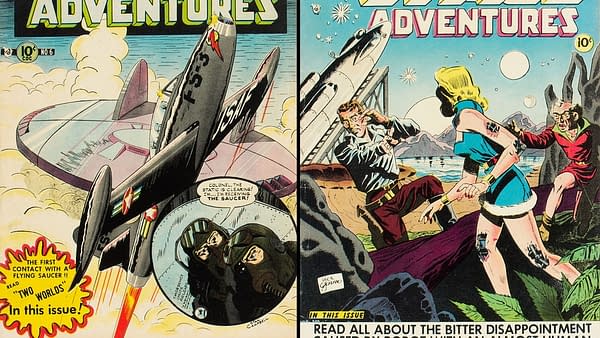 Space Adventures #6 features a strange story of first contact drawn by Giordano, as a pair of USAF fighter pilots make contact with the operators of a flying saucer they encounter. The aliens tell the men they have been mounting an invasion force using Mars as a base for hundreds of years while carefully monitoring Earth as they build up the number and strength of their forces. They deliver an ultimatum to the pilots, but then a sad twist of circumstance intervenes in the fate of Earth.
Giordano is joined by shockingly underappreciated writer Carl Memling for the Space Adventures #8 cover story, about a handsome space explorer who becomes stranded on a distant asteriod, to find it inhabited by a couple — a beautiful woman and an older man. The woman falls in love with the handsome young explorer, and when he balks at the notion of cutting in on the couple's existing relationship, the woman solves that problem by killing the old man who loved her. Ultimately, the stranded explorer discovers that this is the action of an artificially intelligent and humanoid robot who is willing to do anything to get what she wants. Sort of an adult version of M3GAN, perhaps.
These two and other overlooked gems from the Space Adventures title are up for auction in the 2023 March 19-21 Sunday, Monday & Tuesday Comic Books Select Auction #122312 at Heritage Auctions. If you're new to Heritage Auctions check out their FAQ on the bidding process and related matters. Also, please note that the weekly Select Auctions have been expanded to three days, with Comic Books (pre-1956), Pulps, Memorabilia, and Magazines Session 1 on Sunday, Comic Books from 1956-1969 Session 2 on Monday, and Comic Books from 1970-Present Session 3 on Tuesday.

Affiliates of Bleeding Cool buy from and/or consign to Heritage Auctions.
---
---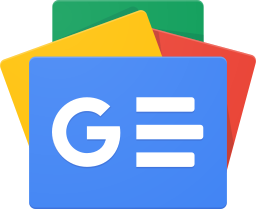 Stay up-to-date and support the site by following Bleeding Cool on Google News today!