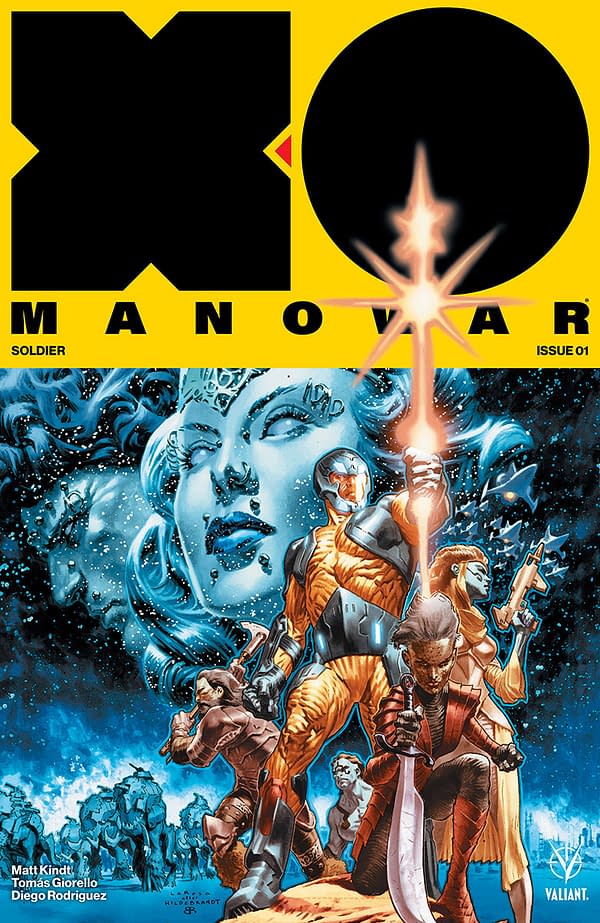 Today sees the release of Valiant's much promoted, highly anticipated X-O Manowar # 1 by Matt Kindt, Tomas Giorello and Diego Rodriguez. And, boy, is it pretty. Metal cover or not…
Promised as a bold new beginning for one of the resurgent publisher's biggest and most beloved characters, Valiant has promised that this series – their biggest launch of the year – will be the driving force of the Valiant Universe throughout 2017.
So what revelations does it hold? Clocking it over 30 pages of story, there are plenty of points of interest, beginning with:
THE PAST IS PROLOGUE
Robert Venditti and Cary Nord's X-O Manowar series relaunched the entire Valiant line in 2012 and ran for 56 issues. This is the same character, with the same history…but you don't need to know any of that. The "jumping-on point" is one of the comic book industry's most sought after and most evasive taking points. This issue is the rare relaunch that manages to honor all that came before.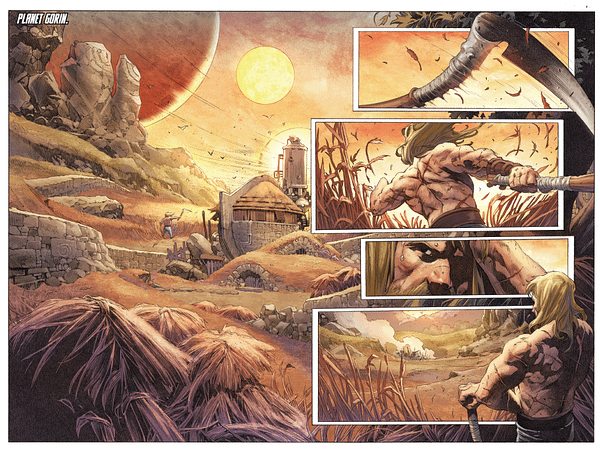 INTRODUCING THE COSMIC SIDE OF THE VALIANT UNIVERSE
Right off the bat, Kindt and Giorello introduce us to the alien world Gorin (no doubt a tip of the hat to one of Valiant's old pals) – a place that seems to be as old as it complicated. This isn't the standard, stainless steel sci-fi metropolis… Equal parts steampunk, lost jungle empire, and World War I-inspired apocalypse, this is a lived-in civilization that's dusty, bloody and full of foreboding.
Notably, it's also the first time that Valiant has spent any significant time away from Earth… Quite possibly setting up some further opportunities for other Valiant heroes to go "full cosmic" as the series ramps up.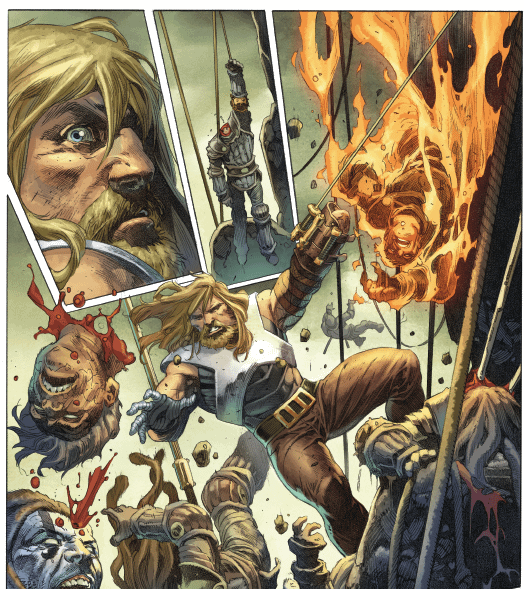 WARFARE, WARFARE, BLOODY BLOODY WARFARE
When Saving Private Ryan first hit cinemas, it reinvented the notion of how war could be presented on screen. And while everyone from Harvey Kurtzman to Walt Simonson to Bryan Hitch have redrawn the rules of what a comic book battle scene can be, artist Tomas Giorello has infused X-O Manowar's fights with a sense of grit, mud, and relentless dread that is rare for the superhero genre.
Aric spends nearly a third of the issue serving as A grunt on the front line of an alien siege and the resulting assault is the pounding, armor-plated equivalent of Saving Private Ryan in space.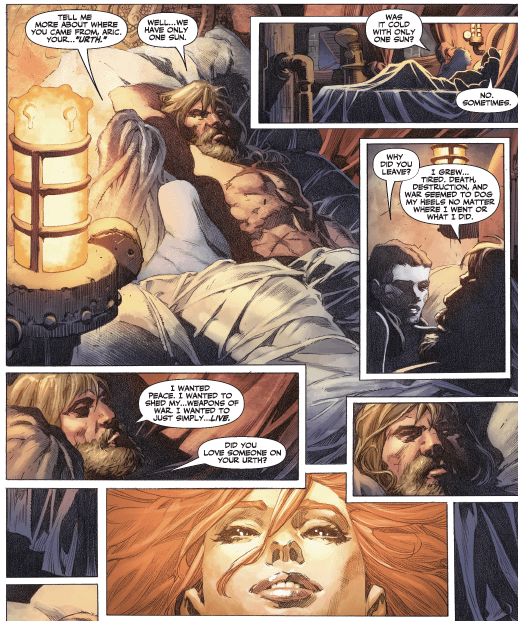 BEHIND IT ALL, A CENTRAL MYSTERY
Why did Aric leave Earth? Why did he choose Gorin? Why has he fallen out with the X-O Manowar armor? These questions and more haunt the first issue's pages and, with the brief exception of a one-panel appearance from his wife, no characters from the series' previous run make an appearance. But Kindt is clearly weaving a long-term web here that will have ramifications for what we thought we knew about X-O Manowar and, as readers of Mind MGMT know, the answers might be staring us in the face long before they're ever drawn to the fore.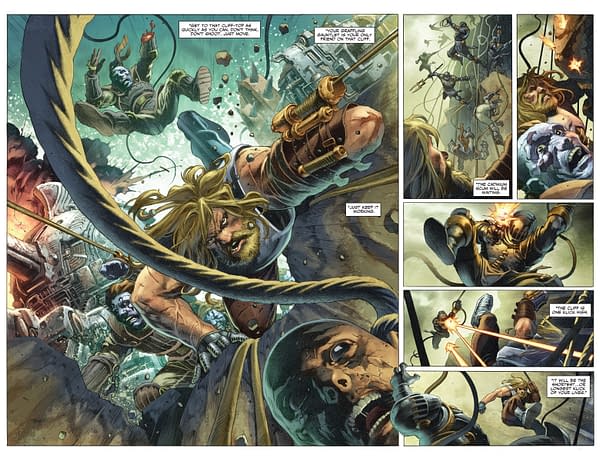 ALSO INTRODUCING: TOMAS GIORELLO
Valiant has one of the most robust stables of exclusive artists in the business, so the choice of the relatively unknown Tomas Giorello to launch the return of their biggest character might have taken some by surprise. Well, judging by this issue, it's no surprise at all. Equal parts Mark Schultz, Andy Kubert and John Buscema, Giorello – who previously made appearances on Dark Horse's Conan and Valiant's Bloodshot Reborn – puts some serious firepower behind his artwork for one of Valiant's best looking first issues of all time…which is saying something.
X-O MANOWAR #1 is on sale today from Valiant Entertainment.
Enjoyed this article? Share it!