Pete Rogers writes for Bleeding Cool:
My first-ever comic script was called Darwin, it was about a murderous talking chimp and Andy Diggle was right, it was terrible. I made the classic mistake of showing my work too early, not taking on board the notes I was given and missing a golden opportunity when Andy agreed to look at my work.
That was back in 2002, and since then I've been able to call on the likes of Tony Lee, Si Spurrier and Rob Williams to look over my scripts and give me very honest appraisals of them. More recently, as a member of the Comic Experience workshop, run by ex-Marvel and IDW editor Andy Schmidt, I have received regular feedback on my scripts from industry professional writers and editors.

It's with their help that I've been able to put together Forgotten Planet, a science fiction action adventure graphic novel, with art from Giancarlo Caracuzzo (Gorilla Man, Formic Wars, Jonah Hex, Random Acts of Violence, Weapon of God), which is being funded via Kickstarter.
In 1976 …a secret war raged on Pluto.
In 2006…Pluto's planet status was revoked.
One by one…those who know the truth are being silenced.
But one man remembers everything.
30 years later… Cale Beckett must return to the…
But, not everyone is fortunate to have access to a second opinion, a sounding board or someone who can give them an editorial steer. That's one of the reasons we've decided to open up the Forgotten Planet Kickstarter campaign to help aspiring writers, by adding a new reward level. And we thought Bleeding Cool readers would like to hear about it first.
We're adding a £30 Reward level (about $47), which includes the 100-page softcover of the book, as well as a script critique from yours truly. Since sending that first script to Andy, I've written for a number of publishers, co-founded Eagle award nominated anthology Eleventh Hour and edited a first time writer on Chris Smith and the Nazi Zombies from Hell, pairing them with Vik Bogdanovic who is also working on Image's Reality Check.
If you have a script that's 22 pages or shorter, I will provide detailed notes, thoughts and questions to help with the writing process. For the same price, my editor on Forgotten Planet, Shane Chebsey (Scar Comics), is also doing one-hour portfolio reviews for artists via Skype.
So, if you like the sound of Forgotten Planet, you can pre-order via Kickstarter before the campaign ends on October 1st, and if you're an up and coming writer get some valuable assistance along the way. We're grateful for all the support and pledges we've had so far, and hope that with your help the book will soon be a reality.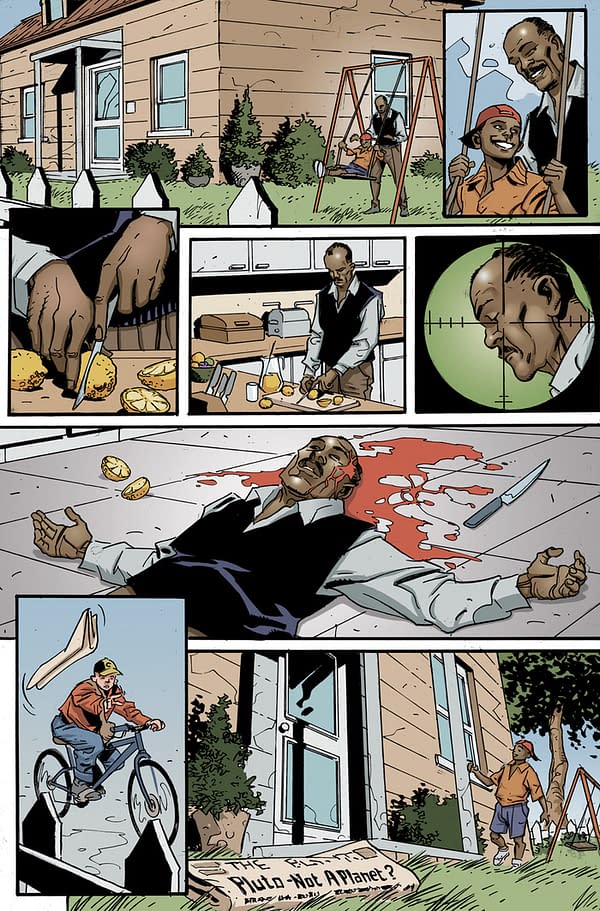 Enjoyed this article? Share it!