In Doomsday Clock, the unauthorised sequel to Watchmen being published by DC Comics, the Watchmen incursion crew are on the hunt for Dr Manhattan, who has been operating in the DC Universe, wiping out Titans histories here and Justice Societies there, splitting Superman in two, messing with Superman and Batman's respective fathers, all sorts of nonsense.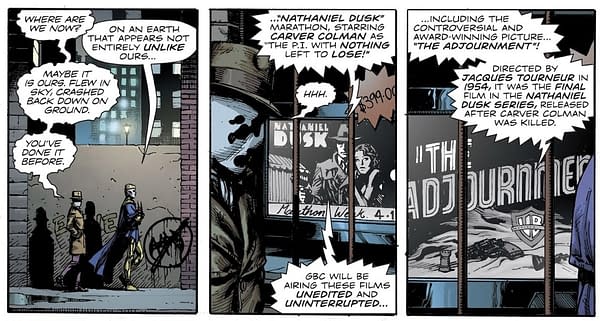 There is the suggestion that Dr Manhattan may have taken on a secret identity in the DC Universe.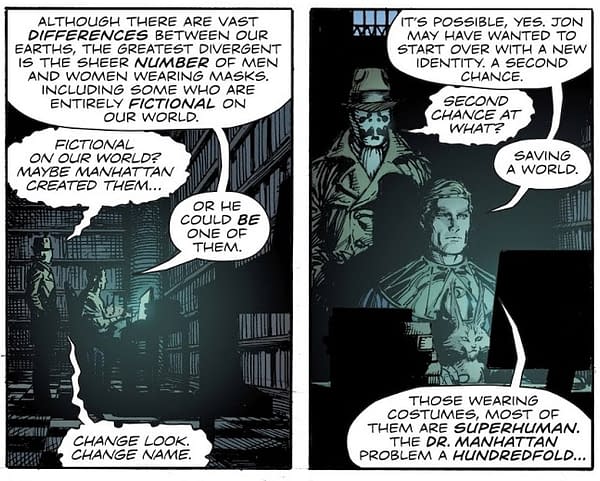 But could it have been there in their very first steps onto the streets of Gotham? Doomsday Clock has reinterpreted the Nathaniel Dusk comic books as a series of films from the forties and fifties and had the actor, Carter Colman who played him, murdered in the fifties, killed by one of his own awards.
But it turns out Carver Colman was never Carver Colman — he was someone unidentified. He had a fake identity, claiming to have grown up on a farm.
Could Dr Manhattan be Carver Colman? Playing out other people's lives? Taking on Superman's life story? As the backmatter states, his supposed life story growing up on a farm was fake. He has a secret room in his house filled with clocks and a watch collection, just as Dr Jon Osterman, Dr Manhattan, grew up. Was he trying to replicate his own early life as well? Did he reject his abilities, so that he could be killed by an award, or if he faked that death as much as he did that of The Comedian?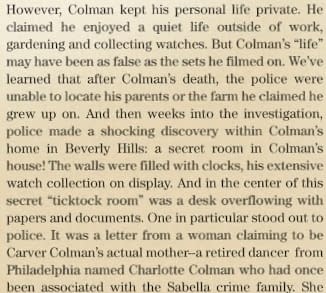 Just a theory. The films of Nathaniel Dusk cross with the Doomsday Clock narrative, much as the Black Freighter comics did with Watchmen, and just as the author of those comics ended up part of the Watchmen narrative, so the actor Carver Colman, and the writer John Law, will do the same…
Oh yes, John Law, the movie's writer. And Jonathan Law, The Tarantula of the 1940s superhero team The All-Star Squadron, who first appeared in Star-Spangled Comics #1 in 1941.
And one of the suspects of the murder.
Oh what a tangled web we weave…
Enjoyed this article? Share it!