Being a comic creator isn't like most other jobs. You do your best to choose a path that will be the most successful but there is not guarantees. All you have is your time and talent and where you focus those could change your life. Even someone as established as Frank Cho agonize over these types of decisions. Frank shared his thoughts on his blog today.
I'm at a crossroad in my life and career. A rather "Catch-22″ situation. I want to do creator-owned projects but I have my obligations to Marvel Comics.

I have 5 creator-owned projects that I want to write and draw. (Most are written at this point.) I need time to draw them. Each project will take me about 8-12 months to draw and put together. Unfortunately, none of them pay upfront. Everything is back-end payment. So if I work on my creator-owned projects, I don't get paid until the project is done and published. And only get paid if the project is successful.

Now I'm still under Marvel contract and they pay very well. Overall, I can't say enough good things about Marvel. Axel Alonso and Nick Lowe have taken very good care of me since day one, especially Axel Alonso. He believed in my talent while no one at Marvel did when I first joined 10 years ago. I owe that man my career.

That being said, my enthusiasm at Marvel has waned these last few years. I'm still excited about handling certain Marvel characters, but I'm more excited about doing my own creator-owned projects.

After months of research and meetings, I have three options:
1) Kickstarter
2) Marvel Icon
3) Partnering up with independent publishers

All three options are viable and each has potential for success. As matter of fact, my first creator-owned project launches at Kickstarter in 3 months after Thanksgiving in November.

So at this point, I just have to wait. Just focus on my Marvel work and see what the future will bring.

And hopefully reveal to me which road to take.

Picture of the Day

I've been quietly working on three creator-owned projects during my mini-summer break. This is one of them that I've been working on today. I'll post images of my various creator owned projects throughout the year.

– –
FRANK CHO
And the image Frank put up today: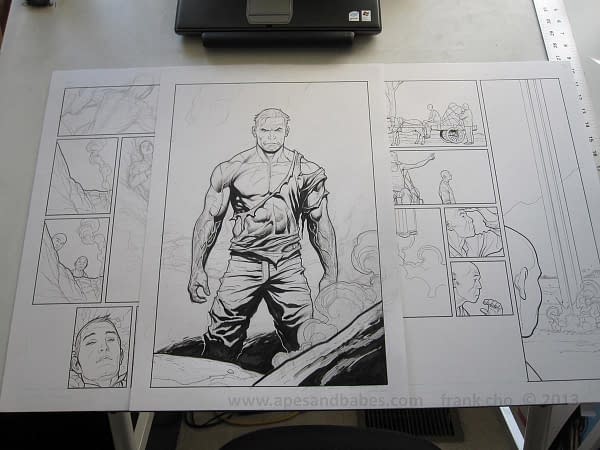 Enjoyed this article? Share it!