Fred Van Lente Talks The End Of Magnus: Robot Fighter
When Dynamite relaunched the Gold Key characters into their own comics, Fred Van Lente was giving the reins to Magnus: Robot Fighter. Now with the twelfth issue coming up, the series will be ending. Byron Brewer spoke with Van Lente about the series and its conclusion.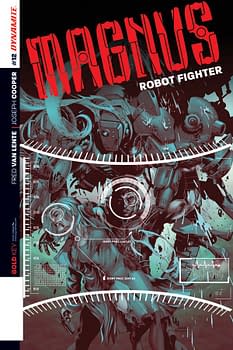 BYRON BREWER: Fred, my friend, I cannot believe Magnus is coming to its final issue with #12. This book is so good! Do you see any life for Magnus post-#12?
FRED VAN LENTE: Thanks so much, Byron! I have very much enjoyed my time on the book as well. It's hard to count a character who's been in print off and on since 1963 down and out, right? So I have no doubt Dynamite has something up their sleeve for the new future.
BB: Did you get to tell the story you set out to tell in issue #1?
FVL: Yes, and I'm very grateful for Nick, Joe and Gold Key editor Nate Cosby for giving me that opportunity. My original pitch for Dreamworks was three acts of four comics issues, and I've been able to execute that plan more or less to a T. And I've been lucky I've had great artists like Cory Smith, Joseph Cooper and Roberto Castro by my side to make those dreams a thoroughly awesome reality.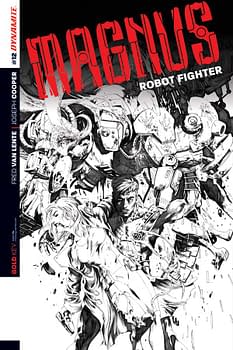 BB: What was the most surprising twist or turn the book may have taken from original plans as it continued?
FVL: The big bad of the final arc, The Basilisk, was based on an article I read on Slate about a terrifying thought experiment called "Roko's Basilisk". As soon as I read that, I realized I had to incorporate it into Magnus and the character soon overwhelmed Act 3 — in a very awesome way!
BB: Was the popularity of H8R a shock? Think he may get his own "special"? If a smiley button can get one …
FVL: I know, it was a really silly idea for a character, though such a parody of an old trope of the "jive-talking sidekick," it was really more a joke that I knew Nate would appreciate it. But the character really took on a life of his own and became absolutely integral for Act 3.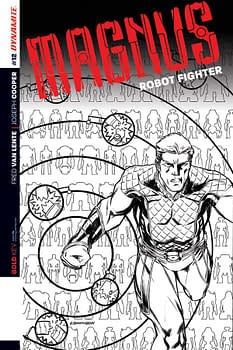 BB: There have been hints throughout the book about Magnus' robot-dad's endgame. Care to give us the tiniest of clues?
FVL: The endgame has been largely foiled by The Basilisk, a character whom 1A did not know existed until he was executing his final assault on North Am — and Magnus and his allies, Leeja, the Gophs and H8R, now how have to pick up the pieces!
BB: Can you explain ANYTHING about #12's final pages? Do they maybe lead to a new series? (smiles)
FVL: While the book is just being solicited now? Heck no! No spoilers from me, people will have to pick up the book for themselves and be shocked, shocked I tell you.
For more on Magnus: Robot Fighter #12, click here.