 DC's offering this year is an interesting choice. Their Superman book includes a chapter from Geoff Johns, Richard Donner and Adam Kubert's Last Son Of Krypton from 2008/2009, but in a clear fashion to play off against Zach Snyder's Man Of Steel. If you haven't read it before, its an excellent introduction to all things Supery – and it's a Superman with his red trunks still on.
For those anticipating a Superman Unchained preview, you may be disappointed. We see the pencils to Jim Lee's four page foldout, and there's a puff piece with Snyder and Lee… but that's it.
Marvel also have an old story, an early appearance of Thanos from Logan's Run #6 at the back, but most of the comic concerns a brand new set up for the Infinity event by Jonathan Hickman and Jim Cheung, and a preview of the Warren Ellis/Mike McKone Avengers hardcover at the back. Death, destruction, genocide and all that coming our way with a new herald.
Basically, it's a win for Marvel for the older guys.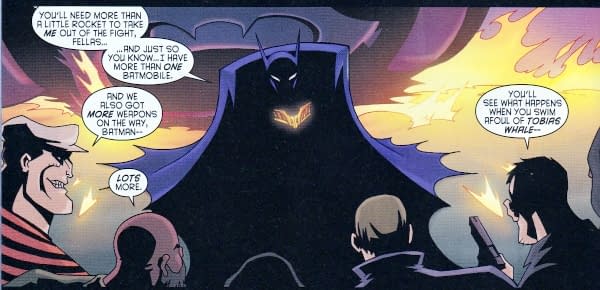 But for the younger kids, DC step up with a new Beware The Batman story and an old Teen Titans Go comic with posters and splash pages of other characters – though the ad in the back for the now-cancelled Superman Family Adventures is a little odd.
Marvel show off their comics based on their new cartoons with panels screencapped from the cartoons. Which does give it a slightly weird look, and not entirely well sitting in the comic book format. But maybe that's my old, old eyes…
Enjoyed this article? Share it!