By Adam Wheeler – Writer and Creator of The Secret Protectors
Since as far back as I can remember I've always loved the mythology of 'The Hero' and 'The Villain'. As a child of the 80's I was blessed to grow up in an era that bought us TMNT, He-Man, Thundercats, GI Joe and The Transformers.
Some of the happiest, early memories, are of playing with my action figures and my friends. I don't know why but as I was never happy to just have the standard 'good guys' go after the 'bad guys'. I always wanted a hook or some sort of series of events or backstory for the characters involved or I'd try to re-enact the scenes from the cartoons or movies. The attack on Autobot City in the animated Transformers film being a favourite depiction of mine to the stage. It would be a pretty rudimental setup, to say the least, consisting of using video (VHS) cassette boxes as the 'walls' of Autobot City.
As I grew (slightly) older I was (and still am) in love with all of the above shows but I wanted something a bit more grown-up. At this pivotal point in my childhood development along came three of the most outstanding cartoon series to have ever been made, at least in my opinion!
1992 bought both Batman the Animated Series and the X-Men cartoons and in 1994 Spider-Man also got his own series. These shows were compelling! Even now, at 34, I'd happily waste an afternoon watching a few episodes of these shows. I was hooked! I remembered making sure to never miss an episode. All of these iconic shows remain firmly in mind, even over two decades later.
Now, I was never a poor kid, I'd say my parents did the best they could but I'm very much a kid from a working-class family. My dad was a long-distance lorry driver and my mum worked a part-time job for a double-glazing firm in telemarketing. Even as a kid I was aware that money was kind of tight. So, as a kid, I only had a handful of comics. My corner-shop / newsagent wasn't really a comic book stockist, they had the odd title here and there but I never wanted to get a single issue if I couldn't read the whole story.
When around eight-years-old I became aware that my mum and dad's marriage was in a tough place. I'll spare you the gory details but they didn't make it. Between 8-10years old my parents split and ultimately divorced. For anyone that's been a part of that process, they know how hard that can be. I can honestly say that as a kid, shows like the X-Men, Spider-Man and Batman helped me through that time for sure. They transported me to another world. Using my imagination, conjuring up scenarios and stories for my action figures helped me through that time too. As a kid, I was fairly introspective.
Fast forward to the 2000s and two computer games were released which, I think ultimately, birthed the world of The Secret Protectors. The MMO City of Heroes and the RPG The Elder Scrolls III: Morrowind.
Perhaps City of Heroes or COH is the easier one to grasp here. You could create, design, name and bring your very own superhero to the streets of Paragon City with their own backstory and powers and team up with players to take on the forces of evil. I had dozens and dozens of characters. I became pretty much addicted to creating new characters with their own fleshed-out backstories. Many of the characters from The Secret Protectors are inspired by my time spent on COH.
Morrowind's influence is perhaps a little more abstract but it transported me to an almost alien feeling, fantasy world where there were warring factions, guilds to join and of course the big bad for you, the player, to overcome. To teenage me though, Morrowind, had a level of nuance that I was unfamiliar with. You could be good, you could be bad, you be pretty anything you wanted. It allowed me to further develop my understanding of character motivation. Now, I know that may sound a bit silly but it really did. As a kid, I always had the 'good guys' win, sure… the 'bad guys' would come close but the 'good guys' ultimately would save the day! Morrowind allowed me to play as a character with good, bad or morally grey objectives. Even the outcomes of missions could lead to unexpected consequences. It allowed teenage me to become a more critical thinker. I know over the last few decades gaming has been vilified by many parts of the media but I think the counterpoint to that is also true. I'm certain there are people, the world round, inspired to be more caring, compassionate, kind and strong-willed because of computer games.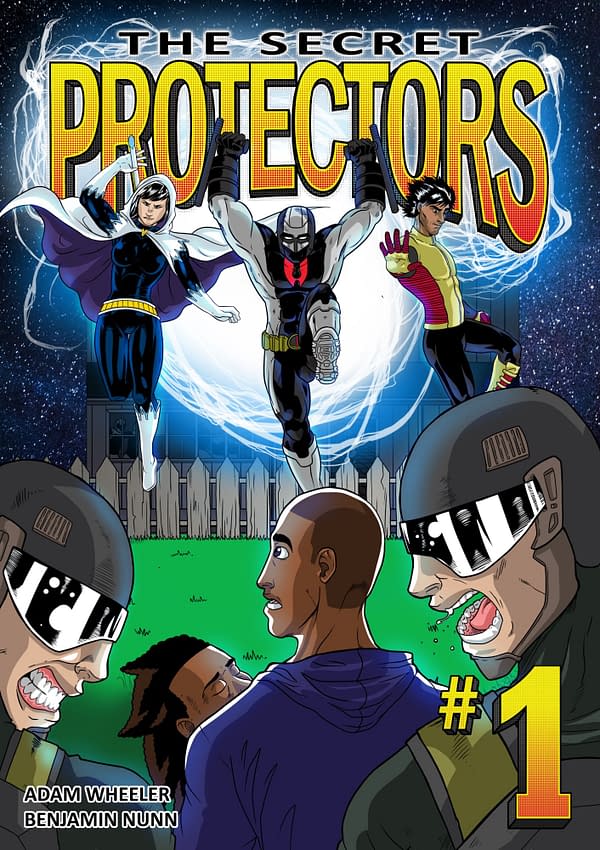 Fast-forwarding to 2017, my now wife and I bought our home together. For years and years, I had the basis of The Secret Protectors storyline all laid out in my mind. One day, I decided to just blurt out my idea to Kate (my wife) in what must have been like a barrage of verbal-diarrhoea. Kate isn't really comic/superhero fan outside of some of the MCU stuff but she was super supportive and really pushed me to do something with the idea. I became pretty obsessed with it… Thankfully not in a self-destructive way but it did become, for a good while, all I could think about. It became a driving purpose. I wrote and I wrote and I wrote… Between writing, I researched and researched and researched! Once I had jotted down all the characters backstories, the plot, the factions and the 'history' of The Secret Protectors world I realised a fundamental flaw in my plan. The Secret Protectors had to be a comic book. Firstly, because it's about Superheroes and Supervillains and secondly, I'm nowhere near talented enough as a writer to write it as a novel!
Those issues aside I believed, as I continue to do today, that this story is one worth telling. So, what does one do when faced with a monumental task? I googled it of course! 'How to make a comic book'!
There was no getting around it I had two options, I needed to either become an artist or I needed to find one. Given it had taken me two decades to actually become serious about making The Secret Protectors into a comic I didn't have the patience, time or money to go and learn the craft. Don't get me wrong, I'd love to be a talented artist but I don't have that gift. It took a while but a google search led me to Benjamin Nunn, who, by coincidence lived just five minutes down the road from where Kate and I had bought our house. Now, I'm not saying this was divine intervention or anything like that but sometimes chance, coincidence and opportunity push you in a certain direction. The direction for Ben and I was Starbucks.
Ben being probably equal parts smart and sceptic wondered what was going on when I contacted him out of the blue about the grand plans I had for a comic book series. Either way, our meetings were productive. I outlined and unpacked the story in the same ungraceful barrage of verbal-diarrhoea that I had to Kate but as an initiated comic, anime and manga enthusiast Ben got me and the story. We'd have long debates and talks about the story and characters. Undoubtedly, Ben's input made our story a stronger one.
So, Ben and I took the plunge, together. We became equal partners in the project, 50/50 owners. Now, I know some people may think I'm an idiot here. Why give away 50% of your project to anyone else? Personally, I look at the flipside of it. Without one another I don't have 100%. I have zero. Ben and I together are a team that bounce off one another's ideas and criticisms. Without each other, The Secret Protectors wouldn't exist. Our decision to go ahead as a team was the final piece in the puzzle to creating The Secret Protectors and whilst it has by no means been plain sailing, I've learnt to indulge in the opportunities and coincidence life throws my way. Case in point is that I only met Rich Johnston, founder of Bleeding Cool because we tabled in the small press area at the London Film and Comic Con. I attended one of Rich's talks and he was kind enough to give me an insight into what I should aim to do next to take The Secret Protectors to the next level.
If you're still reading at this point you may be wondering, what our comic is actually about. The simple answer is Superheroes. If that's not your thing then we've probably lost you but thanks for coming and having a read. However, if superheroes are your thing then in more details The Secret Protectors is about delving between the simple theme of good vs evil. We are hoping to examine and explore the grey areas between them. The characters within our panels are not perfect. They are not Gods, nor are they genius, megalomaniacal millionaires. They are simply people attempting to make the right call when it counts. These are human characters with flaws and histories that put them into conflict with each other when deciding how to act. What each of The Secret Protectors absolutely do know, however, is that their world's fate is in their hands and inaction is not an option!
On the surface, this Earth shares many similarities to our own, however, unbeknownst to all but a few, humanity is in perilous danger. The year is 1982. Following the loss of his father Benjamin Banks, a 21-year-old Kansas-native who is unaware of this secret war, finds himself imbued with incredible powers and thrust into this global conflict. Aligned with The Secret Protectors and working outside of the law for a single purpose; to put a stop to the U.S. based clandestine organisation S.C.I.M.I.T.A.R.
Our story is very much an ensemble piece. Whilst Benjamin Banks plays a very important role in our world, we like to believe that so does everyone else. We wanted to bring forward a world of fleshed out, real characters where there are consequences, sometimes fatal ones, because of the actions or inactions of our characters.
Earlier this year our efforts thus far culminated in successfully running our first-ever Kickstarter campaign. With that in the bag, we're looking to the future. You may wonder where can you pick up our comics, we've recently relaunched our online store where you can pick up issues 1 to 3 of our comic series. For Bleeding Cool readers use the discount code ______ for an extra 10% off! This promotional code will be valid for the next 7 days from (Do we need to give an expiration date?).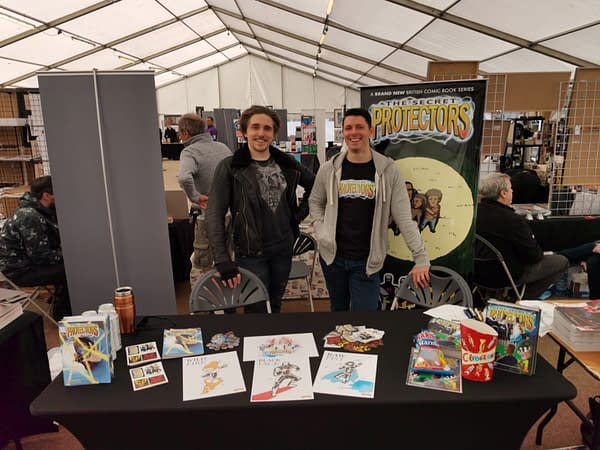 We've got big plans for the future of the series and are planning to run the release of issue 4 as our next Kickstarter campaign and we're also going to be exhibiting at MCM London October 25th-27th so make sure to come say 'Hi'.
So, check us out and let us know what you think! You can also find us in the following places:
Instagram: https://www.instagram.com/thesecretprotectors/
Facebook: https://www.facebook.com/thesecretprotectors/
Email: thesecrectprotectors@gmail.com
Give us a like and a follow or get in touch and we can add you to our mailing list so we can keep you updated on any and all developments with our series.
Enjoyed this article? Share it!