The Full Art Credits for Batman #50 – the Wedding Issue
Earlier we pointed out the Joker's wedding invitation — in his mind, at least — to the wedding of Batman and Catwoman, as seen in DC Comics titles today.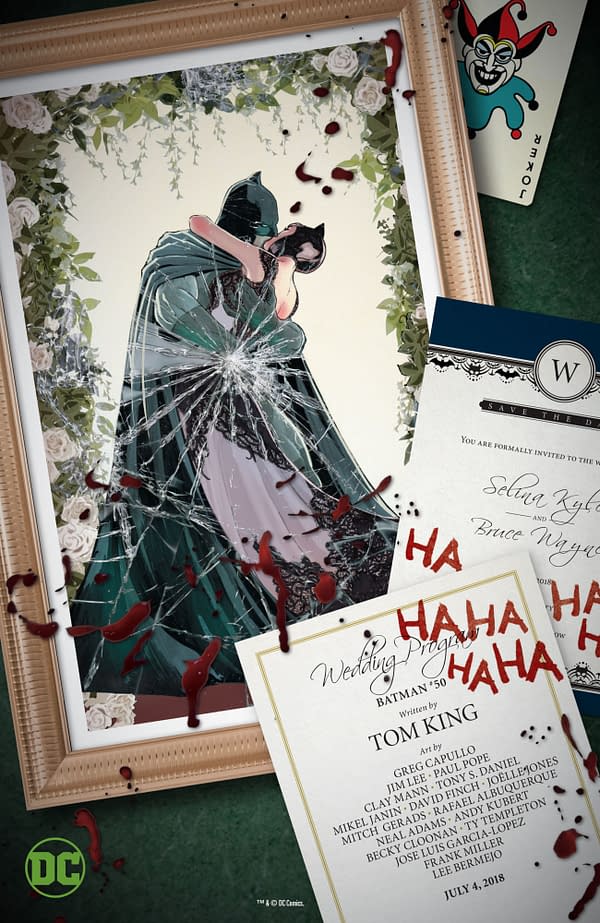 During which, we also got the full lead art credits for Batman #50 for the first time as well.
Greg Capullo who drew the book for the New 52, with Scott Snyder, with Becky Cloonan and Rafael Albuquerque joining in.
Jim Lee whose work on Batman: Hush remains a bestseller.
Paul Pope who gave us Batman Year 100.
Tony S Daniel who relaunched Detective Comics for the New 52 and recently returned for the Booster Gold storyline.
David Finch, who wrote and drew the Dark Knight comic for the New 52 and returned for the marriage proposal issue.
Clay Mann, Mikel Janin, Joelle Jones, Mitch Gerads who have been working with Tom King in his current run.
Neal Adams who wrote and drew much of what defines Batman today in the seventies, and who has returned to the character for his own esoteric series such as Batman: Odyssey.
Ty Templeton, creator on the Batman Adventures series and the recent Batman '66.
Jose Luis Garcia-Lopez just out of retirement for Action Comics #1000,a legendary creator who is keeping his hand in again.
Frank Miller who gave us the Dark Knight comics, most recently with Andy Kubert, and Batman Year One.
Lee Bermejo, who write and drew the classic Batman: Noel graphic novel.
All for Independence Day.
And all artists with established Batcredentials, new and old. And a number in addition to the solicited list…
BATMAN #50
(W) Tom King (A) David Finch, Joelle Jones, Mitch Gerads, Rafael Albuquerque, Neal Adams, Andy Kubert, Becky Cloonan, Ty Templeton, Jose Luis Gari?a-Lopez, Frank Miller, Lee Bermejo (A/CA) Mikel Janin
It's the wedding you never thought you'd see! The Batrimony is real as Bruce Wayne and Selina Kyle are set to tie the knot in a can't-miss, extra-length milestone issue that will reshape Gotham City. All their friends (and a few enemies?) will be party to a comic book coupling for the ages. Superstar scribe Tom King officiates the sure-to-be-offbeat nuptials, joined by an all-star lineup of guest classic Bat-artists doffing their hats to the lucky couple in a series of pre-wedding flashback scenes sure to set the romantic mood.In Shops: Jul 04, 2018
SRP: $4.99