Further Details Of Allegations Against Roc Upchurch – And A New Comics Project?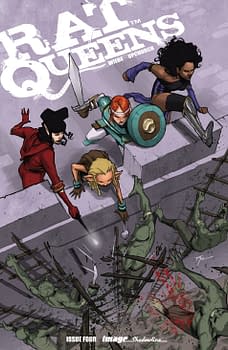 This time last year, Bleeding Cool ran the story that comic book artist Roc Upchurch, real name John Carlton Upchurch, co-creator of Rat Queens, had been charged with battery against his wife. She wrote an account on her website Abuse Lies Betrayal, including photographs of her injuries, while Roc gave us his perspective on events. The site was taken down after we ran our article.
Subsequently to this, Roc withdrew from working on his comic, and Stjepan Sejic, then Tess Fowler were hired to replace him on art duties.
In August, CBR ran update with Roc, asking him about his current situation, stating that the charge of domestic assault was being wiped from his record, which we covered and linked to.
The Abuse Lies Betrayal website had been restored however, not with the original content. Instead, in a series of blog posts, the author has written about her emotional, financial and physical difficulties as a single mother. She also makes continued claims about Roc not living up to his financial obligations, lying about their relationship, while posting what appear to be long threads of text messages between him and his new partner, and what appears to be a notice of intent to place Upchurch on the Delaware child protection register from 2012
I read the blog for the first time this weekend since it was restored, after it was forwarded to me. In a final post last week, the author also addresses the comics industry, including this site, in a post saying
Dear CBR "journalist" Casey Gilly: You claim to be a feminist. And I've seen your written support of victims, in other articles, discussing your background in HR, and your desire to keep the comics community safe from abusers. Yet you failed in your job as a journalist to question Roc Upchurch about the Child Abuse Case brought against him by the State of Delaware. You ignored my public blog which described in detail his physical assaults, and his abuse of fans, and his lack of support/contact in regards to his children. Yet you published an article describing all the reasons why he deserves to be welcomed back. Fact checking is a thing. You should Google it. And CBR should be ashamed to have you contributing to their site. Do you have any idea how much damage you have done? To me? To my son who had to read your lies? To the innocent women who read your words and trusted you and now think Roc Upchurch is "healed"?

Dear Bleeding Cool: While you were one of the first sites to share my initial post about my husband assaulting me, you have now decided to repost the aforementioned CBR article, in support of his return to the comics community. While I still suffer from the recurring memories of him pinning me down on our bed and sexually assaulting me, telling me all the while it was for me and not for him, you have just helped to put countless women in harm's way. This man is unrepentant. And will harm again. How dare you.

Dear Image Comics: Thank you for rehiring my soon to be ex husband on a new project, after he did his best to wreck the ship that was the beautiful comic Rat Queens. He was notoriously late, due to his boozing and philandering. Never mind the fact that he blamed his chronic lateness and unprofessionalism on me and our children. Never mind the fact that his paychecks from his time on Rat Queens do nothing to support the children he abandoned. I'm sure he's a brand new man, and won't do exactly the same thing with this new project. Good luck with that. P.S. The success of Rat Queens gave him the ability to prey on innocent fan girls at every convention he attended. But I'm sure you've got some kind of policy in place to prevent that from happening again, right?

Dear Comics New Sites/Publishers/Creators and most of all Fans: Roc Upchurch is the monster that haunts our nightmares. Mine and my children's. And now he's yours too. You let him back in by the front door.
I contacted both the author and Roc Upchurch over the weekend for further comment or context, without response. There was also no response from Image Comics.
Because, if true, this would also be the first we've heard that Upchurch might be working on a new project for Image.