Comic book attorney Gamal Hennessy has launched a Kickstarter for his book, The Business Of Independent Comic Book Publishing. It is aiming to be a comprehensive and easy-to-understand overview of the business of comic book publishing; it is intended to be a resource for anyone interested in becoming a successful comic book professional, whether making the comics or publishing them. With twenty years of experience as an entertainment contracts attorney Hennessey tries to break down the complex comics business into layman's terms and answer the following:
How much money do I need to publish my comic?
How much money should I charge for my comic?
Does social media matter?
How can I work with comic shops to market the comics?
How do I select a printer for my books?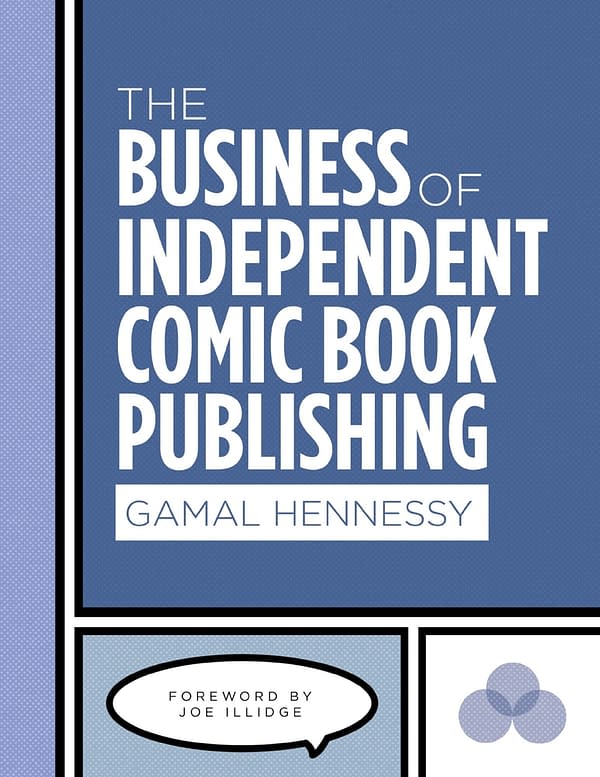 To that end he has given Bleeding Cool a teaser, offering Twelve Tips for Independent Comic Book Publishing
Publishing independent comics is a process that involves multiple steps and dozens of choices within each one of those steps. There is no one universal set of "right" moves to make, because the success of every comic depends on the unique nature of the people who are creating it, the nature of the story, and the outside circumstances surrounding this creative process. When I was writing The Business of Independent Comic Book Publishing, I had three main goals:

Explain the business and legal decisions involved in the comic book industry
Describe the positives and negatives of each option that a publisher has at each stage
Connect all the choices into a coherent framework that any publisher could use

The finished book is over four hundred pages long, but the core ideas can be boiled down in to twelve simple questions. Once you understand your answers, you'll have the roadmap for publishing your comics

The Foundation: (Why Do You Want to Publish Comics?) What is your definition of success in comics? What are you trying to achieve? Knowing where you want to go will help guide every decision you make for your comics.
Intellectual Property Management: (What Story Are You Telling?) Do you own your story? Are you willing to spend years in this world with these characters? Publishing independent comics takes effort. That effort shouldn't be wasted on stories you don't love.
Investment: (How Are You Going to Pay to Publish Comics?) Are you going to use your money or someone else's? Can you afford to lose this money? Finding the funds to pay for your book before it is published often means the difference between a published comic and an unfulfilled idea.
Business Management: (How Are You Going to Protect Your Assets?) Do you have an accountant and an attorney? Are you going to form a company? Publishing comics is fun, but it is also a business that needs professional oversight.
Talent Management: (Who Is Going to Publish Your Comic?) Are you working alone, or building a team to help you reach your goals? How are you going to manage those relationships? Finding the best business and creative team for your book will help you turn your vision into reality.
Marketing: (Who Is Going to Read Your Comic?) Who is your ideal reader? What do they want? How can you find them? If you don't create connections with the right audience for your comic, there's a good chance no one will read your masterpiece.
Distribution: (How Will Your Readers Get Your Comic?) Are you going digital, print, or both? Will you offer your book in traditional comic book outlets or explore alternative channels? Finding the best way to get your book to your readers can increase both your sales and your profits.
Production: (How Will You Make Your Comic?) What format is best for your story? How will you manage production schedules and the creative work of the team? Understanding production will help you make the best comic you can, on time and under budget.
Advertising: (How Will You Inform Readers about Your Comic?) What will make people excited to buy your comic? What mix of reviews, endorsements, and promotions will get their attention? Advertising doesn't have to cost a lot of money, but it does require thought and effort.
Sales: (How Will You Make Money from Your Comic?) Are you selling your comic or giving it away to sell something else? Are you making money directly, indirectly, or both? There are several ways to make money from your comic. You just have to find the right one.
Revenue: (How Do You Manage the Money from Your Comic?) How do you collect the money from your sales? How do you keep track of the money you have to pay your talent and vendors? Maintaining control of the finances for your comic gives you a better chance to profit in the end.
Growth: (What Happens After You Publish Your Comic?) How will you use your comic to further your career in the industry? What happens to your comic and your company when you're gone? Considering the future of your comics can benefit both you and future generations.

Publishing independent comics isn't simple or easy, but it doesn't have to be confusing or stressful. Once you know where you want to go, you can plan how you want to get there and then follow your creativity into a career as a comic book publisher.

Have fun with your comic.
The Business Of Independent Comic Book Publishing by comic book attorney Gamal Hennessy is on Kickstarter now.
Enjoyed this article? Share it!