Is it War of the Realms, or War of the Variants? Marvel Comics is planning to make War of the Realms their biggest-ever super-mega-crossover event, and part of that strategy includes releasing a @#$%load of spinoffs and tie-ins — there are $110 worth of them coming out in May, in fact — and another part includes matching that in variants.
Marvel keeps announcing new variants for War of the Realms so quickly it's hard to keep up. Earlier today, Bleeding Cool posted Frank Cho's variant, along with the news that Marvel had extended the final order cut-off (or "final order cit-off" as Rich Johnston put it) for the book by one week. Like the George Perez variant Marvel just sent out in a press release, the Cho variant was previously announced along with 24 other variant covers. Yesterday we got two new ones from Ron Lim and Adi Granov. And today, alongside the Perez variant, Marvel revealed a new one by Ryan Ottley.
So depending on whether any of those new ones are the "Artist Variants" named on the original list of 25, with the regular cover, Marvel's variant count for War of the Realms #1 ranges anywhere from 28-30… which is impressively even more than the total number of War of the Realms comics (25) they'll be releasing in May.
Will this gluttonous sales, launched at the same time DC Comics is going on a comic book publishing diet, pay off for the House of Ideas? That depends on how many of these variants and tie-ins you're all willing to buy.
But you know what they say about comic book readers: there's one born every minute.
Check out the press release and covers by Ottley and Perez, who recently announced his retirement from making new comics (presumably because he'll be too busy with the growing War of the Realms variant market), below.
New York, NY—February 22, 2019— The War Of The Realms is coming…and no corner of the Marvel Universe will be untouched! Today, Marvel is excited to release two new stunning variant covers: one by superstar artist George Perez (with colors by Jason Keith) and one by Ryan Ottley (with colors Nathan Fairbairn).

This April, all hell will break loose as Marvel's epic event from the award-winning creative team of Jason Aaron, Russell Dauterman, and Matthew Wilson usher in an event of unparalleled scale! Plus, don't miss a special midnight release of WAR OF THE REALMS #1 for retailers – be sure to check Marvel mailers for details!

For more information on WAR OF THE REALMS, visit Marvel.com.

WAR OF THE REALMS #1 (of 6)

Written by JASON AARON

Art by RUSSELL DAUTERMAN

WAR OF THE REALMS #1 Variant Cover by GEORGE PEREZ (JAN198215)

WAR OF THE REALMS #1 Variant Cover by RYAN OTTLEY (JAN198223)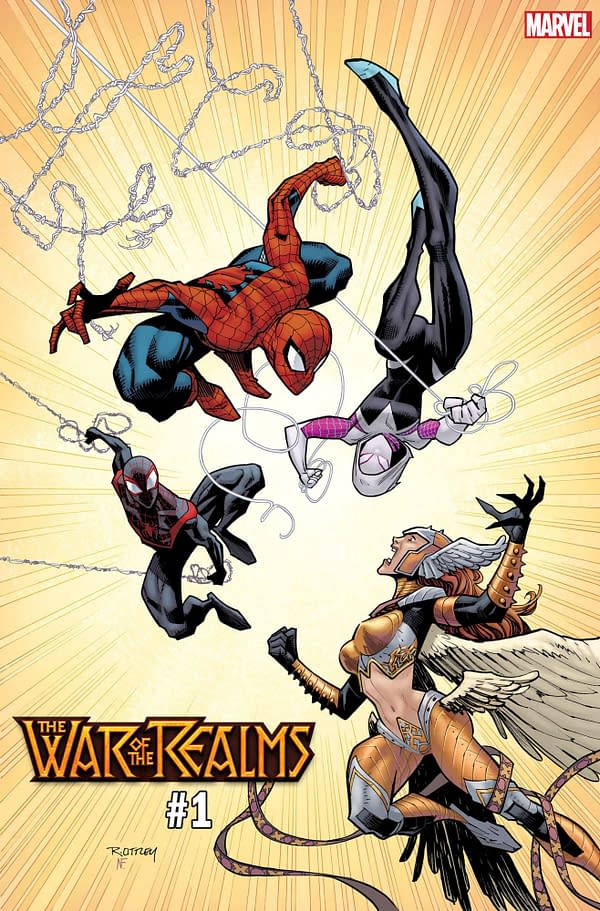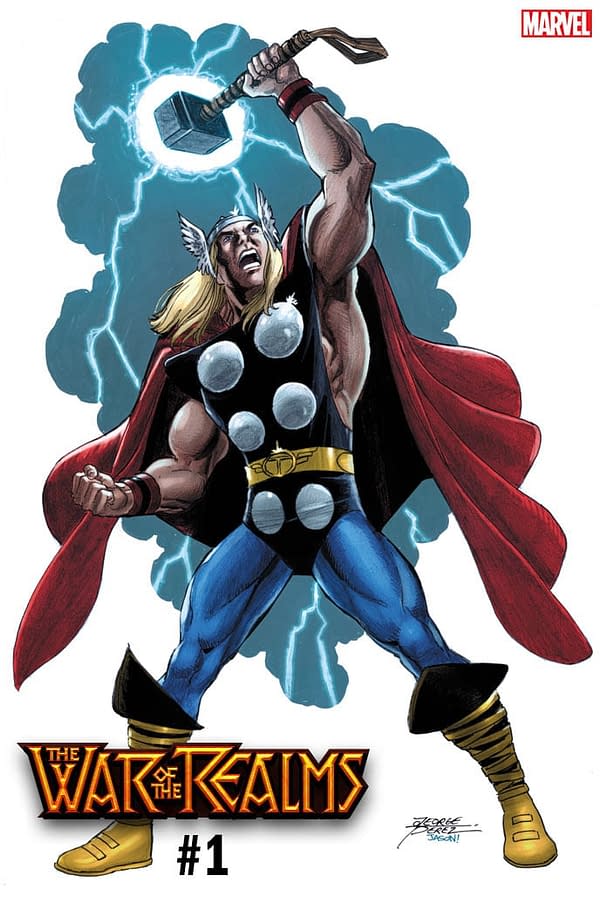 Enjoyed this article? Share it!