Giant-Size X-Men: Magneto #1 is 50 Cents of Comic in a $5 Bag [XH]
It's time for more X-ual Healing, the weekly X-Men (and now more than X-Men) recap column where I tell you what happened in some comics (such as Giant-Size X-Men: Magneto) and also talk about the comics news because I'm too busy writing about wrestling news to write about comics news any more. The big story today is that former CIA badass Tom King is writing a new unauthorized Watchmen sequel starring Rorschach. Why? To work out his issues with PTSD, of course, the same reason he writes any comic. It's funny to think about what Tom King might see while looking at a Rorschach test, taking into account King's past statements on the true meaning of love.
---
"Tell me what you see," said Professor Thaddeus T. Puffinbottoms while administering the Rorschach Mask Test.
"Someone's wife being murdered," King replied.
"Mmm, hmm," said Puffinbottoms, showing King another picture. "And what now?"
"Someone's wife being murdered by terrorists," said King.
Pufinbottoms scribbles in his notebook.
---
In any case, we're getting another unnecessary Watchmen comic. Most people seem to be pretty excited about it, which is weird when you consider that every time comic creators agree to participate in DC's desire to make a new Watchmen comic, it's basically spitting in the face of Alan Moore, someone they all claim to respect. But that's comics for you. What were we here to talk about again? Oh yeah, Giant-Size X-Men: Magneto #1. Let's recap it, shall we?
---
Sworn to sell comics for Marvel executives who feared and hated the fact that Fox owned their movie rights, The Uncanny X-Men suffered great indignities. Still, thanks to a corporate merger, a line-wide relaunch, and Jonathan Hickman's giant ego, the X-Men can finally get back to doing what they do best: being objectively the best franchise in all of comics.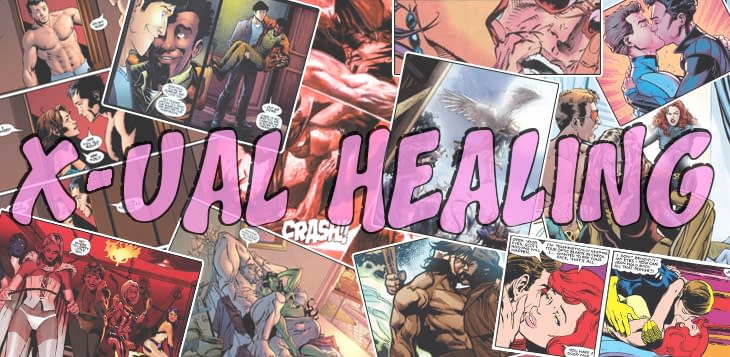 ---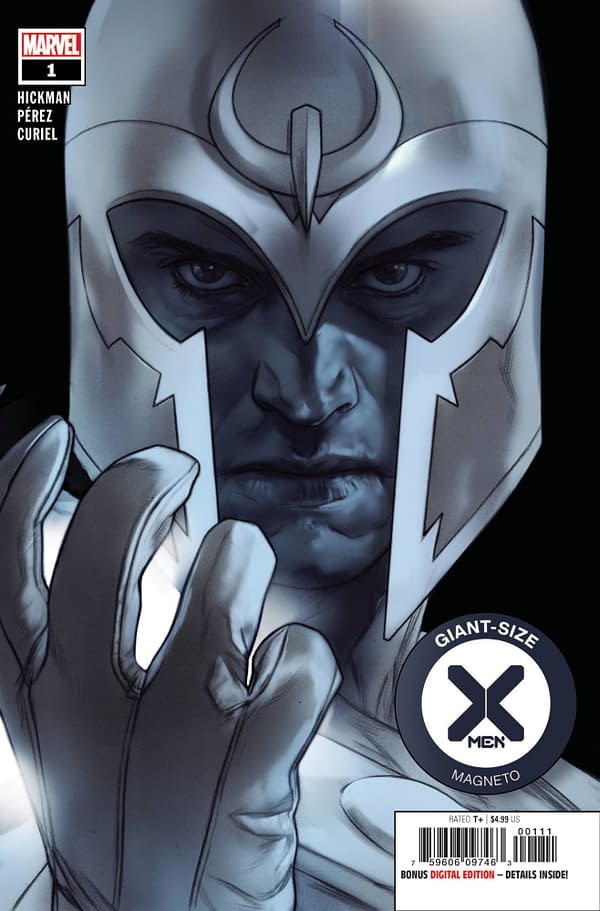 GIANT-SIZE X-MEN MAGNETO #1 DX
FEB200889
(W) Jonathan Hickman (A) Ramon K. Perez (CA) Ben Oliver
HICKMAN & OLIVER MASTER MAGNETISM!
Jonathan Hickman continues his one-shots showcasing some of Marvel's best artists! This time, he teams with Ben Oliver (ULTIMATE X-MEN,
THUNDERBOLTS) to bring a tale of Krakoan Ambassador and Master of Magnetism, Magneto! Krakoa may be only for mutants, but mutants still
need to deal with the human world around them. Magneto has a plan for that.
Rated T+
In Shops: Jul 15, 2020
SRP: $4.99
Giant-Size X-Men: Magneto #1 Recap
Magneto sails a cargo ship to Mykines, Faroe Islands, because he wants to buy the island for someone. He meets a caretaker who agrees to relay the message to the island's owner, though it could take some time. Magneto agrees to wait. A flashback shows us that Emma Frost is the one who asked Magneto to acquire an island for her over a lobster dinner.
Sometime later, Namor arrives. He's not too happy to see Magneto and isn't impressed by mutants. When Magneto reveals it's Emma Frost, who wants the island, Namor is less icy. He and Magneto go for a swim because Namor has some business to take care of. They head deep down into the Molloy Deep, where Namor reveals an Atlantean exploratory team disappeared while investigating seismic activity. They find a giant old Atlantean seal, and Magneto opens it.
A Kraken attacks them. It doesn't go well, but they managed to escape inside the cavern behind the seal. There they meet three squid ladies. The ladies offer them a choice: the spiral, or the stone. Choose one and live, choose the other, and die. Namor chooses the spiral because it has connections to Atlantis. The serial turns out to be a face-eating snail that attacks him. Magneto is offered to choose the stone, but he chooses to smash a crystal instead, causing the squid women to age rapidly. Only one of them survives. She points to a key of some sort and asks whether Magneto cares what it does. Magneto does not care.
Outside the seal, Namor agrees to give Magneto the island. Back on shore, Magneto puts the key in his pocket, parts ways with Namor, and uses the cargo ship to build a fancy castle with a Sentinel head for Emma. He plants a flower and grows a gate, and Emma comes through. He asks what she's going to do with the island. She says she's going to send invitations and see who shows up.
You know, I realize that nobody is making anyone buy these things, but I have to admit this story seems a bit overpriced at five bucks. What really happened here? I was generous in describing it across several paragraphs above, but you could really sum up the entire issue by saying: Emma Frost asks Magneto to get her an island, so he goes deep sea diving with Namor, fights a Kraken, kills some old ladies, and builds her a palace. This could have easily taken place as like a four-page scene in some other X-Men comic, but Marvel's gotta get that money, so instead, it's a five-dollar one-shot comic. Ah well.
---
There are an X-Men free comic book day issue and some dumb 2020 tie-in out this week, and I'll be getting to both of those by the end of the week, so stay tuned, true believers!
Read more X-ual Healing here: