Review: Millennium: The Girl Who Danced With Death is Better than the New Lisbeth Salander Novels
[rwp_box_recap id="0"]
The Girl Who Danced with Death is a new graphic novel in the French Girl with the Dragon Tattoo comic series that features an original story separate from the new sequel novels written by David Lagercrantz.
I really should call it Steig Larsson's Millenium series, since that's the official title.
Belgian screenwriter Sylvian Runberg and Spanish artist Belen Ortega team up again to bring us a new adventure of superhacker Lisbeth Salander and leftist journalist Mikael Blomkvist. Runberg was originally offered the job of adapting the fourth novel The Girl in the Spider's Web, but Lagercrantz hadn't finished writing it yet, and pitched his own original plot instead. The graphic novel publishers ended up commissioning The Girl Who Danced With Death.
In the new story, Lisbeth Salander is planning to hack the Swedish Secret Service's secret files but finds her hacker friends are being abducted. At first she thinks it's the Secret Service, but discovers it's really a secret far-right group called Sparta who want hackers to carry out a major hack for them. Meanwhile, Blomkvist is investigating a charismatic right-wing political candidate to prove his past ties with far-right groups and asks Salander for help in uncovering the man's past that he has gone to great pains to hide.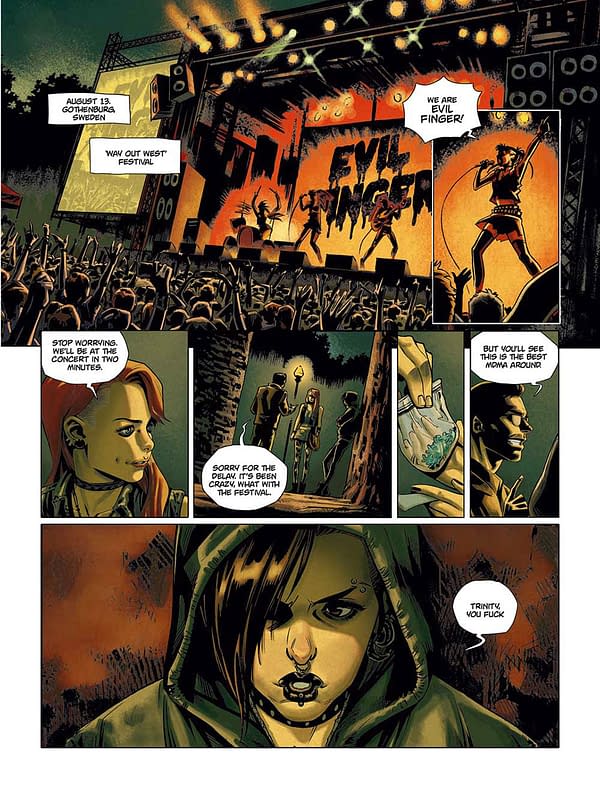 Salander and Blomkvist find an excuse to continue their cautious friendship as they carry out their part in the investigation, with Salander herself targeted by Sparta. Blomkvist's magazine Millennium comes under legal threat again from the candidate's lawyers putting the squeeze and investors getting cold feet. Salander and Blomkvist are forced to go into hiding as the net tightens around them from all sides, racing against time to expose a conspiracy that threatens to endanger the political landscape of Sweden and spread to the rest of Europe.
I consider this graphic novel a better continuation of Salander and Blomkvist's story than Lagercrantz' novels. The difference being that Runberg has a better understanding of the key themes of Larsson's intentions in his original trilogy, namely the exposure of government corruption, the insidious rise of the far-right in Europe and the link between far-right thinking and misogyny which fuels the abuse of women in society. Runberg delves deeper into these themes in this graphic novel than Lagercrantz does in the new novels, which choose James Bond-style technothriller plots over the political undercurrents that informed Larssen's plots in the original trilogy.
The Titan editions of the French graphic novels are also better than the Vertigo adaptations of the original trilogy, which were often serviceable but stiff in both writing and art. Runberg and his frequent artist collaborator Ortega are more confident in their storytelling decisions, pushing action set pieces where the story calls for it and Ortega's characters have more personality and are much more expressive. Her style is a combination of European and Japanese influences to create their own unique feel.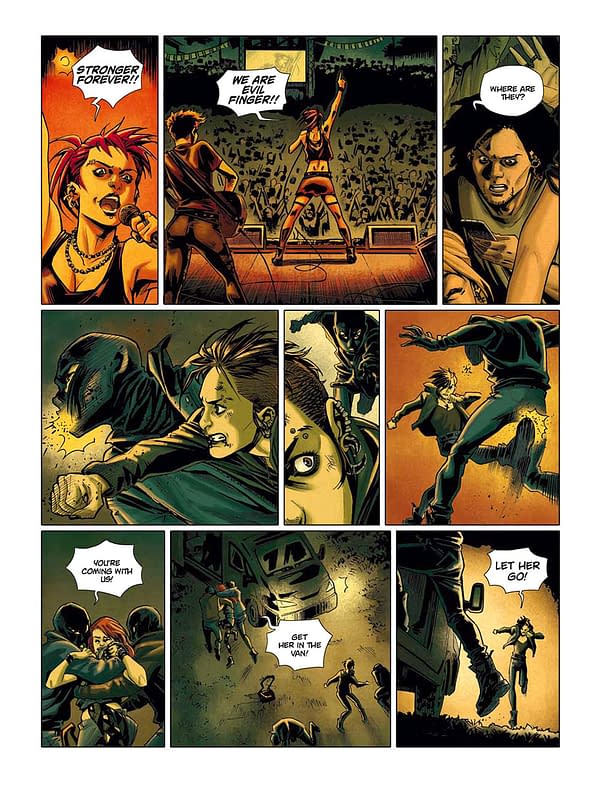 The Girl Who Danced with Death was originally published in Europe in 2014 but its English publication now doesn't make any difference – it feels like it was ripped from today's headlines. Runberg has said the right-wing political candidate in the story was inspired by Steve Bannon before he became a short-lived member of Donald Trump's cabinet. Runberg manages to cover Men's Rights activists, the Pick-Up Artist scene and how the mindset leads to what we now recognise as the Alt-Right. Runberg recognizes that Salander and Blomkvist are cool characters – she's as antisocial, ruthless and unpredictable as ever, and he's as earnest, messy and bewildered as ever – but that Larssen created them in the service of telling stories about political and social issues. If you're going to complain about politics in comics, this is Europe where they consider comics a serious Art and Art is political.
Runberg has said there are no plans for further graphic novels in the Millennium series, which is a shame. He and Ortega have become one of the best writer-artist teams out there for this type of crime story, especially with their understanding of Lisbeth Salander, Mikael Blomkvist and Steig Larsson's original mission statement for the series.
[rwp_box_reviews id="0"]
[rwp_box_form id="0"]