Glitchwatch: Neal Adams And Dennis O'Neil's Green Arrow/Green Lantern For 80% Off On Amazon.co.uk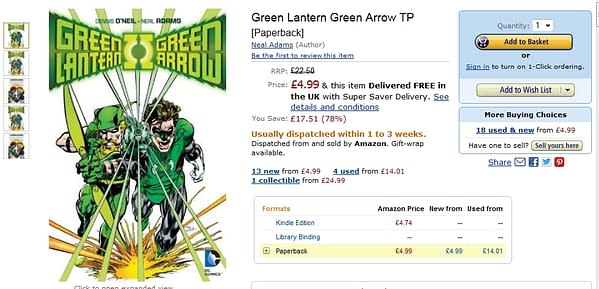 On Amazon.com, it's down from $29.99 to just $19.99. A good price for the Neal Adams/Dennis O'Neil collection of Green Arrow/Green Lantern comics. 368 pages of them.
But on Amazon.co.uk, the same book is down in price from £25.99 to just £4.99. Even with shipping back to the states, that's a saving.
But for Brits, they are getting a nice thick book for the price of a Starbucks coffee, working out as one-and-a-third pennies a page. And for British stores, they can order copies in bulk at a far lower cost than they are charged by DC and Diamond.
After all, it is an evergreen title…