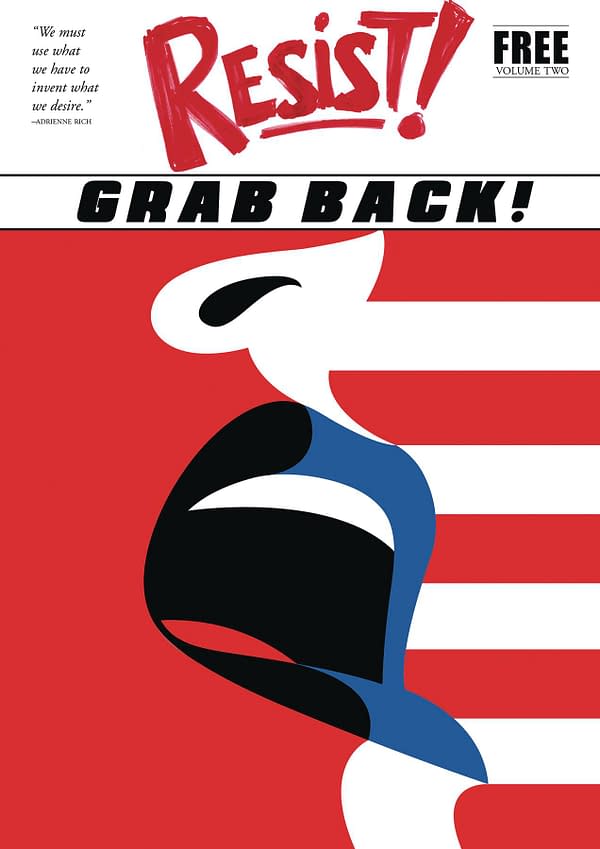 58,000 copies of the first volume of RESIST! were given away in January 2017 at the nation-wide women's march protests surrounding the inauguration. A female-focused, female-created response to the election of Donald Trump, some copies ended up in come comic stores but were more likely to be given away in other fashions.
Now, with this, their second volume, the mother-daughter editing team of Françoise Mouly and Nadja Spiegelman is creating a second 96-page comic-book size digest volume, under the theme of "Grab Back!" It is intended to be a free give-away in comic book stores, in time for Independence Day. All money raised by store orders covers production, printing and distribution costs.
Stores can order bundles in packs of fifty from Raw Books. The second volume contains known creators such as Roz Chast, Kristin Radtke, Miriam Katin, Cathy Malkasian, Laura Park, Lauren Weinstein, Daniel Clowes, Art Spiegelman, and more, along with new names, mostly female, some never-before-published, solicited through an open call and published under the slogan "Women's Voices Will be Heard,"
Stores are also encouraged to use them to organise a RESIST! party for Independence Day. Participating comic book stores will be listed on the RESIST! website as supporters and pick-up points. The comic will chip at the end of June.
Enjoyed this article? Share it!