Graphite Comics Takes Two From LINE Webtoon – Jin Kim and Jimmy Deoquino
We've talked a lot about Graphite Comics, the new digital comic book distribution that's free with ads, or premium without. And how they have been attracting a lot of big books from the non-Big Two.
And now they are upping their staffing game, hiring Jin Kim from Webtoon as Director, Creator Strategy and Growth.
Webtoon is the Korean free digital comic publisher who you will have read a lot about Bleeding Cool, probably as LINE Webtoon – and Graphite co-founder Tom Akel used to be their head of content. Kim was lead for UGC and Creator Care for LINE Webtoon where she led the company's Discover platform, attracting talent to the platform, driving audiences, and serving as an educator and ambassador to the community. In this newly created role at Graphite, Kim will be responsible for the strategy and development of Graphite's creator platform. She will lead the implementation of Graphite's creator offerings, with a mission to deliver the best tools to help creators develop, market, get discovered, and monetize their content.
She is also tasked with presenting creators with the best terms the comics market offers in revenue share, transparency, ownership of their fan base, and retaining their rights.
"I'm thrilled to join Graphite comics and contribute to an industry-defining creator platform," said Kim. "In a short month, Graphite has already made huge strides in the world of digital comics for both fans and publishers. Graphite is a fantastic opportunity for creators to build and monetize a sustainable fanbase."
Earlier in her career, Kim previously held positions at Hyundai and Park Law and holds a Bachelor's Degree in Sociology and Gender Studies from UCLA.
Graphite Comics has also appointed Jimmy Deoquino as Associate Producer, Content and Experiential. In his new role at Graphite, Jimmy will work closely with publisher content as well as Graphite's convention presence throughout the year. Jimmy was previously the lead brand ambassador for Webtoon at various comic cons over the past two years and holds a B.F.A. in Film from the School of Visual Arts in New York.
That's another Webtooner…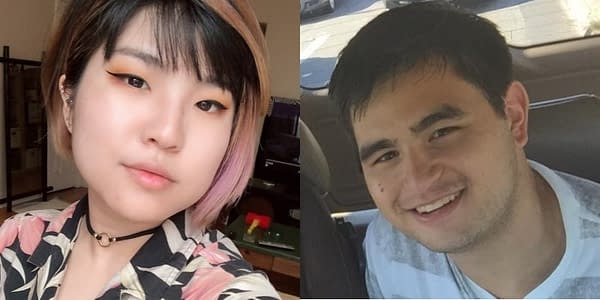 Graphite Comics currently has over 10,000 titles available free from the likes of Boom!, IDW, Legendary, Dynamite, Tokyo Pop, Aspen, Papercutz, and Top Cow – and they are not just Irredeemable and The Boys (though that is a lot of them).
It will also have its first big comics industry debut at San Diego Comic-Con. As well as the "Get Drawn In" to the next generation of digital comics! panel where Graphite CCO Tom Akel joins creators Nick Seluk, Ryan Benjamin, Leeanne Krecic aka Mongie, Filip Sablik, Robert Napton and Shing Yin Khor to discuss Graphite on Saturday, July 20th at 4pm at the Marriott Marquis Room Grand 12 and 13.
Graphite is also planning to host a series of activations at its Booth #2707 where aspiring creators can meet with the Graphite team. On Saturday, July 20th Graphite will host a special one-hour signing with three of its advisory board members, Nick Seluk, Ryan Benjamin, and Leeanne Krecic. Posters will be provided for free to all fans who attend.
Graphite is available for download now on Apple here and Android devices here and on desktop at graphitecomics.com.