Green Arrow #40 Review: The Justice League of Vakhar
Green Arrow narrowly survives his brush with Nothing to find himself saved by a group of local kids modeling themselves off the Justice League. They are without powers, but they have no powers and little training. After some convincing, Green Arrow agrees to help them in their struggle against Nothing.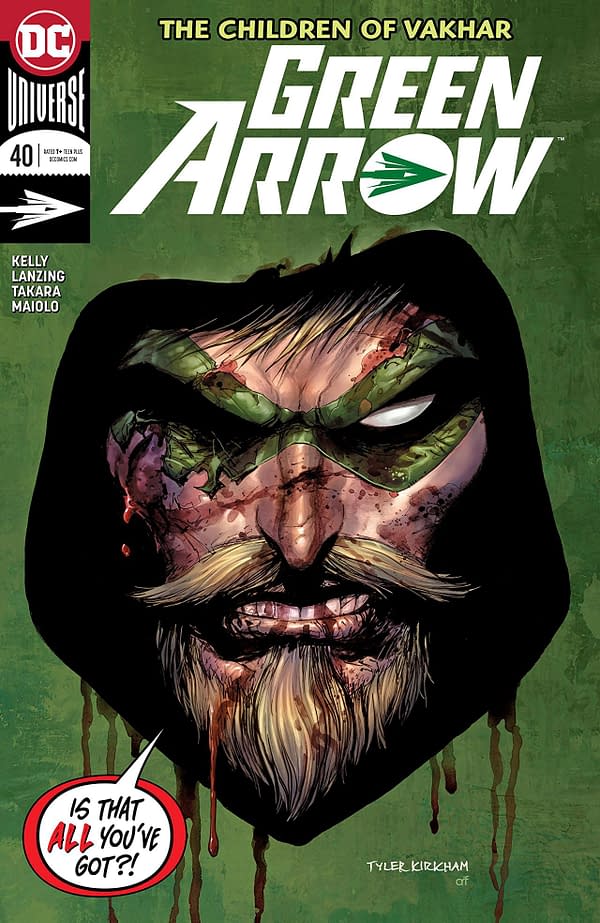 It is becoming increasingly bothersome that every time DC creates a new group of heroes, like the Justice League of China, their first instinct is to base them off the Justice League itself — there's always a Superman, Batman, Wonder Woman, Flash, etc.
That said this young group of heroes are charming, and their plight is compelling. Green Arrow's reluctance to help them makes sense, but it's gratifying to see him help these kids take back their homeland.
Nothing receives less fleshing out than I hoped in this issue, and he's almost a footnote in the end.
This comic is one of the few times where the debate of whether to execute the main villain was actually pretty compelling. I could see both sides of the argument, and the final decision was satisfying bases upon the tide the debate took.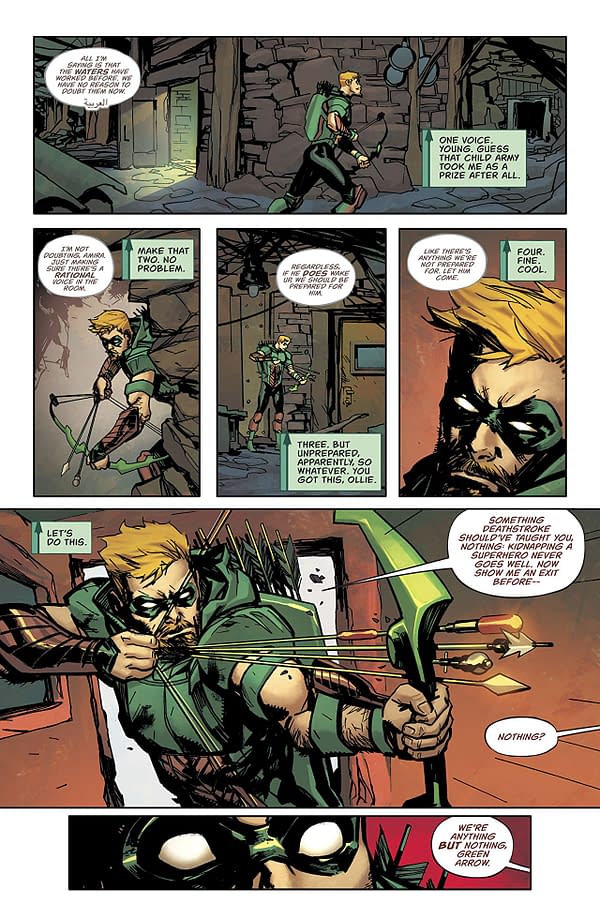 Marcio Takara's artwork is a gritty and rough style both visually appealing and fitting for the tone and atmosphere of the narrative. Amal, the Superman analogue, has an underwhelming visual style, but the other three kids look good. Marcelo Maiolo's color art is quite good and provides more of the dirty and hard-bitten atmosphere to support Takara's line art.
Green Arrow #40 is a good follow-up and finale to the 'Children of Vakhar' storyline. The story maintains a solid tone and theme. Green Arrow plays the role he should play, and the new heroes are compelling characters. Takara and Maiolo make the comic look damn good, and the final product earns a recommendation. Check it out.