Green Lanterns #38 Review: Better Art and Heavy Narrative
[rwp-review-recap id="0"]
Chaos reigns on Ungara, as Regent Anthene Vok and Green Lantern Jessica Cruz work to uproot the Red Tide, an Ungaran supremacist group, from the planet.
Meanwhile, Green Lantern Simon Baz seeks to discover why the Molite leader, Podfather Vob, admitted to the assassination that kicked off this mayhem.
The Green Lanterns meet up later, and Jessica is unsure of their involvement in this conflict.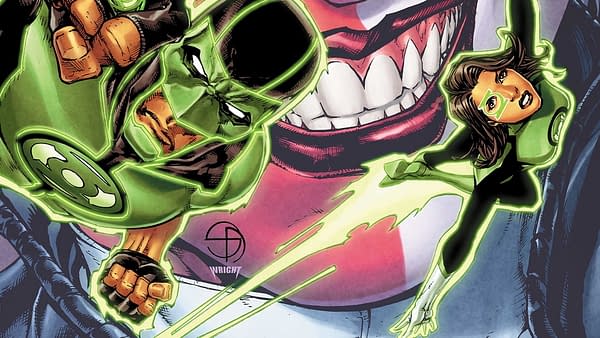 As my editor-in-chief Rich Johnston said in his article about Justice League #36, Tim Seeley's Green Lanterns continues to deal with heavy and ripped-from-the-headlines topics in with #38.
The Red Tide is a nationalist and racist group named, in part, after the skin color of the dominant people on the planet. There is civil unrest over the influx of immigrants in the form of the refugee Molites.
It handles these topics quite well, too. Jessica does bring up the question as to whether or not the Green Lanterns should even be involved in what amounts to an Ungaran civil war. Simon ultimately pushes them forward by arguing that they're working to bring peace and end a dire injustice in their own sector.
The finale is an epic siege against the Red Tide base of operations, which brings to the surface some uncomfortable truths about recent Ungaran history — as well as a betrayal. It also shows Kesh Cur to be quite the interesting antagonist for this arc.
The betrayal shows, whatever possibly rationale that goes into a movement like the Red Tide, it will always be ultimately overridden by fear, greed, and malice.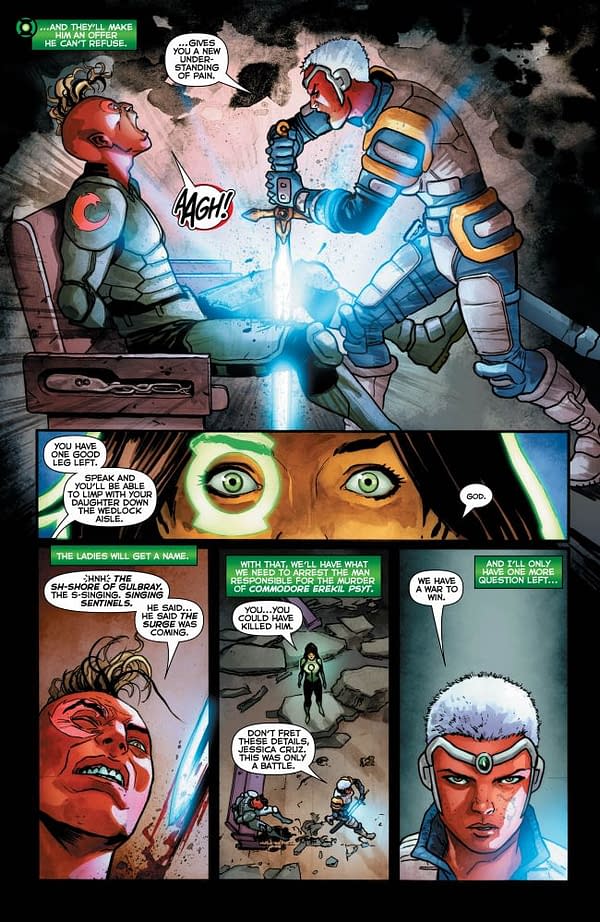 German Peralta joins up as the artist this issue, and it is definitely a visual upgrade. The detailing is more prominent, the action scenes look good, and the Green Lanterns' costumes look fantastic. It's a heavier style, too, which fits the tone of this arc.
Ulises Arreola's color art continues to be quite strong, as well, and he leans heavier on the darker tones this time, which also fits the story.
Green Lanterns #38 is another very strong entry in what is still one of DC's greatest titles of the moment. The story is visceral, the emotions are strong, and the art has improved. I definitely recommend this issue. Give it a read.
[rwp-review-ratings id="0"]
[rwp-review-form id="0"]