Green Lanterns starts a new arc in February, with this Valentine's Day themed cover…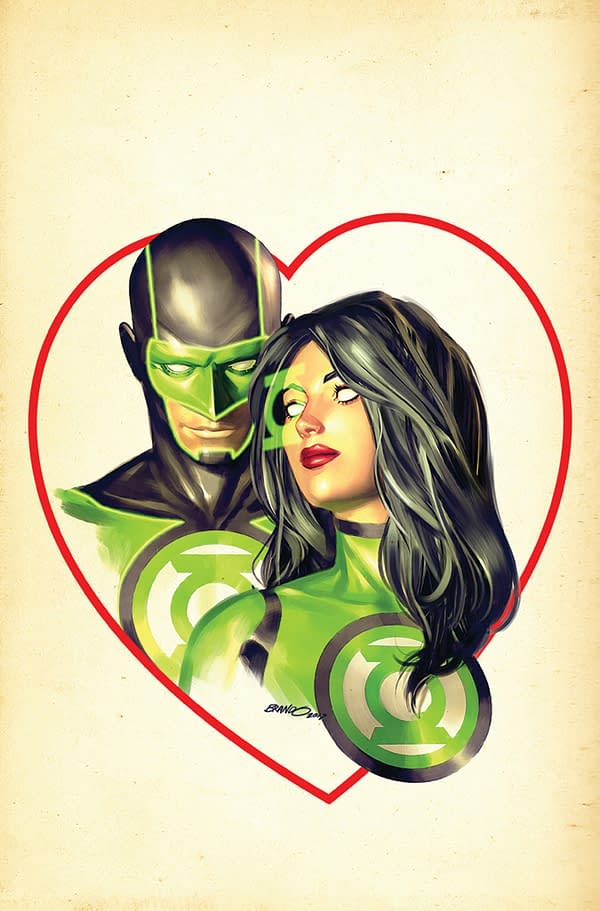 It also gives Simon Baz a little bit of monologuing appreciating working alongside other superheroes against a natural disaster, what he dubs "simple hero stuff" and appreciating "no politics, no complications." It seems like the recognition of a desire from a section of the reading audience for that kind of storyline.
Of course, the storyline is called "Inhuman Trafficking" about a superhero dating app, Caper, that seems to be kidnapping its members, so read into that what you want. Simon Baz is already a player and the issue sees Jessica Cruz sign up… so complications too.
But one thing this comic book does that we haven't seen since Paul Cornell on Knight And Squire, introducing a tonne of new superhero identities, as we go through the many, many superheroes on Caper that you will never have heard of, because they are, to quote another company, "friendly neighbourhood" superheroes.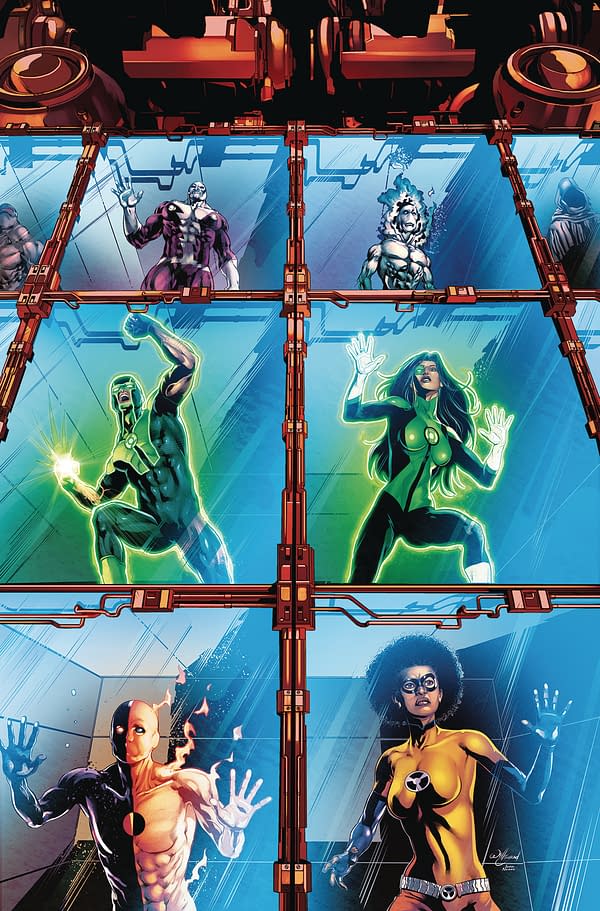 You know, if they all make it out alive, there are suddenly a lot more heroes for the DC Universe to explore…
By the way, I hate it when people, heroes or villains, get caged and attacked in those glass cubes. a) where are the toilet facilities and b) when they do get plumbed in, it's not very private is it?
The bigger question… when the comic ships on February 7th, how many will cut the cover out and make it into their own Valentine's Day card. The Brandon Peterson one obviously…
GREEN LANTERNS #40
DC COMICS

(W) Tim Seeley (A) Barnaby Bagenda (CA) Will Conrad
"INHUMAN TRAFFICKING" part one! An unassuming dating app turns dangerous for Earth's Green Lanterns, as heroes looking for love begin to disappear around the world. Jessica Cruz and Simon Baz discover an interplanetary superhuman trafficking network preying on super-powered seekers of love and romance, but with their hearts and heads on the line, these Green Lanterns may need more than willpower to win this fight.
In Shops: Feb 07, 2018
SRP: $2.99
Enjoyed this article? Share it!