Green Lanterns #42 Review: A Balance of Religious Dissection and Sci-Fi Action
[rwp-review-recap id="0"]
Green Lanterns Jessica Cruz and Simon Baz have learned that the missing superheroes from the Caper app have been taken to the religious region that is the Horsehead Nebula. As such, only converts and pilgrims may enter the area, and Simon and Jessica must pretend to be such if they hope to find the kidnapped superheroes of Earth.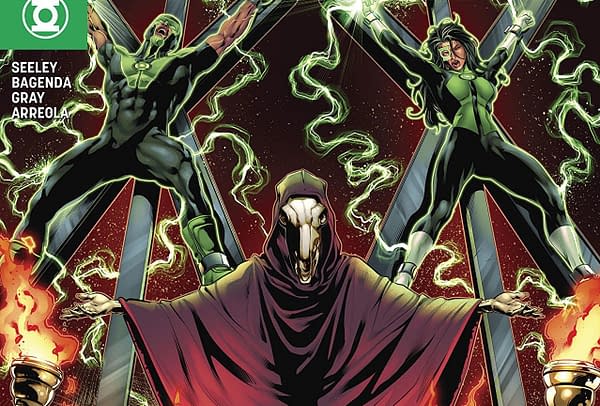 Green Lanterns returns to providing questions to ponder in this issue, as the series turns its attention to the idea of organized religion. This is partially signified by Jessica Cruz's atheism clashing with Simon Baz's devotion to the Islamic faith. Each has a believable reason for their feelings, and they're, refreshingly, able to coexist in a partnership regardless. Admittedly, Jessica's lack of religion is implicitly tied to her experiences and anxiety, but it doesn't fall into the trap of her "hating God" like a lot of fiction likes to imply.
By contrast, little characterization is given to the religion of the Horsehead Nebula. Their pilgrims are presented as normal people, but the leader is only given a vague story and the ability to forcibly brainwash people to her cause through technology. That takes some of the complexity out of the conversation.
The story paces itself well, though, and there is a decent amount of action in the last third to give some excitement to the issue.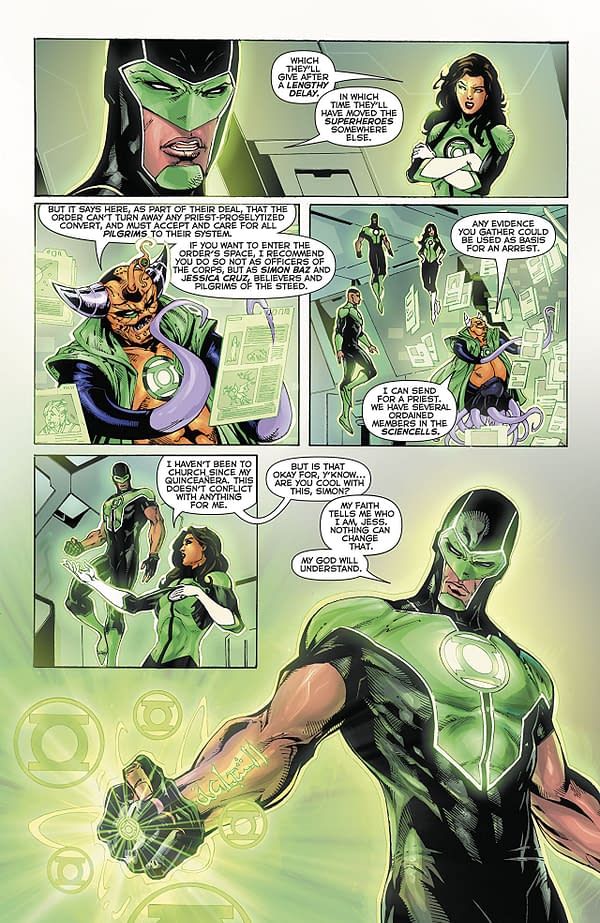 V. Ken Marion's artwork fits the comic very well. It's quite detailed, but the faces are depicted quite simplistically as to keep a lighter tone. John Stewart looks oddly underdrawn when he makes a cameo and eyes can look a little small, but the overall comic looks good. Sandu Florea's inking holds strong throughout. Dinei Ribeiro's color art is bright and pops well, which is fitting for Green Lanterns.
Green Lanterns #42 is an improvement over the dragging previous issue. The plot goes to some interesting places, the art is great, and the overall experience was interesting and fun. This is one earns a recommendation. Check it out.
[rwp-review-ratings id="0"]
[rwp-review-form id="0"]