Greta Thunberg in Batman: Dark Knight Returns: The Golden Child – Same Day as Time Magazine's Person Of The Year
Today, TIME Magazine named Greta Thunberg as their Person Of The Year. This is often considered an honorific, but it is given to the person or persons that the magazine's editorial board believe made the greatest impact that year. It is worth pointing out that previous holders of the title included Hitler, Stalin, Nixon, Ayatollah Khomeini and Donald Trump. Just saying. Greta thanked TIME Magazine anyway.
But what may be an equal or greater honour is that Greta also appears in The Dark Knight Returns: The Golden Child by Frank Miller and Rafael Grampa, published by DC Comics today. A comic that already has The Joker and Darkseid funding and supporting Donald Trump in his re-election campaigning, and sees Carrie Kelley, Batwoman take arms against his supporters with Batman-branded Antifa-lookalikes.
But also, towards the end of the comic, with Darkseid pontificated, a very recognisable young protestor standing alongside Batwoman and her crew.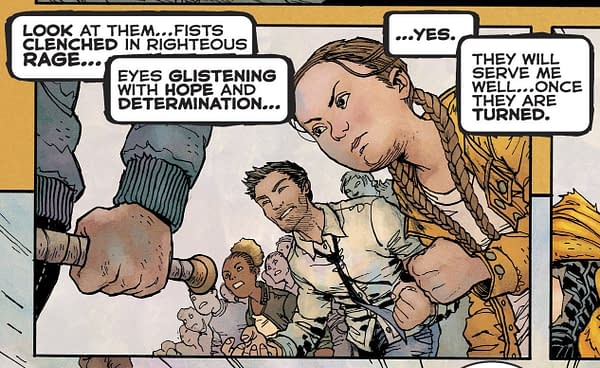 DARK KNIGHT RETURNS THE GOLDEN CHILD #1
(W) Frank Miller (A/CA) Rafael Gramp?
Frank Miller returns to the Dark Knight Universe!
It's been three years since the events of Dark Knight III: The Master Race. Lara has spent the time learning to be more human, and Carrie Kelley has been growing into her new role as Batwoman. But a terrifying evil has returned to Gotham City, and Lara and Carrie must team up to stop this growing threat-and they have a secret weapon. Young Jonathan Kent, "the golden child," has a power inside of him unlike anything the world has ever seen, and it's about to be unleashed…
Dark Knight Returns: The Golden Child is Frank Miller's triumphant return to the world of the Dark Knight and joining him is the superstar artist Rafael Grampá, the mastermind behind the groundbreaking Mesmo Delivery. Following work in advertising and film, this incredible collaboration marks Grampá's first comics work in six years, bringing his extraordinary detail and storytelling to the Dark Knight saga, resulting in a Dark Knight story like nothing you've ever seen before.In Shops: Dec 11, 2019
SRP: $5.99
Batman: The Dark Knight Returns: The Golden Child #1 by Frank Miller and Rafael Grampa is published by DC Comics today in all good comic shops. I bought mine from Piranha Comics in Kingston-Upon-Thames. Piranha Comics is a small south London comic store chain with a small south-east store in Kingston-Upon Thames's market centre, which runs Magic The Gathering nights on Fridays, and a larger south-west store in Bromley, which also runs Magic nights and has an extensive back issue collection and an online store. If you are in the neighbourhood, check them out.