Marvel Comics is getting busy with the reprints. Last week's Guardians Of The Galaxy #1 has gone back to a second printing. As has Ruins Of Ravencroft: Dracula #1 and Web Of Venom Good Son #1. These will hit stores on February 26th, alongside a Marvel February 2020 Sampler giveaway, retailers getting copies to match their orders of Wolverine #1. Also going back to press from Marvel are Spider-Man: Miles Morales TPB Vol 2 and Star Wars TPB Vol 5: Yoda's Secret War…
But there's another second printing from Insight Comics that may get a few more headlines. The David Bowie Stardust, Rayguns and Moonage Daydreams hardcover graphic novel by Steve Norton, Mike and Laura Allred, with a foreword from Neil Gaiman has got a second printing just for Diamond Comic Distributors direct market and limited to 1000 copies with the Icover below… and out for April Fool's Day 2020.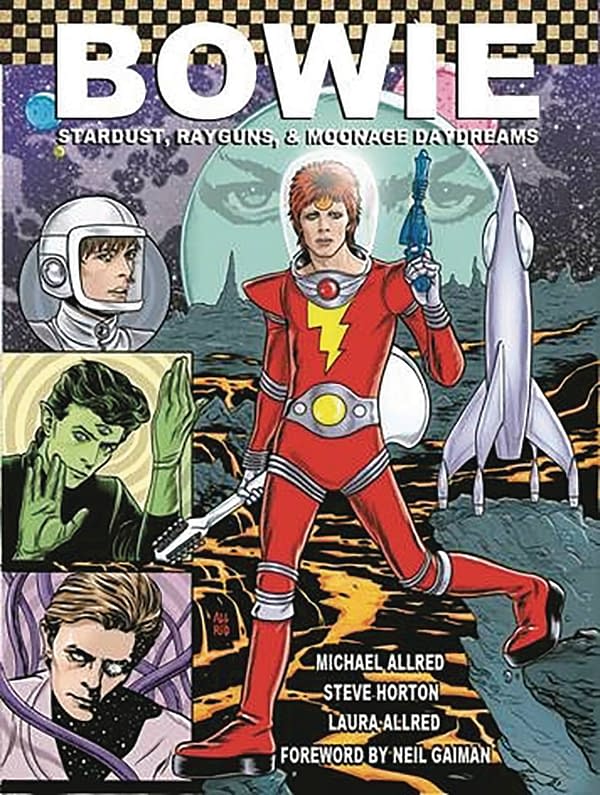 BOWIE STARDUST RAYGUNS & MOONAGE DAYDREAMS PX HC GN
(W) Steve Horton (A) Michael Allred
Inspired by the one and only superhero, extraterrestrial, and rock and roll deity in history, Bowie: Stardust, Rayguns, & Moonage Daydreams is the original graphic memoir of the great Ziggy Stardust! In life, David Bowie was one of the most magnetic icons of modern pop culture, seducing generations of fans with both his music and his counterculture persona. In death, the cult of Bowie has only intensified. As a musician, Bowie's legacy is remarkable, but his place in the popular imagination is due to so much more than his music. As a visual performer, he defied classification with his psychedelic aesthetics, his larger-than-life image, and his way of hovering on the border of the surreal. Bowie chronicles the rise of Bowie's career from obscurity to fame; and paralleled by the rise and fall of his alter ego as well as the rise and fall of Ziggy Stardust. As the Spiders from Mars slowly implode, Bowie wrestles with his Ziggy persona. The outcome of this internal conflict will change not only David Bowie, but also, the world. Introduction by Neil Gaiman. Available in regular edition and PREVIEWS Exclusive hardcover editions.In Shops: Jan 08, 2020
SRP: $39.99
Enjoyed this article? Share it!