Hal Jordan and the Green Lantern Corps #45 Review: The Salvation of Hector Hammond
The Darkstars begin picking off Green Lanterns and their arrests while Hal Jordan tries to get Hector Hammond away from new Metropolis cop, Atomic Skull. Skull is unwilling to let one of the Stryker's Island prisoners, and Hal is trying to spring Hammond. On Jekuul, Corps Leader John Stewart has the dubious task of convincing General Zod and his family to help the Green Lantern Corps fight the Darkstars. In a bar elsewhere, Guy Gardner and Arkillo discuss the odds of uniting the Green Lantern Corps and the Sinestro Corps to fight off the Darkstars.
Hal Jordan and the Green Lantern Corps #45 does little to greatly advance the Darkstars plot, but the story still succeeds in entertaining and having compelling moments. Hector Hammond has a surprising character turn, Atomic Skull's kneebreaker attitude is always fun, and the confrontation between John Stewart and the Zod family is solidly intense.
I won't spoil the specifics, but, given the murder of Goldface last issue and another casualty in this installment, it does feel like the Darkstars have taken a pseudo-Foolkiller/Scourge of the Underworld role of killing off random and long unused Green Lantern villains.
Guy Gardner makes a surprise decision in this issue too. Knowing Guy, it's probably an impulsive ploy. I've grown to love his friendship with Arkillo, and I'm glad it's back for another issue.
We don't see Kyle Rayner and Orion in this installment, but that kind of makes sense. Orion and the New Gods are generally heroes, so one would imagine Kyle wouldn't have to do a lot of convincing to get Orion's help.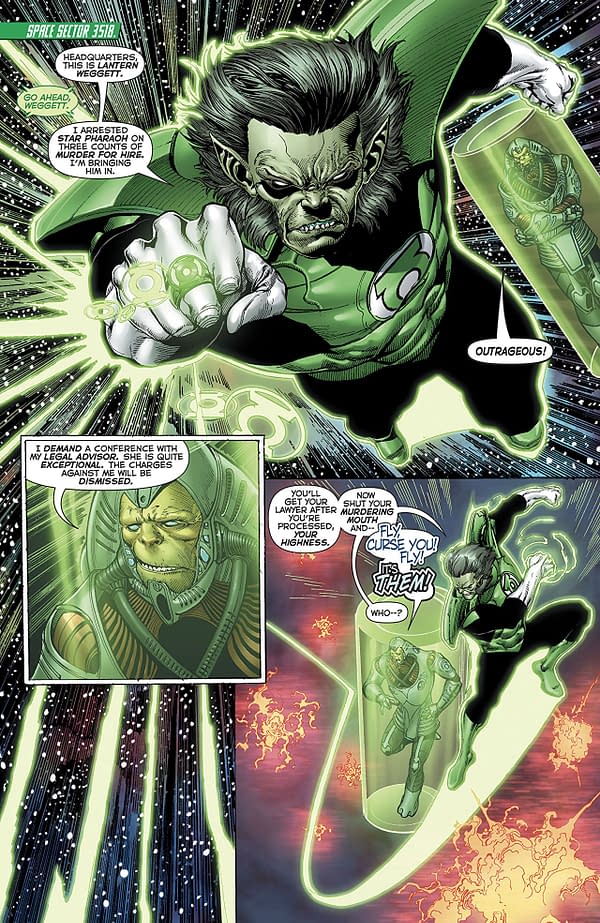 Ethan van Sciver's detailed and line-heavy art style returns once more, making this a visually gorgeous comic. The man has a lot of artistic talent, and he's especially skilled at crafting figures that look out-and-out heroic. That said, depth-of-field is sometimes overlooked, and the focus on musculature does result in some odd panels. Also, the comic starts off surprisingly gory. That aside, the comic is still looks great, and the color art of Jason Wright makes for a comic whose art truly catches the eye and pops off the page.
Hal Jordan and the Green Lantern Corps #45 is another outstanding installment for the series. There are plenty of great character moments and solid action beats, and the art of Sciver and Wright looks great. This one earns a recommendation. Give it a read.