September 23rd is Bisexual Visibility Day, September also being Bi Pride Month. Fantasy has often been a form of escape for many people who felt like outsiders. Comic books have served as escapism for many and a stand-in for marginalized people to stand up against adversity, or for one with certain privileges to stand up for the weak or less powered. Over time, more and more representation has occurred with characters from different races outside of white and characters of the LGBTQ umbrella outside of straight. Some times they're greeted with praise and other times outrage. While gay representation continues to blossom and grow in terms of media representation, allowing diverse and nuanced representation in comic books and franchises, bisexuality can be seen as the bastard stepchild of the umbrella, often misunderstood and even discriminated against within both straight and other LGBTQ communities. Thus this month. Everyone likes to be represented and to be seen good enough to stand with the other acclaimed heroes.
In this article, I highlight a few bisexual characters in comic books. Some admirable and heroic, some villainous and problematic.
Mystique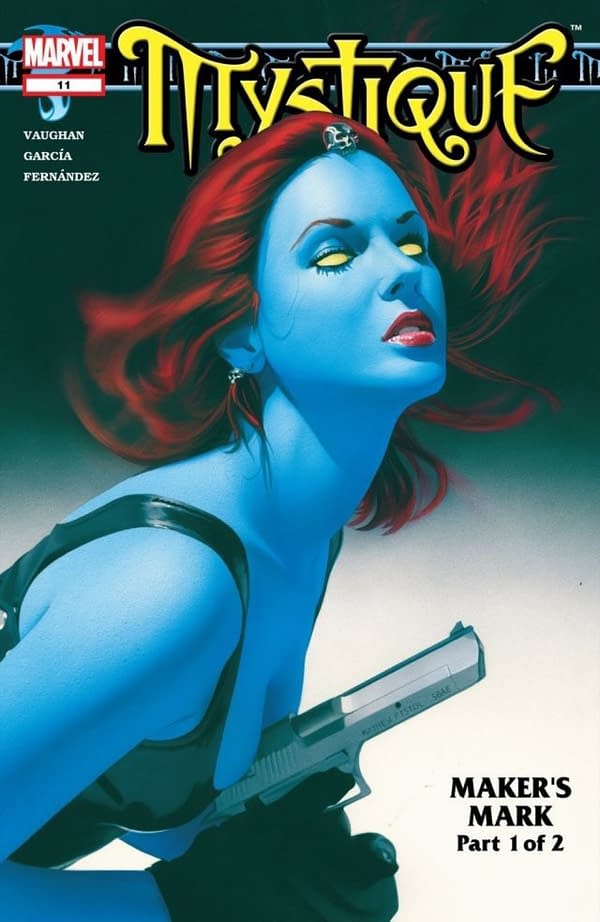 Raven Darkholme, the X-Men franchise's shape-shifting femme fatale, has been both an enemy and member of the team. While many see mutants as stand-ins for plights that people of color and LGBTQ people have faced, Mystique is one of the franchise's first LGBTQ characters, her relationship with her partner, Destiny, being essential to her backstory. Mystique and Destiny worked together for years as proud villainous mutants while raising their foster daughter, Rogue. Destiny would eventually pass away but Mystique would carry her love in her heart going forward, never allowing anyone else to get as close to her as Destiny has. Interesting tidbit: With her shape-shifting abilities, Mystique was originally going to be Nightcrawler's father with Destiny as his mother. That would have been dope!
John Constantine 
The laughing magician, living embodiment of a modern trickster. Once a "hero" of DC Comics' now-defunct imprint Vertigo Comics, the hero of Hellblazer is now a prime DC character, even appearing recently in DC TV shows and movies. Constantine is the chain smoking con man who tricked the devil into curing him of cancer. He's played various people, demons, angels, superheroes, supervillains all as fiddles or cards hidden under his sleeves. John has had many lovers, both men and women, human and demon. One can always promise an eventful time dating this man who dabbles in all sorts of magic and bends and blurs all the rules to get out on top… but chances are that eventful time will include your last night alive.
Katrina "Katchoo" Choovanski and Francine Helena Peters-Silver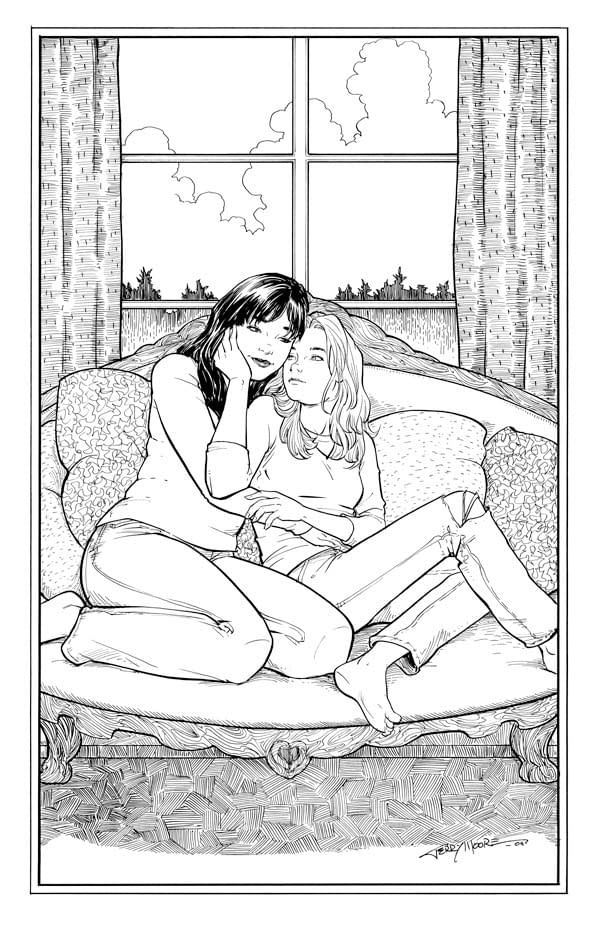 Strangers in Paradise's Katchoo is the temperamental tough girl artist who ran away from home to escape her abusive stepfather and for a time became a prostitute while Francine was the girl next door type, the kindhearted best friend of Katchoo, who struggled with her weight and her faith due to her attraction to Katchoo. Both women were childhood friends, having met in high school, and would meet again years later. The book follows both women and their lives. Katchoo and Francine have a complex and conflicted relationship due to their undefined feelings to each other and men in their lives. Despite the many back and forths and love triangles, the two are continually there for each other and continually find themselves in each other's arms.
Prodigy 
David Alleyne may possibly be the first Black bisexual male character in comics. The X-Men's Prodigy had the ability to absorb someone's knowledge and information if they were near him. This ability was actually quite useful. Think about this: he can absorb martial arts knowledge from Wolverine, spells from Doctor Strange, government secrets… After losing his powers due to M-Day, Prodigy found himself lost until all the knowledge he achieved as a mutant was brought back to him by the Stepford Cuckoos. He eventually leaves the X-Men, joining the Young Avengers where he came out as bi when he pursued Hulkling. An interesting thing about Prodigy was that his powers helped him realize that he was bisexual (nooo… his powers DIDN'T make him bisexual – it helped him realize that he was).
Harley Quinn
Everyone's favorite psychiatrist turned psycho villainess, Dr. Harleen Quinzel was a psych doctor assigned to evaluate the Clown Prince of Crime, the Joker. Harleen begins to find herself attracted to Joker and helps him escape, becoming his partner in crime. Unfortunately for her, Joker would use her in all manner of ways, showcasing a very toxic and abusive relationship, yet Harley kept going back for more. Harley would begin a friendship with fellow Gotham villain Poison Ivy which would blossom into a romance. Harley would get the strength to fight against and leave the Joker while going on her own merry adventures, becoming a member of the Suicide Squad, and becoming a household name in various mediums.
Jered Hoffman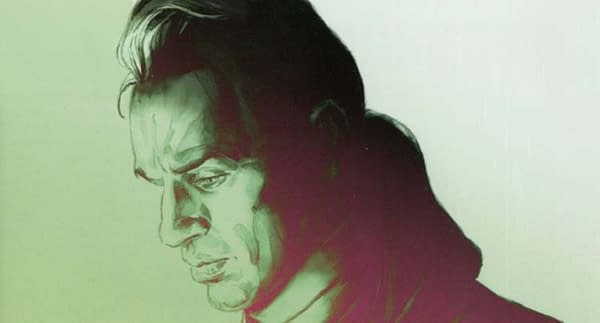 He's the doctor of medicine forensic pathologist of the miniseries Storm Dogs. While a dying practice in the future in which this story takes place, Jered's forensic knowledge and interest becomes ideal as he departs on an exploration to a world that forbids use of advanced technology. He is kindhearted, the sympathetic "eyes" of the reader, and Jewish. While on the trip, Jered is dumped by his boyfriend who doesn't feel as if he is a priority to our young and passionate hero. Soon after reaching planet Amarath, he falls in love with Doll, a 'telepresence' prostitute whose body can be taken over by a paying customer to act out anything they wish. I won't spoil what happens with these two because I'm still waiting for Volume 2 and I need you all to purchase Volume 1 so we can get it!!
Daken
The sociopath son of Wolverine and his deceased wife Itsu, Akihiro Howlett lives to make his father's life a living hell. In just a few years since his creation, he's made himself one of Logan's deadliest enemies and has stacked up feats and body counts while bedding and wooing people of all genders for both his own pleasure and for malicious means. It doesn't help that, along with a healing factor and retractable claws, Daken can also manipulate pheromones, which added to his excellent mind games to get under people's skin, he can use to shift his victim's "attraction" to help further his schemes. During a battle with his father, feeling he is beyond saving, Wolverine drowns his son, who fantasizes about a happy life with Wolverine and his mother Itsu. This being comic books, Daken would eventually be resurrected, finding out that his father was killed. Offended that his father's claws were being auctioned off, Daken kills the majority of the highest bidders. What's with these damaged bisexual characters?
The Gentleman
Formerly a celebrity superhero, The Gentleman: Darkness of the Void's Oliver Solomon is a private detective who tries his best not to use his abilities. Why? His powers, a hereditary curse in which his heart serves as a lock and vessel to an ancient Lovecraftian type evil, gradually kills him. His plan to be on the "straight and narrow' doesn't last as his ex-boyfriend, Ralph, comes back into the picture and introduces him to Espere, a beautiful but mysterious woman who has a supernatural threat after her, killing various men connected to her. Now Oliver has to deal with his lingering feelings for Ralph while also falling in love and having to protect Espere, who may also be connected to the ancient evil in his heart. Interesting tidbit: this is my own work for hire book! Hope you can check it out! Heh…
Who are your own favorite Bisexual Characters in comic books? Are there any that didn't show up on this list? Discuss in the comments below.
Enjoyed this article? Share it!