Hardcover Tales from the Crypt Slipcase Collection Now Available
Heritage Auctions Sponsored Post
Russ Cochran worked as a publisher for over thirty years, with much of that work being done on the EC Comics reprints. For a long time, comics were treated like magazines: as disposable, as a monthly thrill not meant to stand the test of time. There are countless horror stories as chilling as the ones collected in EC's Tales from the Crypt of parents throwing away comic book collections without a thought as to what those collections may have meant for the kid who read them. It is publishers like Cochran that have worked to reverse that ideology and to make comics permanent. To give the same treatment to monthly horror comics that would be given to a prestige novel reprint. Today, let's take a look at The Complete EC Library: Tales from the Crypt Volumes 1 – 5 slipcase set. There's something special about classic comics given the proper treatment, and Cochran reprinted these with attention to the original art, giving them lasting quality in these hardback volumes. Now, fans of Tales from the Crypt can head over to Heritage Auctions and bid to own this slipcase set today.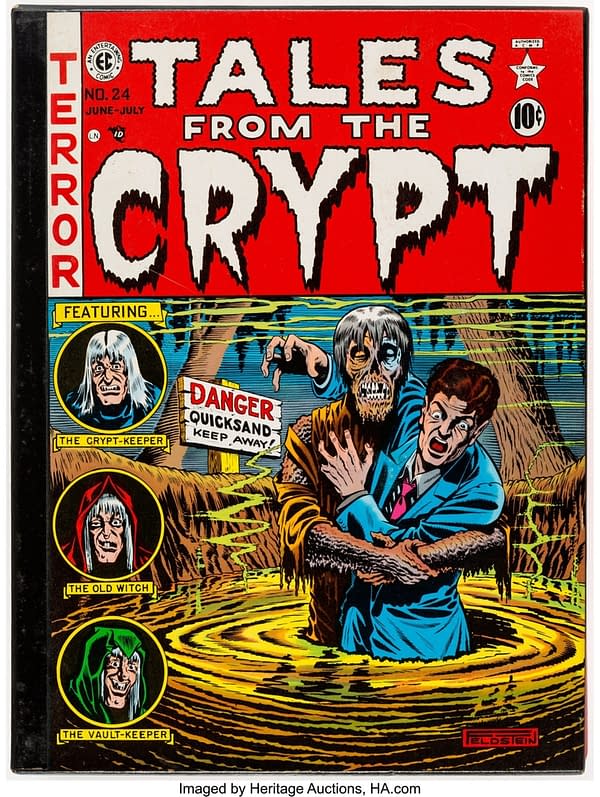 The first set in Russ Cochran's EC archive series, reprinting Crypt of Terror/ Tales From the Crypt #17-46 (the entire run) in black and white (with color covers) in a set of five hardcover volumes. The slipcase is in Very Good condition, with wear and fading to the top, edge and corner wear, and a few little nicks. The books appear to be in Excellent condition.
This would be a thrilling treat for any horror fan as well as anyone invested in comics history, which Russ Cochran dedicated his life to preserving. Best of luck to everyone going over to Heritage Auctions to stake their claim for this gorgeous set of Tales from the Crypt volumes.