"Keep it fun" appears to be the driving force behind the Elephantmen 2261 Holiday Special, a light and fluffy comic confection from Comixology Originals.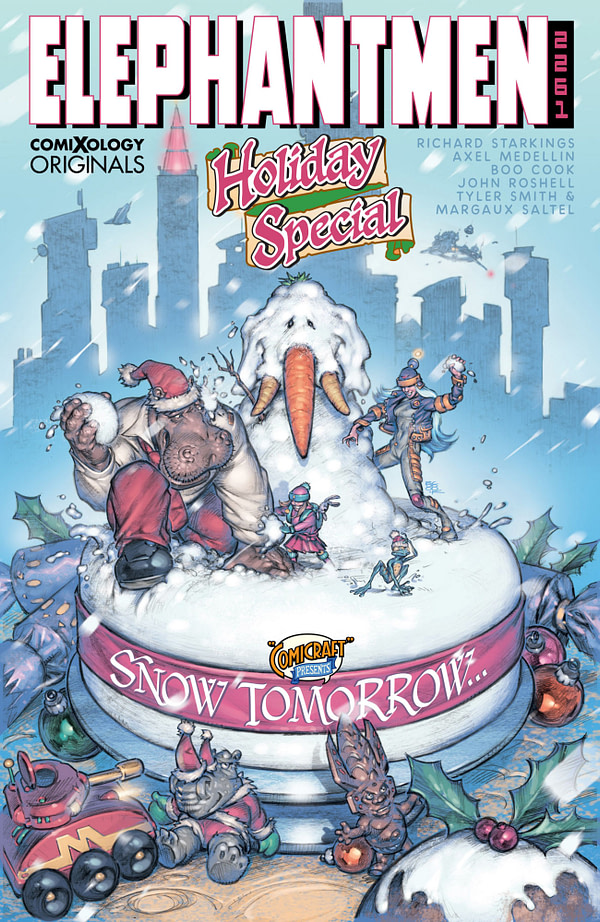 The special issue is split between two stories, each with a small wrap-around narrative. In the first, Vanity Case is reflecting on the loss of her parents, and gets herself caught up in a city-wide snowball flinging rampage with her hippopotamus work mate, Hip Flask. It's all pretty silly stuff, and largely without consequence. The rhyming scheme employed by Richard Starkings (The Beef) is charming, if occasionally clunky. This might be one of the few Elephantmen stories that you could find yourself reading to a small child, who would probably love the depictions of human/animal hybrids running amok and having snowball fights with a bunch of kids. If you're looking for much more, well… yeah. That's not happening here.
The art by Axel Medellin (Hoax Hunters) is sadly not up to the standard of most Elephantmen comics, but this may be by design; the panels are overly loose, buildings are barely detailed, and backgrounds are pretty sparse. Compared to work Medellin has contributed to Heavy Metal and other publications, the art in the Elephantmen 2261 Holiday Special feels a bit rushed. This could be from time constraints, or Medellin could have been emulating a children's book, but I found myself wishing for a little more on the art front.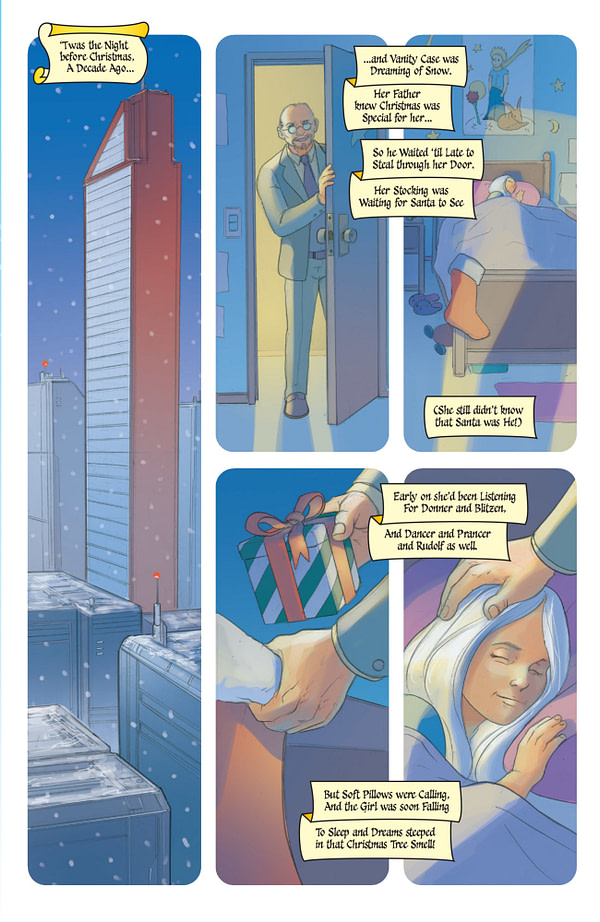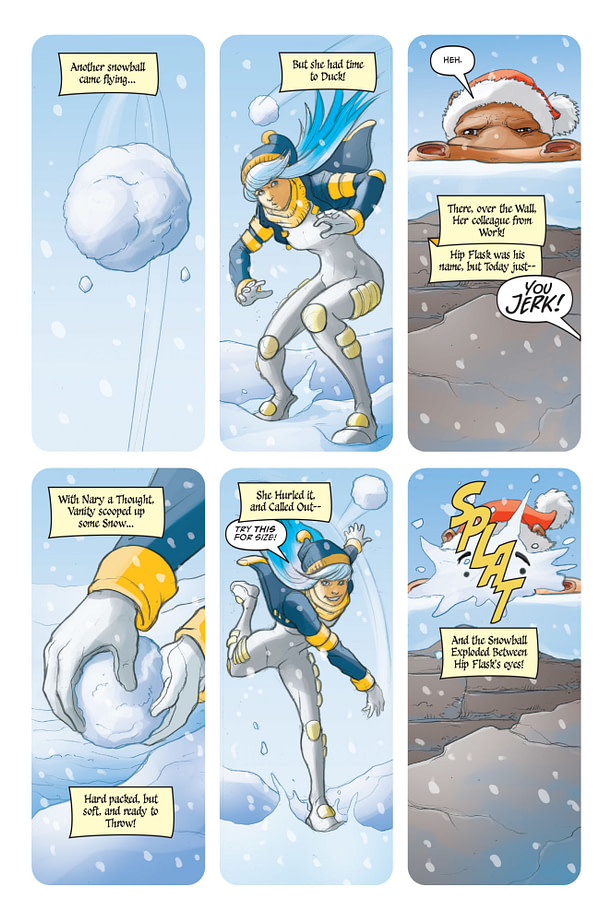 By contrast, the second story, while no less "light and fluffy," was a lot more fun. Hip Flask is raiding his house for marzipan, and after gorging himself on his stash, falls asleep. He then dreams of an alien running roughshod through a convenience store, absconding with a stash of candy, and returning to it's mother ship. It's a wonderfully slapstick affair.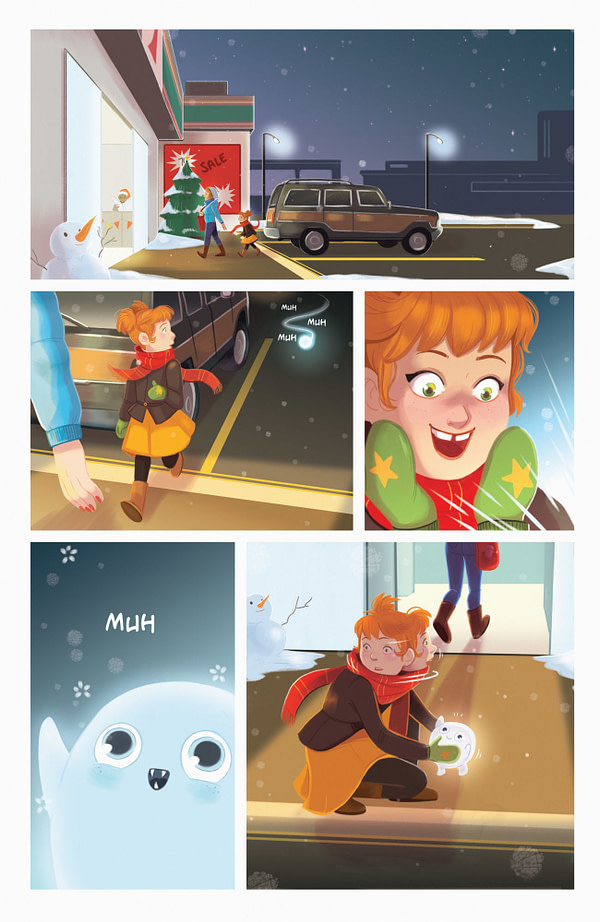 The artwork from Margaux Saltel (Superfreaks) is clearly meant to evoke the feel of a children's book, and the whole feel of the short segment was one of joyous mayhem. It's a quick read, but it's also a lot of fun.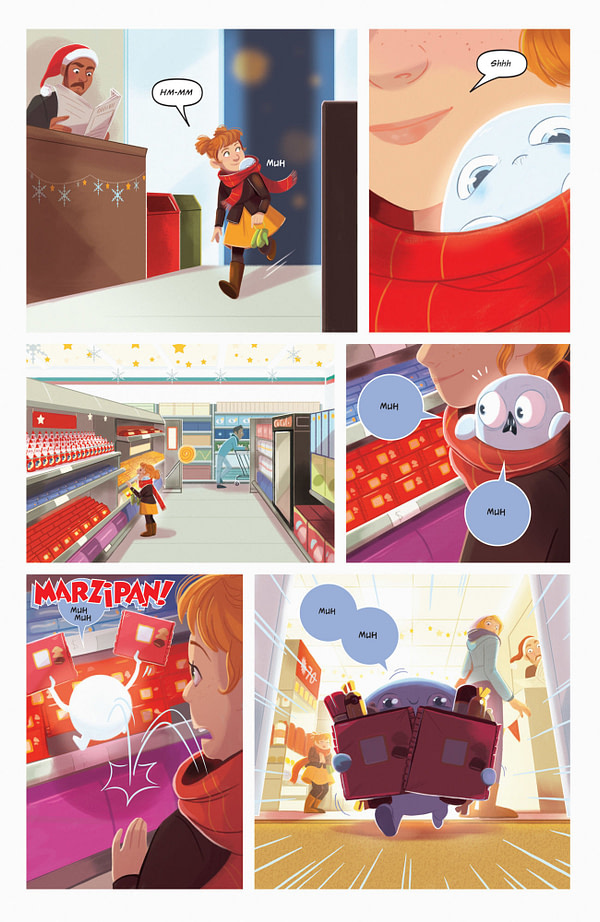 Is the Elephantmen 2261 Holiday Special worth your time? If you're a fan of the series, it should be a fun diversion from the regular storyline. The issue is also free to Comixology Unlimited, Kindle Unlimited and Prime Reading members, in which case you're literally out nothing and get a few minutes of light-hearted fun. Otherwise, this is a soft pass. Definitely read the long running Elephantmen series, though! It's really good!
SUMMARY: Writer: Richard Starkings; Art: Axel Medellin and Margaux Saltel, Colorist: Axel Medellin, Letterer: Richard Starkings, Cover Art: Boo Cook, Publisher: Comixology Originals, Release Date:  Digital Edition Out Now, Price: $2.99, free for Comixology Unlimited, Kindle Unlimited and Prime Reading members . Page Count: 38 Pages.