Hawkeye #16 Review: A Smart and Sincere Finale for the Hawkeyes
[rwp-review-recap id="0"]
Hawkeye Kate Bishop and Hawkeye Clint Barton are cornered and entering their final confrontation with Eden Vale and Madame Masque. Things look bleak, but Kate has a few ideas that may be just bad enough to work.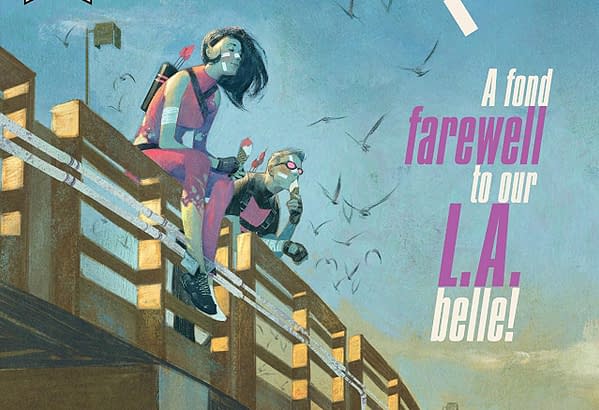 Alas, Hawkeye #16 is the final installment of Kelly Thompson and Leonardo Romero's excellent take on the series.
The team brings a memorable finale too. There is plenty of action, solid one-liners, and even touching moments spread throughout the comic. Kate tries to connect with both Eden and even her father at times, and it brings more of the humanizing element that has defined the best Hawkeye series, Thompson's included.
I've gone on about this before, but the chemistry between Kate Bishop and Clint Barton is amazing. That's another area where Thompson has really shined in this past story arc. These two characters play off each other so well, each one being varying degrees of disheveled and prone to trouble and chastising the other for their shared flaws.
There is plenty of action throughout, and it was scripted and sequenced very well. Hawkeye #16 makes use of trick arrows, martial arts, street-fighting cheap shots, and mad dashes into crowds of uniformed henchmen.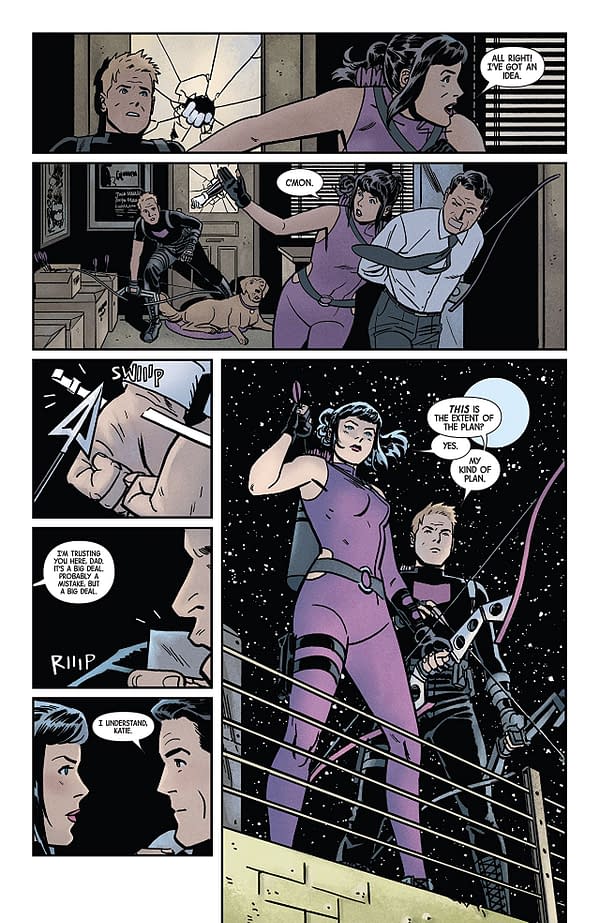 This is brought to life by the talented Leonardo Romero, who is skilled at using minimal detailing and line work to maximum effect. The comic has a pseudo-retro and cartoonish style that really fits the atmosphere and tone of this book. Plus, his action sequences are heavy on kinetic energy and impact. Jordie Bellaire's always-excellent color work plays with the ample purple and gradience to give the world extra texturing and depth, which complements Romero's work very well.
Hawkeye #16 brings an endearing and action-packed conclusion to this chapter of Kate Bishop's life. It's a shame that the series had to come to an end, but at least it ended well. This one definitely earns a strong recommendation. Check it out.
[rwp-review-ratings id="0"]
[rwp-review-form id="0"]