Okay, this is where I sing for my supper. Avatar Press, the owners of Bleeding Cool, are flying me, Kieron Gillen and Si Spurrier out to Arizona for the Phoenix Comic Con.
If you see me, please say hi, and if you want to drop off a message, samples, anything you want me to take a look at (please no faeces in a box, send those to Si Spurrier) then your best bet is to drop it off at the Avatar booth or the Hyatt Regency on 122 North 2nd Street… or hang about outside my hotel room at 2am in the morning. I'm easy.
I'll be presenting the Bleeding Cool Fan Awards, with a host of presenters and a free Adventure Time exclusive variant for attendees courtesy of Boom! Studios. And we promise, no one will swear in front of seven year old girls this year. It will however be incredibly embarrasing. It always is.
Avatar themselves will have a large booth at the show, and will need to it contain all these exclusive variants. And yes, Kieron Gillen will be on hand to sign all the Uber editions . At the booth, at the bar, in the bathroom, in his hotel room, while snorting cocaine off a stripper's tits, he really is an accessible fellow.
Warned, there may be a spoiler on one of the Uber issues for the first British superhero… with a familiar name, too.
Uber #1 Insignia set – Ultra-limited to 200 sets.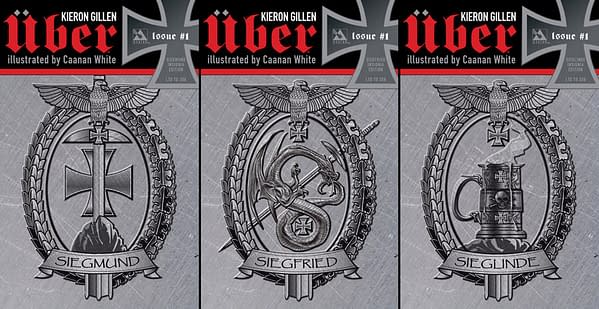 Uber #0 Enhanced Phoenix Blitzkrieg – limited to 750 copies
Uber #0 Enhanced Battleships – limited to 2000 copies.
Uber #1 Art Nouveau – Limited to 1500 copies Uber #1 First Appearance HMH Colossus – Limited to 1500 copies Crossed #25 Bikini – Limited to 850 copies. Crossed #29 Miss Crossed Set – A four part (A, B, C, D) special sequence showing it all go wrong at a beauty pageant! Limited to just 400 sets. Uber #1 Phoenix VIP – Limited to 350 copies.
Crossed #25 Phoenix VIP – Limited to 350 copies. Those 2 VIP covers comes free with the Avatar VIP set…
Enjoyed this article? Share it!