Venom And His Merry Band Of Symbiotes On Auction At Heritage
Venom Lethal Protector is one of the books of the 90's and two of the most important issues in the run are taking bids at Heritage Auctions.
---
Venom Lethal Protector was a huge deal when it was released in 1993. I should know; I was nine and spending all my free time that I could at my local comic shop and counting down the days until the first issue came out. The foil red cover is burned into my memory forever. Not only was this the first Venom solo story, but the mini also introduced a slew of symbiotes that are affecting the Marvel Universe to this day: Phage, Riot, Lasher, and Agony debut in #5. Both #1 and #5 are taking bids in a lot at Heritage Auctions today, both in CGC grades of 9.8. The lot is selling for $135 at the moment. Check them out below.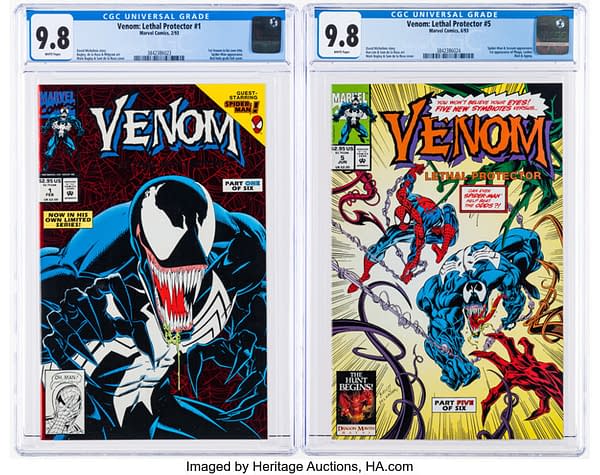 Where You You When Venom Lethal Protector Debuted?
"Venom: Lethal Protector #1 and 5 Group (Marvel, 1993) CGC NM/MT 9.8 White pages. Includes #1 (first Venom solo comic) and 5 (intro of Phage, Riot, Lasher, and Agony). Spider-Man appearances. Mark Bagley covers. Bagley and Ron Lim art. Overstreet 2022 NM- 9.2 value for group = $80. Red Foil Enhanced CardStock cover, art by Mark Bagley and Sam de la Rosa. Lethal Protector Part 1: Dark Soul Drifting, script by David Michelinie, pencils by Mark Bagley, inks by Al Milgrom and Sam de la Rosa; Venom moves to San Fransisco to try out his new protection of innocents racket; Venom and Spidey save a group of homeless folk. 36 pgs., full color. $2.95. Cover price $2.95. When Venom spawns five new killer symbiotes, Spider-Man teams up with him to blast them! Written by David Michelinie. Art by Ron Lim and Sam de la Rosa. Cover by Mark Bagley and Sam de la Rosa. Cover price $2.95."
These two Venom books in that grade are as good as it gets. This is where the history of the symbiotes was born, so if that is important to you, go here and place a bid. While you are there, take a spin around and see all of the books taking bids today.

Affiliates of Bleeding Cool buy from and/or consign to Heritage Auctions.