Dave Sim dedicated Cerebus: Church And State to Neal Adams, after using his Moon Knight as the inspiration for Moon Roach. With his latest Cerebus In Hell cut-and-paste one-shot, he looks to be going back to that well. With the art of Gustave Dore, taking the classic Dennis O'Neill and Neal Adams' Green Lantern/Green Arrow run for Green Dante/Green Vigil in April 2020.
GREEN DANTE/GREEN VIGIL ONE SHOT
(W) Dave Sim (A) Gustave Dore (A/CA) Dave Sim
First Team Up of Green Dante and Green Virgil, proving or disproving, once again, Stan Lee's axiom that "Green Covers Don't Sell!" Meet! The David Ben-Gurions of the Galaxy! See! The snazzy Poet Power Ring they give Green Dante! Wonder! If this is an enactment of Beneath the Planet of the Of The Philistines or BAttle For the Planet of the Philistines or what? Meanwhile! Green Virgil's ward, Cerebus is rocking a major Twitter Jones, hooked by the "Free Legal Advice" Twitter feed. Can he find a way to buy his rights back?
In Shops: Apr 29, 2020
SRP: $4.00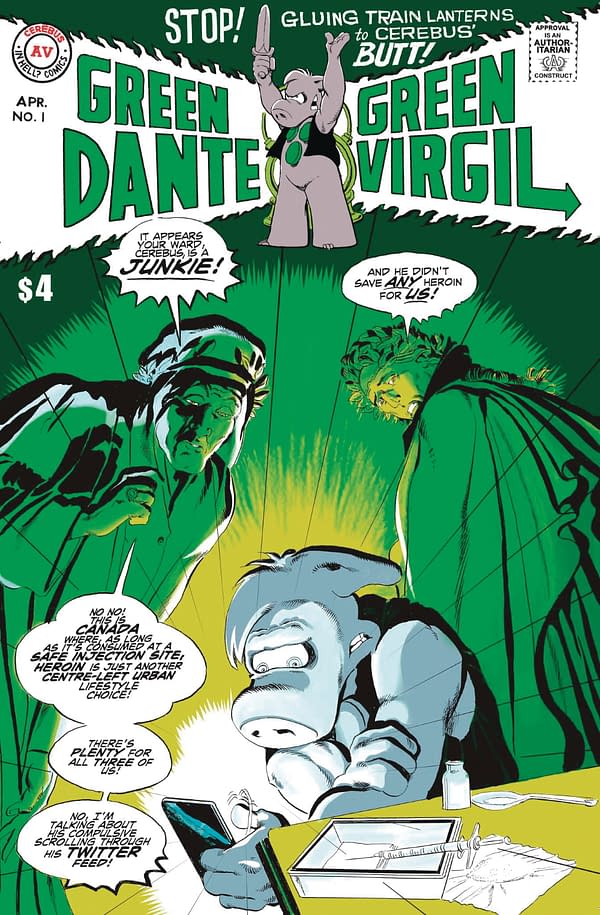 Enjoyed this article? Share it!