Hey, Marvel, Why Not Reprint Spider-Man Noir?
Spider-Man Noir, the character created by David Hine, Fabrice Sapolsky and Carmine Di Giandomenico as part of the Marvel Noir universe in 2009, recently popped up in the Spider-Verse comics and the Spider-Man: Into The Spider-Verse movie.
His first apppearance in Spider-Man Noir #1 recently sold for over $150 on eBay, unslabbed. Slabbing at CGC 9.8 can more than double that. The collection of the four-issue mini-series however is long out of print, and sells for $100 in hardcover on eBay, $120 in paperback. The sequel series collection goes for even more. One might of thought this would be an opportune moment for Marvel Comics to put Spider-Man Noir back into print.
But, at least until the summer of 2019, there seems no sign. In comparison a copy of Marvel Tails #1 Featuring Peter Porker, The Spectacular Spider-Ham goes for under fifty bucks. Of course, that is getting a collection for the summer…
Say, Marvel, why not do similar for Spider-Man Noir? Put both series into one collection? You know it makes sense…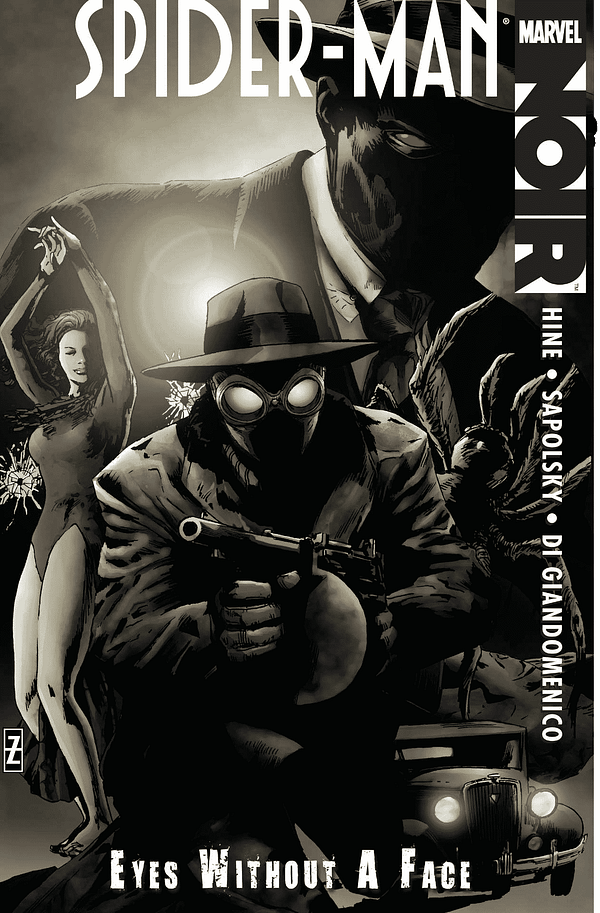 SPIDER-MAN NOIR GN TP
(W) David Hine, Fabrice Sapolsky (A) Carmine Di Giandomenico (CA) Dennis Calero
Written by DAVID HINE & FABRICE SAPOLSKY
Penciled by CARMINE DI GIANDOMENICO
Cover by DENNIS CALERO
It was 1933, four long years after Wall Street crashed and took the rest of the world with it, and the Great Depression was just getting started. And so was the Goblin. A master at turning hopelessness into a commodity, the corrupt mob boss led a colorful gang of circus sideshow freaks – including the cannibalistic Vulture – in a corrupt stranglehold on the city. Peter Parker came of age during this time of struggle and hardship. Raised by his Uncle Ben and Aunt May, two stemwinding Socialists committed to positive change for the people, Peter would have been a boyish beacon of optimism in any other era. But in this world of noir, he was an embittered, angry young man on the search for justice. And then along came a spider. After a fated meeting with a mystical arachnid and its life-changing bite, he may have just inherited the force to honor the phrase, "If those in power can't be trusted, it's the responsibility of the people to remove them." Collecting SPIDER-MAN NOIR #1-4.
112 PGS./Rated T+ …$14.99
In Shops: Sep 16, 2009
SRP: $14.99
SPIDER-MAN NOIR TP EYES WITHOUT A FACE GN
(W) David Hine, Fabrice Sapolsky (A) Carmine Di Giandomenico (CA) Patrick Zircher
Written by DAVID HINE & FABRICE SAPOLSKY
Penciled by CARMINE DI GIANDOMENICO
Cover by PATRICK ZIRCHER
The Goblin is gone. The Spider-Man saw to that. But then, along came the Crime Master, and now New York City's criminals have a new overlord – one who strikes terror in the hearts of the innocent and guilty alike. He must be stopped. And then there's Dr. Otto Octavius, a brilliant scientist working out of a U.S. Government lab on Ellis Island. What's he up to? What's the European connection? Robbie Robertson wanted to know. He never knew what he was getting himself into. Who is the Crime Master? What's going on in Octavius' lab? Who's behind it all? Peter Parker has to find out, and fast. Before his friend Robbie is lost forever. Before more innocent people are killed. And before Spider-Man loses his greatest battle with the deadliest foes he's ever faced – enemies for whom the prize is not just control over the city, but over the world itself… Collecting SPIDER-MAN NOIR: EYES WITHOUT A FACE #1-4.
112 PGS./Rated T+
In Shops: Dec 01, 2010
SRP: $14.99