The Highest House #4 Review: A Game of Houses
[rwp-review-recap id="0"]
Moth is reeling from his discovery about Lady Shurubai and her servant, Lace. As part of a deal for his silence, Shurubai agrees to teach Moth how to read. Meanwhile, the lords of Highest House prepare to receive an envoy of other noble houses from across the land. However, among those other houses are conspirators planning to assassinate Lord Aldercrest.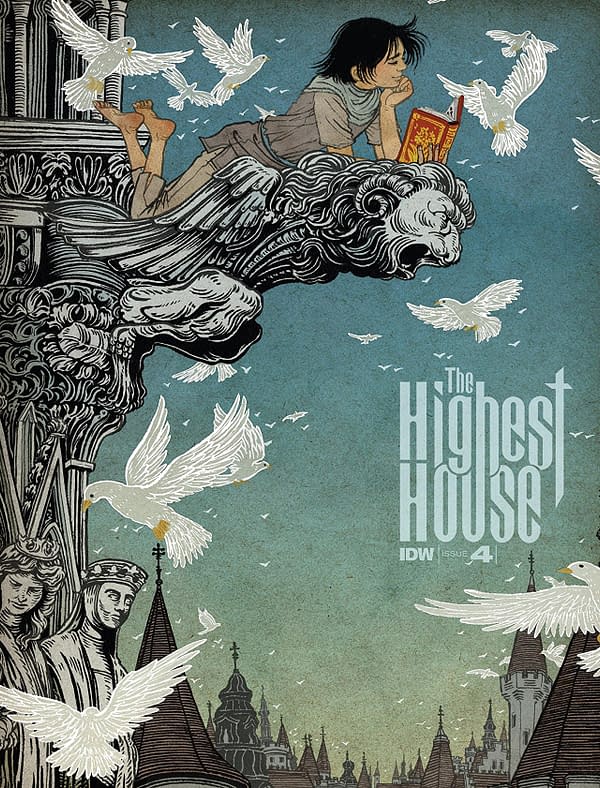 The Highest House reaches a Game of Thrones-like place with this issue's political backstabbing and conspiracy. While it may not have the breadth of that series to show every angle of its political conflict, it does tell its tale with comparable drama and skill.
The internal conflict between Moth and Obsidian continues to develop, even if it isn't focused upon as much as the meeting of the lords. It takes a few interesting turns.
This is also the most action-packed issue of the miniseries by far. The final act of the installment finds Highest House in chaos and assailants from many sides trying to lay waste to their enemies.
The comic still leaves the reader unsure of where Moth will land in all this and whether he will hold his end of the bargain with Obsidian. That makes for a more tense and interesting tale, and I quite like it.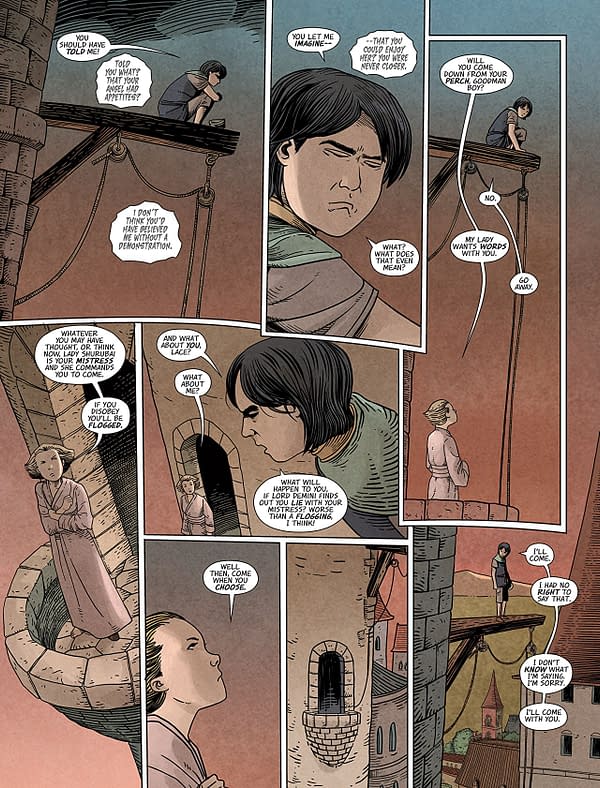 Peter Gross and Fabian Alquier continue to provide excellent artwork which brings this book to brilliant life. The texturing and shapes evoke an old-world feel that complements the narrative well. The color palette is that of a rustic and aged environment, which continues to contribute to that aesthetic. Plus, it all just looks damn good.
The Highest House #4 is another highly enjoyable entry in this IDW miniseries. Mike Carey has written a truly unique story, and Gross and Alquier do a fantastic job of creating its visuals. This one earns another strong recommendation. Give it a read.
[rwp-review-ratings id="0"]
[rwp-review-form id="0"]