How House Of X #5 Transforms Goldballs into a Major Player (HOXPOX Spoilers)
Goldballs was a character created by Brian Bendis and Chris Bachalo for their Uncanny X-Men launch back in 2013.
Real name Fabio Medina, he had the power to create bouncing gold balls. Made of an unknown substance and of different sizes from any part of his body, they can be projected and so can be used as a concussive weapon. Goldballs can summon an infinite number of them, which are able to bounce, emitting a "poink" sound when they hit something. If he concentrates, he can project them in a straight line or direct them to a specific area. Normally the balls can be reabsorbed into his body, though when Goldballs is calm, he can cause them to disappear.
He later left the X-Men and joined Brooklyn Visions Academy, popping up in Brian Bendis' Spider-Man comics as a classmate of Miles Morales and Ganke Lee.
Well in today's House Of X #5, it turns out there's a lot more to Goldballs' balls than we knew. And he is central to the Professor's plans.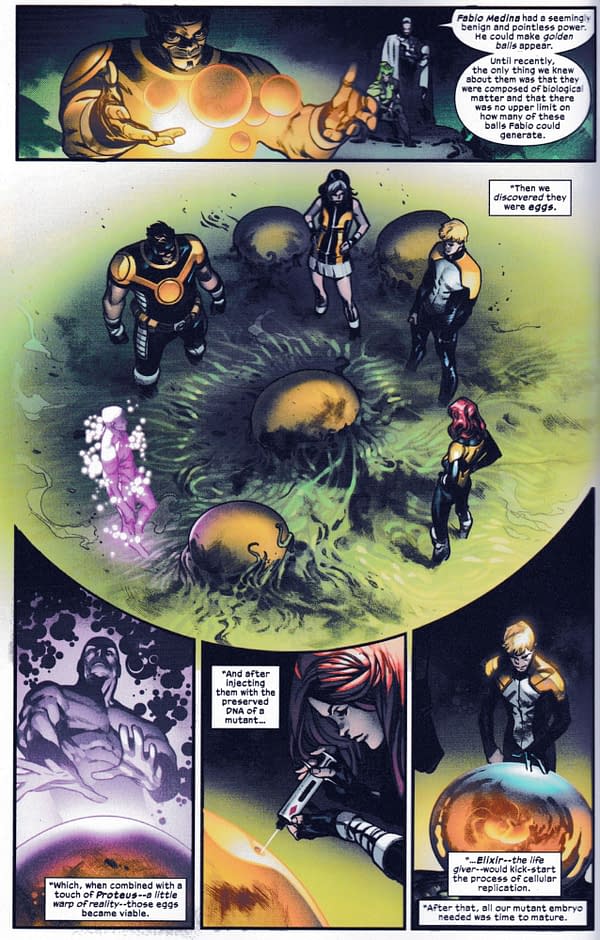 They were eggs all along. Proteus, that's Moira Mactaggert's son, and product of her tenth life, created by Chris Claremont and John Byrne back in Uncanny X-Men #125 in 1979.
Elixir, he was created in New Mutants vol. 2 #5 in 2003 by Nunzio DeFilippis, Christina Weir and Keron Grant, with the Omega-level power to control the biological structure of any organic matter including his own body, through touch. Besides healing, he is capable of boosting and restoring mutant abilities, causing painful boils and welts to appear, manipulating the life-forces of others, creating tumors, curing the Legacy Virus, causing death, and cleansing the body of drugs. The Stepford Cuckoos telepathically copied and transferred the Beast's knowledge of anatomy, biology, and genetics into Josh's mind, allowing him the knowledge to heal virtually any malady. And now… creating life.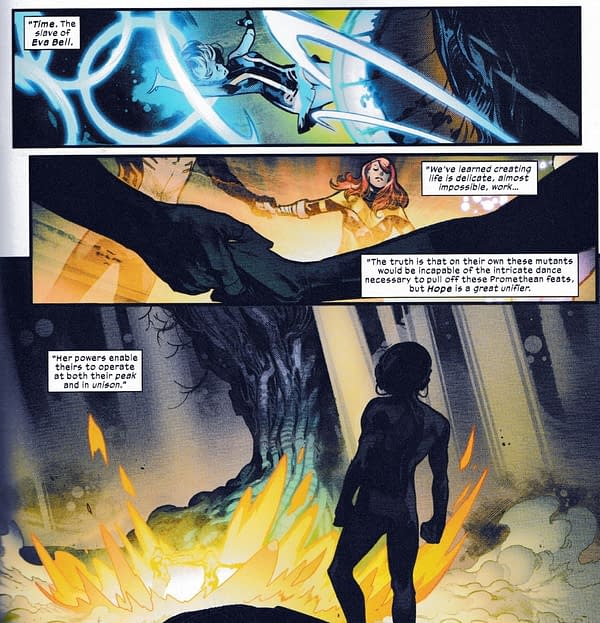 Throw in time-controller Eva Bell, first appearance in All-New X-Men #1 by Brian Bendis and Stuart Immonen, with the near-Omega level ability to slow down time in a specific place, slow time on contact, displace time within her "Time Bubbles" for about a minute and even travel in time for much longer period. And Hope Summers, created by Mike Carey and Chris Bachalo (man, he gets around) in X-Men #205 (2007) another Omega level Mutant with an ability of unspecified limits to psychically manipulate and mimic the powers of other mutants, as well as jump-start newly emerging mutant powers and enhance mutant abilities of others.
And am I the only one with flashbacks to how Alan Davis combined all the stories and power bases of Excalibur?
Maybe. But then Professor Charles Xavier treating everyone like Cylons.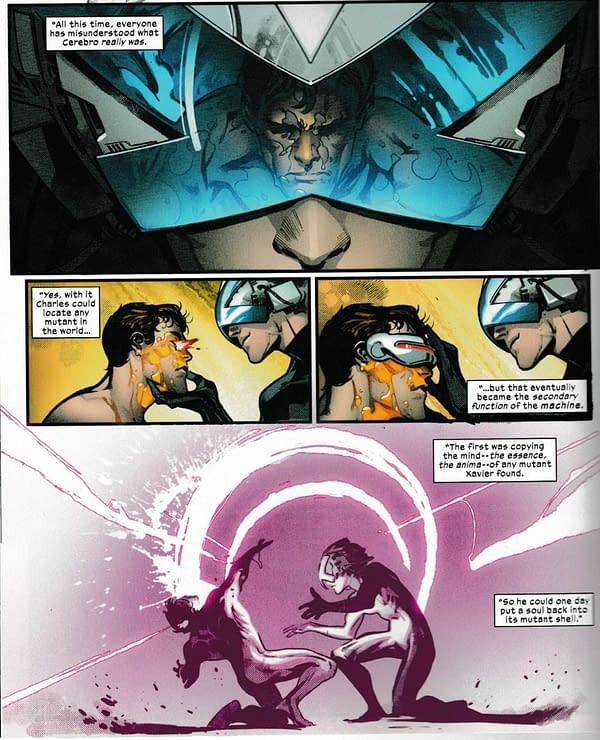 What does this all mean? Well it plays up to the mutant trope that anyone who dies always comes back. But more specifically, that scene in House Of X #1 with Professor Xavier welcoming newly born mutants out of pods, the suggestion that they are plant people, that the whole this is an invasion of mutantkind by Krakoa?
Not necessarily. Because those scenes in House Of X #1…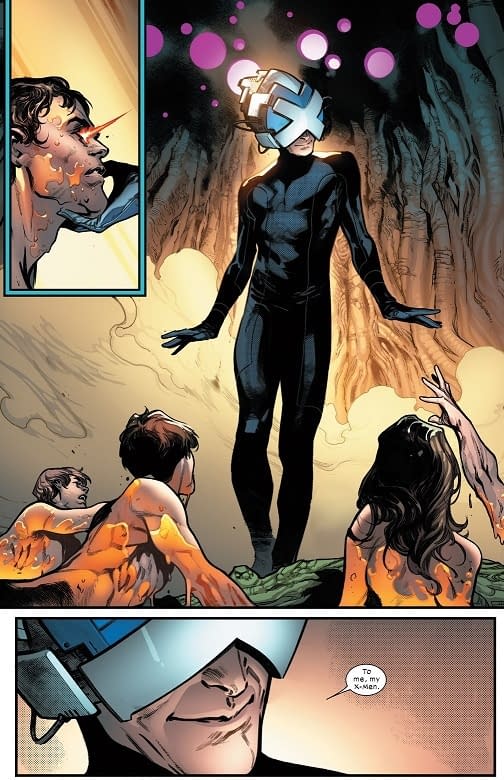 …are set after the events in House Of X #4. And it's how the Professor brings the dead mutants back…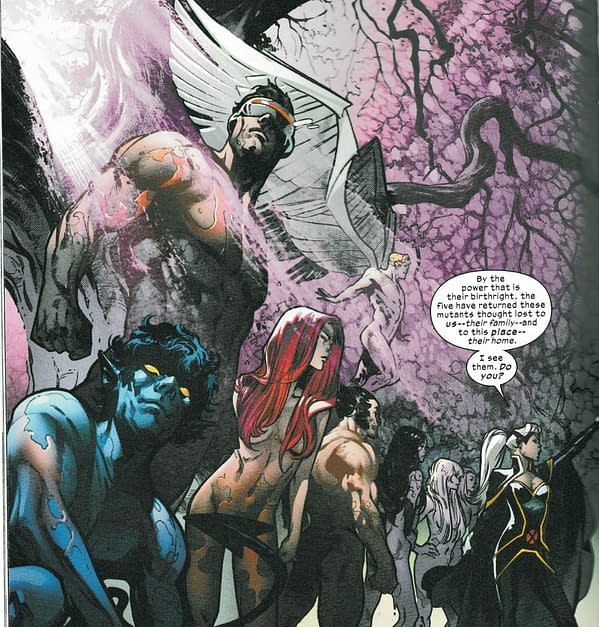 Naked. And that's just the start… could this be how Chimera mutants might be created???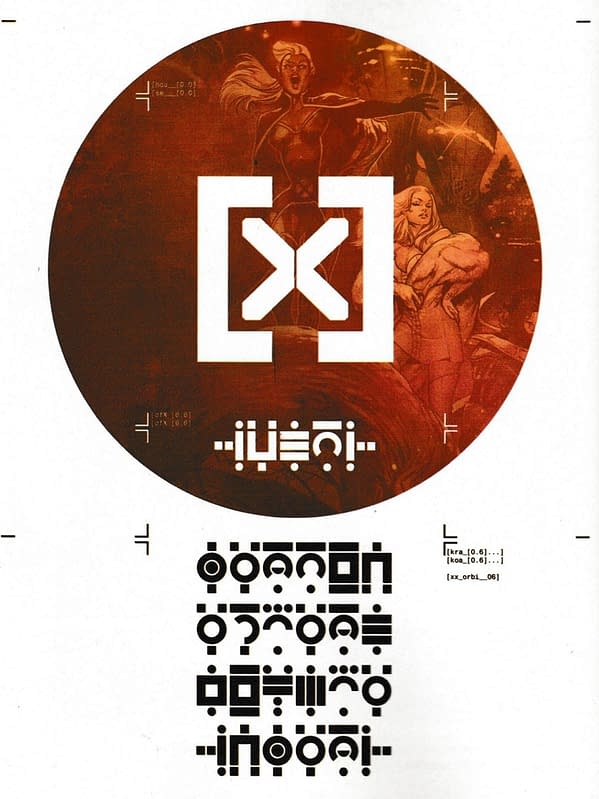 THEN: I AM NOT ASHAMED OF WHAT I AM
HOUSE OF X #5 (OF 6)
(W) Jonathan Hickman (A/CA) Pepe Larraz
Xavier's dream turns deadly for some of his students as they fight back against the humans' plan to eliminate them. Superstar writer Jonathan Hickman (FANTASTIC FOUR, AVENGERS, SECRET WARS) continues his reshaping of the X-Universe alongside Young Gun artist Pepe Larraz (EXTERMINATION, AVENGERS). The Future of the X-Men begins here! Rated T+ In Shops: Sep 18, 2019 SRP: $4.99